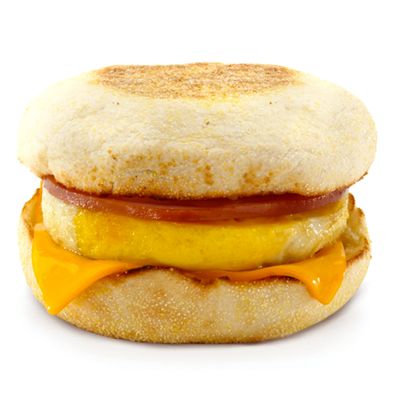 The face of franchisees' new enemy.
Photo: McDonalds
Those bad feelings that some McDonald's franchisees had about the general un-workability of all-day breakfast are now looking pretty prescient: Franchisees for 229 U.S. locations who participated in a survey about the breakfast rollout apparently pulled no punches in dismantling it. They called all-day breakfast "erratic, distorted, disorganized" and "a non-starter," with nearly half telling analyst group Nomura that it slows down service considerably and unhelpfully creates a demolition-derby situation in their kitchens ("people falling over each other" and "equipment jammed in everywhere"). Sales aren't great, many said, but even if they were, they'd be the wrong kinds of sales — one franchisee pointed out, "We are trading customers down from regular menu to lower-priced breakfast items."
Worse still is that finally caving to customers' demands and giving them Egg McMuffins for dinner was supposed to be the Golden Arches' savior, but the signs don't suggest it's working out that way ("Customers are abandoning us in droves because we are either too slow, or sub-par quality"). All-day breakfast also creates extra work, and to address that, franchisees need to bring in extra labor, but many of them are strapped for cash — not just because of seven straight quarters of declining sales, but also because of those super-useful Create Your Taste kiosks corporate forced them to buy.
Company execs in Oak Brook, meanwhile, insist all-day breakfast's launch was "successful" and are already telling franchisees to get ready for phase two of the Mickey D's turnaround: a bigger, bolder value menu.
[BI]