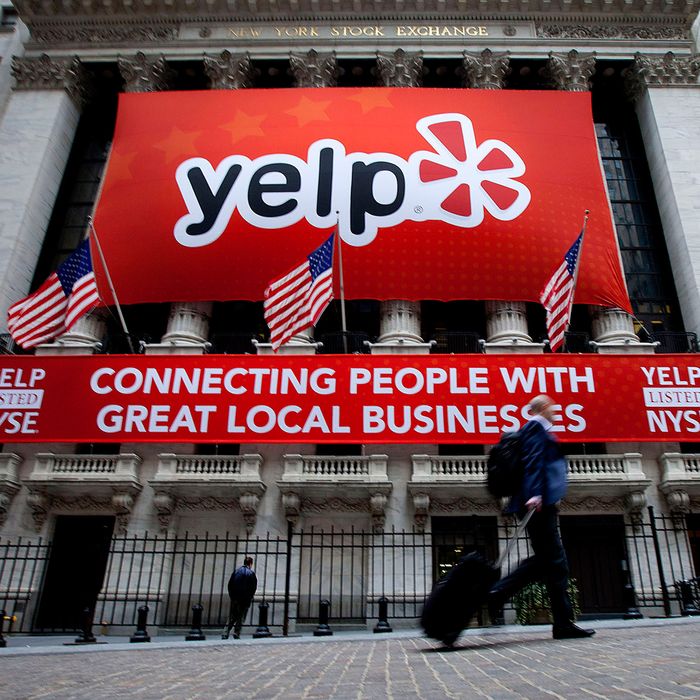 Chef says Yelp gets no stars.
Photo: Jin Lee/Bloomberg via Getty Images
More evidence that either Yelp reviews change and disappear at the darnedest times, or perhaps the site itself is tweaking them, as courts have said it could if it wanted: The Portland Press Herald reports that David Levi, chef-owner of Vinland, Maine's radically locavore restaurant, has joined the list of critics who accuse Yelp of strategically manipulating reviews.
He says it wasn't long after declining to buy Yelp ads that "a highly disproportionate number" of five-star reviews disappeared from the main section and turned up under the "Not Recommended" tab. He quit using Yelp-owned SeatMe as a result and switched to OpenTable, but the kicker came when, in his mind, Yelp's Portland community manager arbitrarily dropped a star from her Vinland review a while after visiting, but apparently not that long after Levi refused to buy ads.
"I don't know how an employee of a company trying to extract money from us can, in any ethical way, post a public review of us, but you did, and it was four stars, and then you dropped it to three stars more than a year later," Levi said in an email to the manager, Steff Deschenes. He pointed out that she didn't even change anything in the review. She wrote back and said: "I realized that because I personally did not enjoy my main course at your restaurant, I never felt inspired to return," and therefore Vinland deserved "more of a 3-star" review.
Levi's eyes clearly roll at this defense, but Deschenes and Yelp, by extension, argue no one has ever proven that the site manipulates reviews, instead saying that the proprietary Yelp algorithm helps business owners by highlighting "quality over quantity" and that Yelpers can change reviews at any time and for any reason they want.