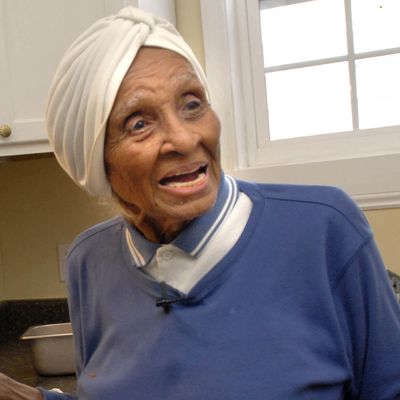 R.I.P.
Photo: Cheryl Gerber/Corbis
Some sad news. The New Orleans Times-Picayune reports Willie Mae Seaton, owner (and namesake) of the beloved New Orleans restaurant Willie Mae's Scotch House, died this past Friday, September 18, at the age of 99.
A former beautician who converted her beauty shop into a bar in 1957, which she later turned into a restaurant where she cooked food like smothered veal and fried catfish, Seaton became nationally lauded for her fried chicken. The restaurant was a neighborhood spot in the true sense of the word, and Seaton was willing to protect that at the cost of perhaps unwanted business: When the Times-Picayune wrote about it, she did not allow the address to be printed or for her photo to be taken. But that didn't — couldn't — stop people from tracking her down. She counted celebrity chefs John Besh and John Currence as well as the Southern Foodways Alliance's (SFA) John T. Edge and Treme writer Lolis Eric Elie among her fans, was named an America's Classic by the James Beard Foundation in 2005, and after floodwaters from Hurricane Katrina destroyed her business the SFA organized a rebuilding effort led by Currence.
Eventually, she opened a second location in New Orleans's Uptown section that attracts long lines and a more touristy crowd. No doubt her many fans will be having a plate, or two, of fried chicken in her memory in the coming weeks.