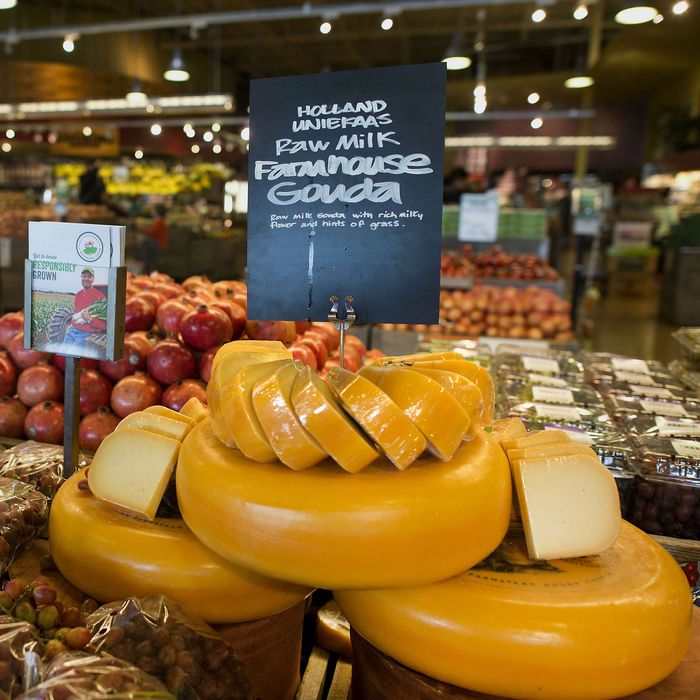 One of the inmates' low-paying specialties.
Photo: Ty Wright/Bloomberg via Getty Images
Following an angry protest inside a Houston store this weekend, Whole Foods says it will stop selling products made through a controversial prison labor program.
It's the pretty inevitable fallout of selling a couple of brands of cheese and fish since 2011 that critics argue aren't produced for fair wages (a big deal for Whole Foods) because they're part of a unique arrangement with Colorado's Department of Corrections that sounds uncomfortably similar to Orange Is the New Black's sweatshop-y Whispers lingerie business.
One such vendor, Quixotic Farming, puts "locally raised" tilapia on store shelves that comes from tanks inmates build themselves. The state makes 85 cents per pound off this fish, but it goes for as much as $11.99 a pound in stores. Another vendor, Haystack Mountain Goat Dairy, sells chèvre that's from goats inmates milk on prison property. In all, the roughly 2,000 workers make somewhere between 74 cents and $4 a day for their work.
Realizing prison-reform advocates might have a point when they call this practice "hypocritical," Whole Foods now says these companies' products will be "off our shelves by April 2016 if not sooner." The company's statement explains that while it felt "rehabilitative work being done by inmates would help people get back on their feet," enough shoppers complained for the corporate office to figure it'd be better off just killing the practice.
[AP]