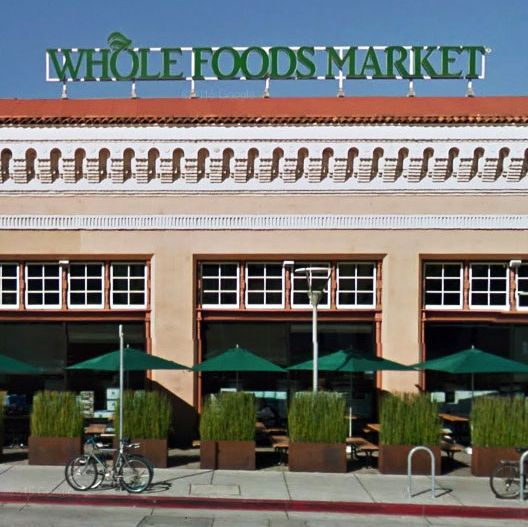 The Oakland location.
Photo: Google
On Thursday, at an Oakland location of Whole Foods, a security guard horribly manhandled a shopper. The guard, still unidentified, came over to look into an argument between a checkout clerk and the customer. Witnesses say it was clear they weren't getting along, but "nobody was raising their voice" — until the armed guard arrived. He allegedly put the man, who is black, in a chokehold, took him outside, slammed him against a concrete pillar, and suffocated him until he lost consciousness. Police found him lying in a pool of blood in front of the store. He was taken to the hospital, where he's reportedly in stable condition.Outrage over the incident — which isn't the first time a Whole Foods guard has administered a violent beating — grew after one witness posted disturbing images on Facebook.
Posted by Zoe Marks on Friday, September 4, 2015
Posted by Zoe Marks on Friday, September 4, 2015
Whole Foods quickly fired the guard, but demonstrators showed up in full force this weekend, still furious. The company announced on Sunday that the Oakland store wouldn't be patrolled by anybody from Admiral Security Services, effective immediately, and moving forward no guards would be armed.
According to a representative, Whole Foods says the shopper made "physical contact" with the clerk, but the spokesperson added there are differing accounts, and, pending an official investigation, "We don't really have one truth." Much of the anger at Whole Foods comes from reports that the customer was using an EBT card to pay for his groceries. In response to the nerve this touched, Whole Foods put out a statement:
Much of what's been reported about this incident has alleged that the use of an EBT card had a role in the altercation. We want to clarify that EBT cards are readily accepted forms of payment at all Whole Foods Market stores. In fact, there's no way or reason for a cashier to know if a customer is using an EBT card unless items not covered under EBT regulations are presented for payment, or the customer voluntarily displays the EBT to the cashier.
The company has also asserted that it has "a zero-tolerance policy for violence."
[KQED]