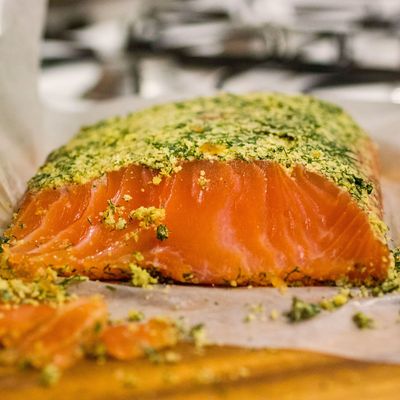 This is no ordinary edible.
Photo: Chris Crowley
The salmon itself looks like typical lox. On a warm bagel, with a schmear of cream cheese, the fish is delicate, pleasantly fatty, and only mildly herbaceous, though there's plenty of dill. Less pronounced, but definitely apparent, is the cannabis flavor. That's because, while this cured salmon looks and tastes like the kind of thing you'd pick up from Acme or Russ & Daughters, it's actually been cured in a mixture of salt, sugar, dill, lemon, and a cannabis tincture. In other words, this THC-infused salmon is what happens when edibles meet appetizing.
"You want to taste the cannabis very mildly," says Josh Pollack, who helped engineer this weed salmon. To achieve the effect, the salmon is cured for about 72 hours; the finished product isn't tinted green, but it will definitely get you high. It smells strongly of pot, too — enough that you won't mistake it for regular lox. But Pollack is right: It doesn't have a piney or skunky flavor (unlike, say, marijuana-infused baked goods, which can taste so strongly of weed).
So how did THC salmon come about? Pollack, a native of New Jersey, is the owner of Rosenberg's Bagels in Denver. He first made the weed salmon earlier this year for a 4/20 event that was held near his shop. Originally, it was meant to be nothing more than a fun stunt — but the response was surprisingly enthusiastic. "Weed is no longer valuable because everyone grows it," Pollack says. But "you can roll up with a bunch of weed fish and bagels and people are freaking out."
Edibles have of course exploded in Colorado since weed was legalized in 2012, but this salmon is definitely something very different from the baked goods and candies that are most common. The issue with most edibles, though, is that they tend to make people feel totally, uncomfortably blitzed for entirely too long. When amateurs, and even some professionals, make edibles, it seems like they try to cram as much green into it as possible, so they're too potent. Pollack's THC salmon, however, doesn't assault your senses. The recommended dosage, Pollack advises, is about two ounces, just right for a bagel or bialy. What you get is a really nice, mellow high; you're stoned, but you're still able to actually function.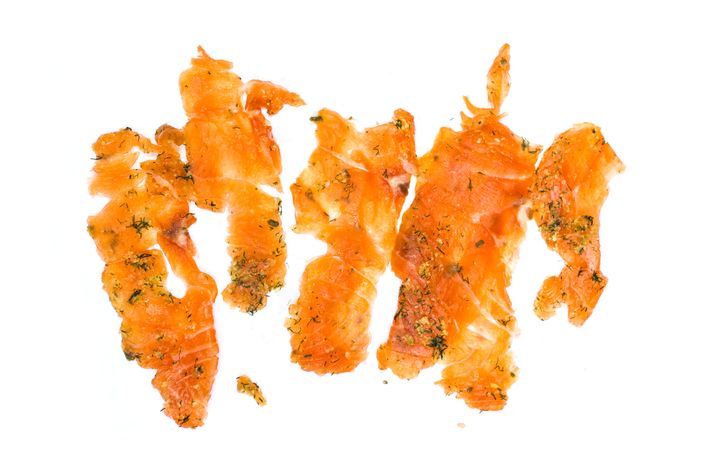 There would almost certainly be a market for this, but getting the salmon into Colorado's dispensaries has been difficult: Pollack had originally, unironically, hoped to roll the product out in time for the High Holidays, so stoner Jews could use it as a sacrament, but the state has enacted new laws that require goods to be wrapped or packaged in "servings" that constitute ten milligrams or less of activated THC. For Pollack, getting a consistent dosage has been tricky and what's prevented a public debut: He cures whole sides of fish, but because salmon's fat and muscle content vary across the body, and fat absorbs the THC, different sections of the fish soak up more of the tincture than others, making the potency irregular, which is no good. If you're going to get people high with a commercial product, you need to know exactly how high you're going to get them.
Pollack, though, is undeterred. He's working with a lab and experimenting with different curing methods. He's confident he can get it right. Eventually, Pollack envisions a price of around $100 a pound (so something like $6.25 an ounce), so figure it's about $12.50 for a nice portion that also happens to get you stoned for several hours. And once he masters this, he thinks weed salmon could be the start of a new age of pot-infused Jewish foods: Pollack has already made cannabis-infused schmaltz, too, which he uses for matzo balls, chopped liver, and brisket. He might be focusing on savory, but it's not really hard to picture him moving into baked goods, either. After all, if he can master cannabis-infused salmon and schmaltz, would it really be so tough to bake up some marijuana babka for dessert?