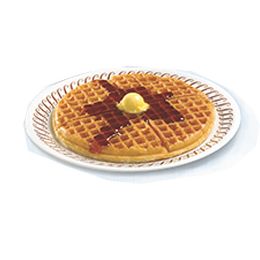 Order No. 1,000,000,000 coming right up.
Photo: Waffle House
Beloved Waffle House is about to pass a milestone competitors must grudgingly respect: Next week, the chain estimates it'll churn out its billionth waffle. It took 60 years — about five decades longer than McDonald's needed to sell that many burgers — but a billion discs of dough is still impressive. After all, food writers pen Waffle House paeans, and Southerners have actually gone as far as suggesting people fly the Scrabble-style sign instead of the Confederate flag.
Waffle House mania aside, the arrival time and location of this special waffle are anybody's guess. The chain claims there's an actual team "closely monitoring the situation," which is marketing-gimmick speak for social-media hoopla surrounding the order. So go ahead, join Waffle House in welcoming itself to the Three-Comma Club.