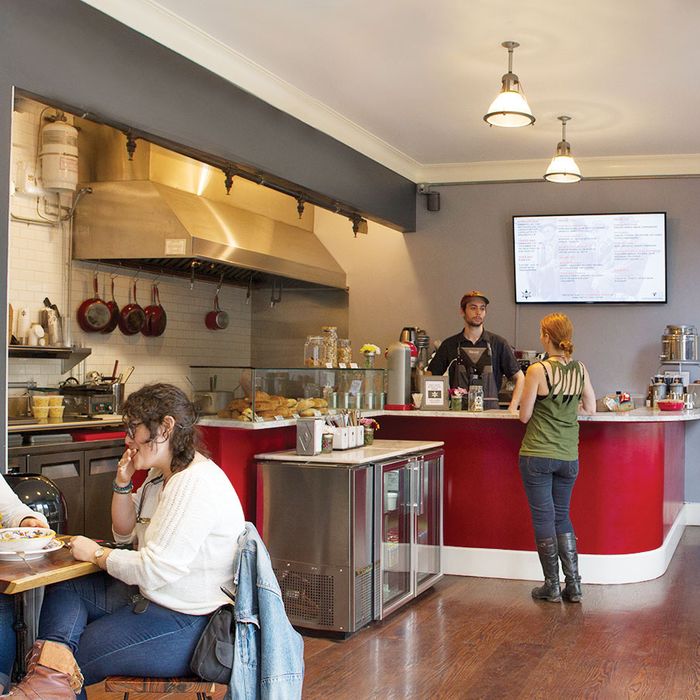 The Tuscan Gun.
Photo: Tirzah Brott/New York Magazine
You can rest assured that the trio of giddy gals occupying the center table at the Tuscan Gun one recent Friday evening didn't road-trip in from South Jersey just for a plate of crostini. No, they made the pilgrimage to Windsor Terrace to ogle and pose for selfies with one Gabriele Corcos, the lanky, ebullient, Italian-accented Cooking Channel chef who was hosting the meal. The Tuscan Gun, Corcos would have you know, is not a restaurant but rather, as the lettering on the storefront window proclaims, OFFICINE and ALIMENTARI. This translates roughly to "workshop" and "grocery," but the establishment is closer in practice to a café-slash-supper-club-slash-brand-expansion, because these days, any self-respecting small-screen culinary personality needs a physical home base in which to test recipes and sell autographed cookbooks.
Since it appeared in May on a quiet residential block (Corcos's own, in fact), the Tuscan Gun has had a dual identity: espresso bar and sandwich shop by day, occasional pop-up Tuscan kitchen by night. This flexible schedule has allowed Corcos and his wife, the actress Debi Mazar, to travel the country filming their show, Extra Virgin, between dinner engagements. (If you're unfamiliar with it, the series is not unlike a cross between Lidia's Kitchen and I Love Lucy, with Italian expat Corcos bringing to mind a tattooed Ricky Ricardo and New Yawk-accented Mazar his sassy sous-chef Lucy.) Prix-fixe suppers are announced and ticketed online, attracting fans from the tristate area for intimate communal meals with running commentary from the affable host. The vibe is laid-back. The service is friendly and informal. And the food is simple, rustic, and classically Tuscan — a loving tribute to Corcos's Fiesole family home and the hunters, farmers, and fishermen whose memory inspires his menus and TV show. In a word, Guy Fieri's American Kitchen & Bar, this is not.
There is nothing groundbreaking or revolutionary about either the day or night menu, but each has its charms. A Windsor Terracean out for a morning stroll could do worse than to stumble into the place for a coffee and a pancetta-Parmesan scone. Come lunchtime, the counter crew will rightly recommend something involving porchetta-style pork shoulder — either an herb focaccia stuffed with morsels of the beer-braised meat, or a bowl of pasta sauced with its rendered fat and dusted with Pecorino cheese. (There's an add-on pork option for the latter, which you can order the way you would extra chashu at a ramen shop.) The pressed mortadella sandwich likewise hits the spot, and if one criticism can be made of the deftly dressed pastas, it's that the kitchen relies on penne rigate, as if they'd forgotten that Italy has more shapes of pasta than Eskimos have words for snow. The classic pasta e fagioli, on the other hand, is beyond reproach, and the best reason yet not to regret summer's end.
Unlike breakfast and lunch, the Tuscan Gun pop-up dinner has a familial spirit and a heartier menu. Each series is loosely themed, and the latest was "A Super Tuscan September": a five-course feast served over two and a half hours and punctuated by Corcos's dish-description interludes. So we learn that the chicken-liver crostino, bright with lemon zest, is his grandmother's recipe; that the lush mushroom soup gets its texture from potato, not cream; that the rabbit ragù lapping fresh pappardelle requires the meat to be painstakingly plucked from tiny bones; and that Italians aren't very fond of white-meat chicken, which will never cook up as tender as his succulent cacciatora. As at any casual dinner party, you might find yourself waiting for a spoon, or the next course, while the host hustles around the stove. But invariably, wine is shared, strangers become friends, groupies are charmed, and you feel transported — if not all the way to Tuscany, then to a little homespun sliver of it just off Prospect Park.

The Tuscan Gun
199 Windsor Pl., nr. John P. Devaney Blvd., Windsor Terrace; 347-987-3166; thetuscangun.com
Open: Daily for breakfast and lunch. The dinner schedule is announced on the website.
Prices: Lunch, $4.50 to $7.50; dinners, $95 to $150.
Ideal Meal: At lunch, pasta e fagioli and a mortadella sandwich, or pasta with porchetta sauce; set dinner menu changes.
Note: Now that the wine license has arrived, there's a $25 corkage fee (one-bottle limit).
Scratchpad: One star for the simple, satisfying daytime menu and two more for the periodic prix-fixe dinners.
*This article appears in the October 5, 2015 issue of New York Magazine.