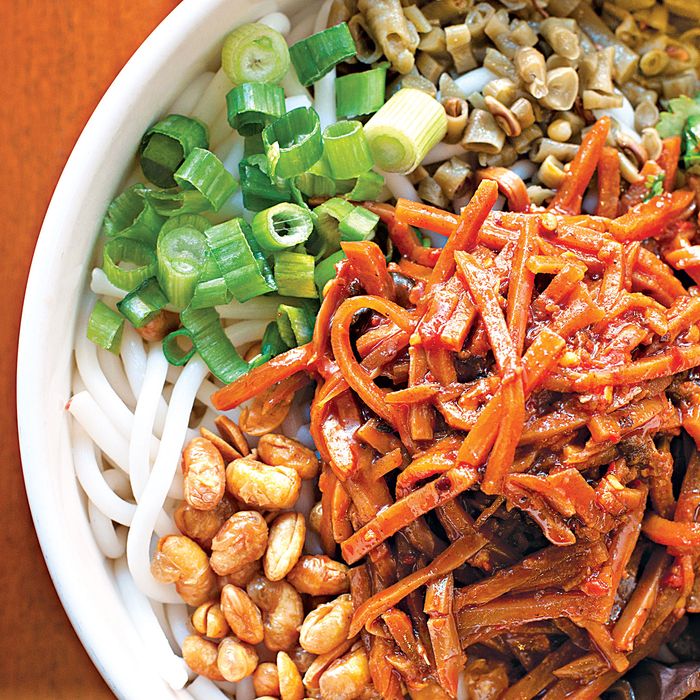 Gui Lin Mi Fen's Sour & Spicy "Good Friends" noodle bowl.
Photo: Kathryn Palmieri/New York Magazine
It's a great time to be a noodle eater in New York. You have your pick of ramen, udon, or soba; you've got cold-skin, hand-pulled, and knife-peeled, not to mention arrowroot and mung-bean. And, in an unassuming shop on a crowded block in Flushing, Queens, you have mi fen, a traditional rice noodle from Guilin, a city in the Guangxi region of southern China. At Gui Lin Mi Fen, which opened this past winter, these rice noodles (springy, slick, and outsourced) are the core of a menu that includes a smattering of appetizers and some recently added skewers, which can't compare to the smoky masterwork of the neighborhood's street vendors. What distinguishes the noodles more than their inherent noodley-ness is the way they're served — warm, in a bowl with cold toppings, alongside a smaller bowl of meat-bone broth.
If you appear hesitant in your approach and stare blankly from one vessel to another, your server will instruct you to vigorously mix the contents of your noodle bowl, tapping the savory sauce on the bottom, and to slurp up some of these "dry" mi fen before pouring in the sidecar of soothing broth. But when it comes to Guilin mi fen, as with so much else in life, you can follow your own bliss: Alternate slurps of noodle and broth, or just save the broth until you've finished your noodles, then sip it like a digestif.
In its hometown, Guilin mi fen was traditionally topped with horse meat; in Flushing, equine is not an option. There is crispy pork, thin-sliced brisket, oxtail, and ham, among other toppings, but for the Underground Gourmet's $7.25, the one to get is the Sour & Spicy "Good Friends" bowl, featuring strands of chile-slicked bamboo shoot, plus pickled green beans, roasted soy nuts, mushrooms, scallions, and cilantro, a compelling contrast of flavors and textures with just enough heat. If you require more, there's a pot of chopped chiles on every table.
135-25 40th Rd., nr. Main St., Flushing; 718-939-2025
*This article appears in the September 7, 2015 issue of New York Magazine.