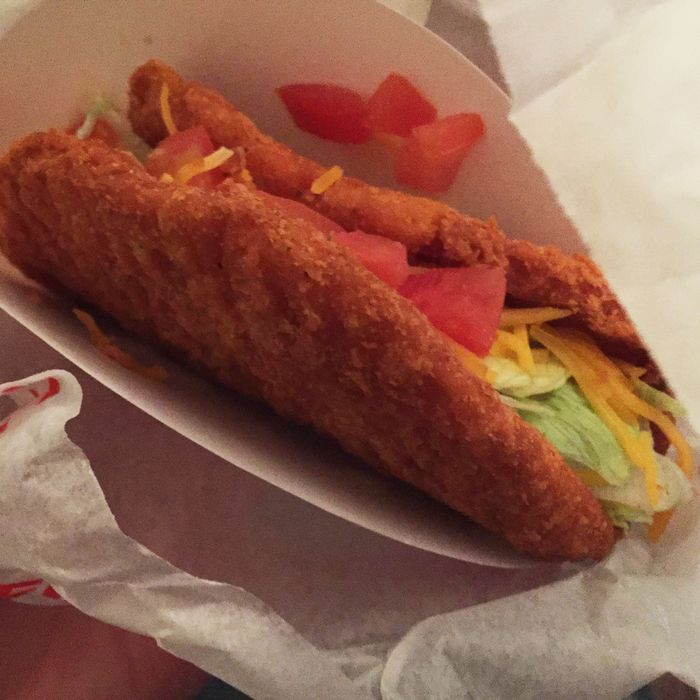 To those who knew deep down that this day was coming, you were right: The Taco Bell R&D; team in charge of folding everything in sight in half and lining it with Tex-Mex accoutrements — biscuit tacos, waffle tacos, Doritos tacos — has finally gotten around to using fried chicken as a taco shell.
It's called the Naked Crispy Chicken Taco, and for the time being, it only exists in a handful of test markets (all in California, it seems — Taco Bell sure knows its demographics). The shell, as you can probably guess, is breaded white meat. The fillings are lettuce, tomato, shredded cheddar, and "avocado ranch sauce."
It all begs the question: What took Taco Bell so long? We're deep into the gimmick-food arms race, and simply using fried chicken as a breadlike ingredient-delivery system is an amateur move at this point. A KFC Double Down in taco form is still just a KFC Double Down. You'd think that, given the fact that both chains are owned by the same parent company, Taco Bell, which is usually the very best at unleashing crazy-sounding "foodie experiences" on an unsuspecting nation, would at least be able to take inspiration from KFC's foreign outposts, which have all done their part in the last couple years to significantly upgrade the basic Double Down template.
Then again, everyone's entitled to an off day every once in a while, and maybe the Taco Bell research lab is just phoning it in at the tail end of their summer vacation. But with McDonald's launching all-day breakfast any second now, it seems like it's more crucial than ever that the Mexican-ish chain come up with weird new shit to put taco fillings in.