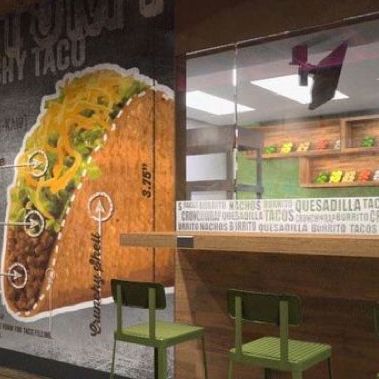 Classy.
Photo: Courtesy fo Taco Bell Corp.
The first Taco Bell to serve booze was rumored to be opening in Chicago's Wicker Park neighborhood last month. But alas, Chicagoans waiting to try Taco Bell margaritas have had to wait just a bit longer, as Taco Bell announced the official opening date will be September 22. But wait: Because this is a classy operation, the location has actually "soft-opened" today.
Called Taco Bell Cantina (to help differentiate it from the regular Taco Bells you go to after you drink too much), the Wicker Park location will be decorated with a mural by a local street artist, have a full liquor license (a San Francisco location slated to open later this month will only get beer and wine), and a bouncer to keep it all civilized.
Alcohol is not the only novel, outside-the-bun thinking going on here, though: In addition to Taco Bell standards like the Cheesy Gordita Crunch and Doritos Locos Taco, there will be a menu of "tapas" including such traditional offerings as chili cheese nachos, a rolled taco platter, and chicken tenders. All of that will be served from an open kitchen, so you will know exactly where your three-cheese blend is coming from. Never mind the fact that plenty of normal Taco Bells also, technically, have "open" kitchens right behind the cashier stations — customers at the new Cantina will likely be too busy battling brain freeze from their boozy slushies (a.k.a. Twisted Freezes) to notice the difference.