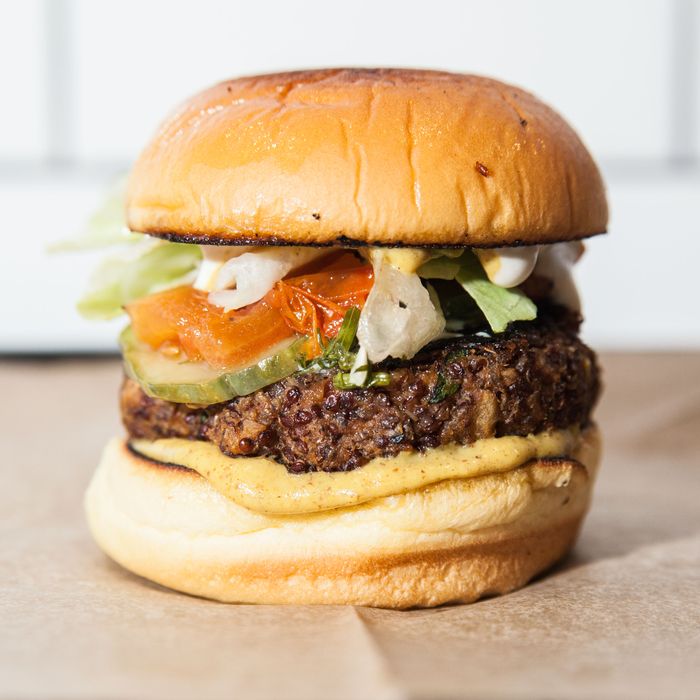 "New ideas fly through the kitchen so quickly, you can almost hear them buzz by."
Photo: Konstantin Sergeyev
Count Pete Wells among Superiority Burger's many fans: The Times critic just reviewed Brooks Headley's tiny East Village restaurant — which is really more of a takeout operation — and praised the Sloppy Dave sandwich, tofu-and-brown-rice Superiority Wrap, and the ever-changing selection of vegetarian specials. He also notes the incredible care that Headley, formerly the pastry chef at Del Posto, puts into his gelato. Wells goes on to say:
New ideas fly through the kitchen so quickly, you can almost hear them buzz by. This is what elevates Superiority Burger above what it appears to be at first glance, a Shake Shack for vegetarians. And it's why going back regularly, as I've been doing, is an adventure. The avid experimentations of Mr. Headley and his cooks remind me of what was going on in the first year at Momofuku Noodle Bar, when David Chang and Joaquin Baca were on the edge of giving up and came back by cooking as if it were their last chance.
It's unprecedented for a place this casual to earn two stars from the Times, which makes Superiority Burger all the more remarkable. Congrats to Headley!
[NYT]