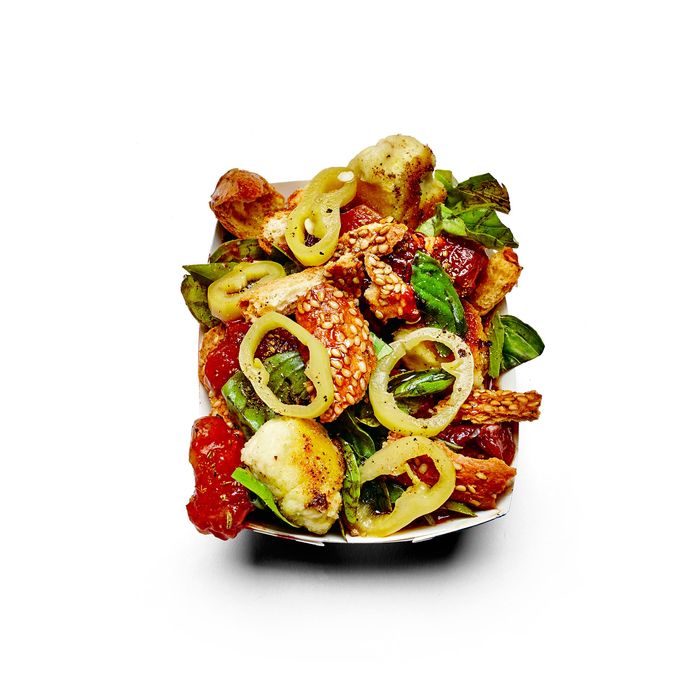 Photo: Bobby Doherty/New York Magazine
Brooks Headley named his East Village canteen for the star meat-free burger, but some of the most exciting things to emerge from his kitchen are vegetable improvs that may materialize mid-meal, their names scribbled on notes taped to the wall. The new vegan cold pizza salad (neither pizza nor salad, in fact) is a recent example, one born of kitchen happenstance, as these things often are. Headley's crew had mislaid a batch of chopped tomatoes destined for the creamed corn, and were pleased to discover that, when slow-cooked with black pepper, garlic, olive oil, and fennel seed, they came to smell and taste like pepperoni or Italian sausage. With some canny contrasts of flavor and texture — griddled nut cheese, crushed bread sticks, bushels of basil — Headley has managed to conjure a slice of pizza in the form of a juicy, crunchy, "cheesy" vegan side.
Mouse over or tap the image to read more.
As a special at Superiority Burger, $5; 430 E. 9th St., nr. Ave. A; 212-256-1192.
Photo: Bobby Doherty/New York Magazine
*This article appears in the October 5, 2015 issue of New York Magazine.