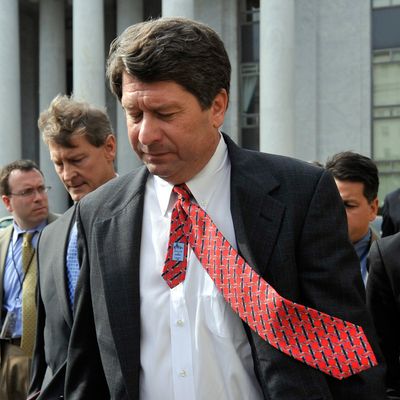 Stewart Parnell in 2009.
Photo: Kevin Clark/The Washington Post via Getty Images
A federal judge has sentenced former Peanut Corporation of America owner Stewart Parnell to 28 years in prison for his role in one of the country's worst salmonella outbreaks, which affected at least 714 people and killed 9 in dozens of states. Causing an outbreak that lasted from 2008 to 2009, Parnell was convicted of knowingly shipping peanut butter and other products that were tainted with salmonella, faking lab records that said his products were safe, and approving shipments partially covered with dust and rat feces. In one email, Parnell reportedly wrote "shit, just ship it" after finding out that a shipment could be delayed pending salmonella test results.
At the Georgia plant, Food and Drug Administration inspectors found a facility with mold, roaches, and dirty equipment, and the company eventually recalled every single product it produced going back to 2007. In fact, the incident is one of several that prompted the most significant overhaul of the country's food-safety system since the Pure Food and Drug Act of 1906.
While the sentencing is more lenient than the unprecedented life in prison prosecutors had recommended, it's still believed to be the harshest in history for this type of crime. Still, given Stewart's age (61), if he serves the full term, it's unlikely he'll be out from behind bars for very long. And it's worth noting that two other former PCA employees were also sentenced. Stewart's brother Michael Parnell was sentenced to 20 years in prison, and PCA's former manager of quality control Mary Wilkerson received a sentence of five years.