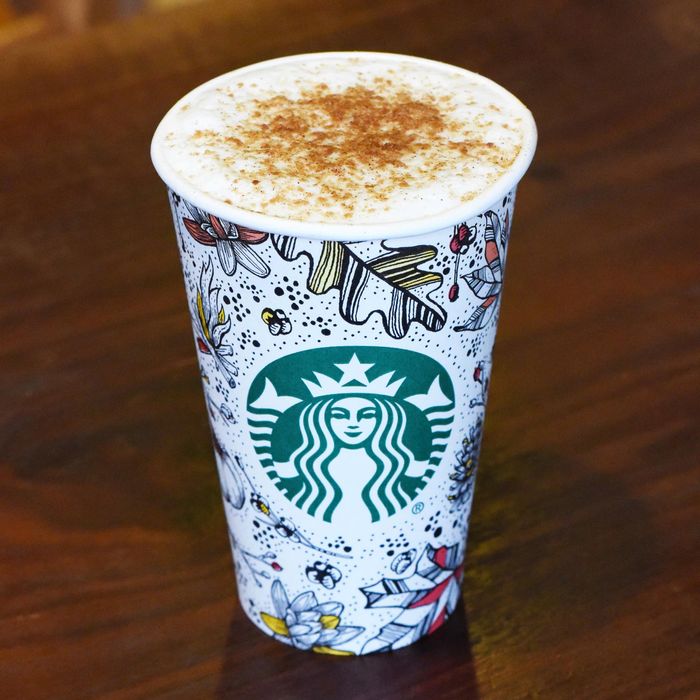 The drink debuts in Starbucks' new fall-themed cups.
Photo: Starbucks
Today Starbucks is releasing its first new fall espresso drink in four years: a toasted-graham latte that's already been shortened to #TGL. Graham crackers are soaked in a milk-and-sweet-cream concoction, and a layer of cinnamon-graham crumbles gets sprinkled on top. Starbucks says it's the handiwork of beverage R&D; manager Yoke Wong, who purportedly found the TGL's inspiration "in an unusual place":
"I thought about the back-to-school season and looked at the latest food and beverage trends," said Wong. "What I found to be quite popular in the U.S. is the taste of cereal milk, the delicious leftovers in your breakfast bowl."

Intrigued by this trend, Wong soaked graham crackers in milk to replicate the taste of cereal and learn more about the milk's texture.
Wong needed to test 30 versions to get her groundbreaking cereal-milk concept just right, although if she'd only read the Milk Bar cookbook, she could've had Christina Tosi's killer recipe four years ago. More suspicious still is this release's proximity to Milk Bar's genius innovation earlier this summer, the Cereal Milk Affogato that combined a doppio Stumptown espresso with a scoop of the soft-serve.