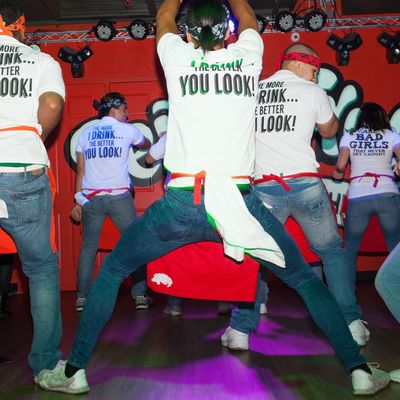 There's a lot of dancing.
Photo: Camilo Fuentealba
Down the spiral staircase of the brand-new Times Square location of Señor Frog's, the fratty, cartoonishly clichéd chain of spring-break-centric resto-clubs, it's always fiesta time. On a recent Saturday afternoon, the vast subterranean dining room was already awash in flashing red, green, and yellow lights. No sunlight filtered in. Music was cranked to Operation Nifty Package decibel levels. Conversation was impossible, which is probably the point. There are 15 Señor Frog's around the world, most of them in beach-centric vacation spots like Aruba, Cancun, and Miami. The Manhattan location is as predictably crass as its siblings, but it feels out of place, and more than a little out of time.
In a way, it's not surprising that Señor Frog's would set up in Times Square. These party spots are big business: Grupo Anderson's, the privately held parent company of Señor Frog's, is a multi-million-dollar operation. According to Forbes, they made $21 million in 2005. The whole enterprise is a well-oiled machine, complete with incredible training videos and team-building exercises. This is debauchery at its most corporate.
Around 7 p.m., the majority of the Day-Glo-colored tables in the Times Square location are still empty. The hostess informs incoming customers that "it doesn't start getting wild until 11." But for now families sit quietly beneath a ceiling scrawled with would-be slogans like "Boobies are just fat being all sexy" and "This tequila tastes like future bad decisions." On each table sits two of the infamous yard cups — the giant, plastic megavessels that are a staple of the Señor Frog's experience — and some hot sauce. Parents and children dine without talking, looking vaguely terrified in balloon hats made by a roving balloon artist.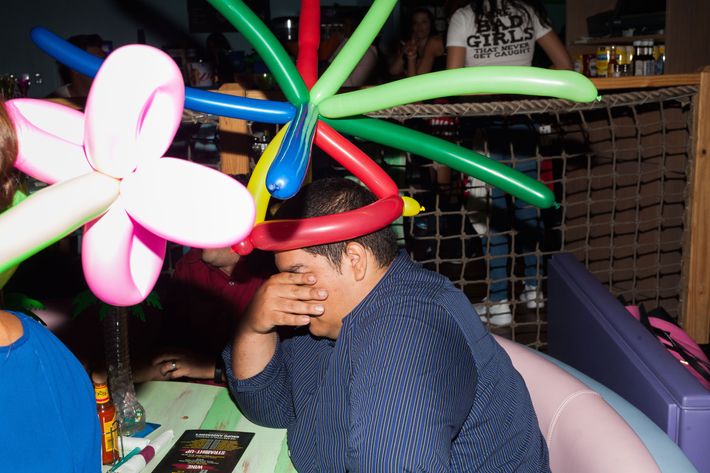 Waitresses wear white polo shirts that read on the front, "A good girl," and on the back, "is just a bad girl who never gets caught." Male staffers' shirts read, "The more I drink the better you look." Both sport red aprons emblazoned with the phrase "Warning: The yard makes your clothes come off." They're also unintentional reminders that in 2012 the U.S. Equal Employment Opportunity Commission sued Señor Frog's, alleging female servers were "repeatedly bombarded with sexual propositions, explicit sexual remarks, groping, grabbing, and exposure of genital areas by male managers," as well as being "ordered to perform sexual favors for high-level Señor Frog officials." Señor Frog's eventually agreed to pay $350,000 to settle the charges. Nevertheless, the staff members in Times Square are uniformly enthusiastic, singing and dancing nonstop. At this early hour, there is a 2:1 staff-to-customer ratio.
At every turn, those customers are encouraged to drink. A sign behind the bar reads, "Nothing epic happens drinking water." An emcee with a half-shaven head and half-shaven beard named Terry "Kid Lucky" Lewis screams into a mic, "Who wants shots!??!" The waitstaff forms a conga line by the stage, and a woman in a Mexican poncho, sombrero, and fake mustache leads it in a quick-moving lap of the premises, squirting a red liquid into the open yawps of patrons who have waved their arms with sufficient avidity. "Shots, shots, shots, shots, shots, shots, shots, shots," they chant in a clave rhythm. This, as it turns out, is the refrain from Frog's unofficial theme song, LMFAO's "Shots," which is played at least seven times throughout the night. The actual shots are dispensed from a plastic wash bottle. One little girl, about age 2, looks confused as the faux Mexican squirts the alcohol into her mother's mouth.
Sitting at the bar is Myrta, a deeply tanned grandmother from Bayonne, New Jersey. "It's very entertaining," she says over and over again. Myrta took the bus in, knowing she wouldn't be able to drive home. "It's only $1.50 each way," she says, nursing a beer. "I like it here because it's family-orientated. My grandson is turning 11. Maybe we'll have his birthday here! It's very entertaining."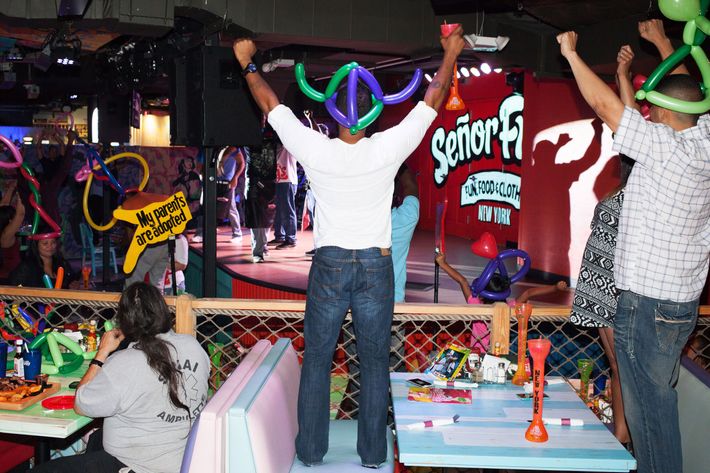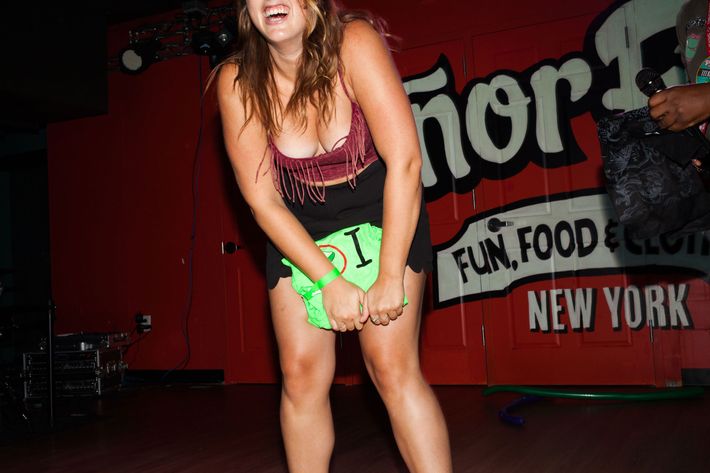 By 11:45, all of the kids have gone home, and an imposing bouncer has taken up residence at the door. Then follows a metal-detecting wand, and it's into the abyss, partygoers. There are more balloon hats now, and the music is even louder. All of the tables are filled, but one still gets the feeling that if you turned on the lights and cut the music, it would just be another Chevys.
The new emcee is Englebert Ramos. He's joined onstage by a Welsh couple that just got married. "I'm going to do shots with you!" he screams, before handing them liquid-filled test tubes, and slyly not drinking his own. "Who wants a booty-shaking contest?" he yells. The crowd, which by now includes birthday parties, couples who are gazing into their cell phones, a bunch of bros, and a bunch of women in tight skirts, warbles. "Now who wants a male body competition?" The crowd seems unsure, before Englebert assuages their concerns: "Just kidding! No one wants to see that!" Then another call for shots. "There's a bunch of drunk single ladies at that table!" he says excitedly as two scantily clad waitresses plod over with a tray full of test-tube shots.
Englebert asks for six couples to join him. "Let's see who our party people are!" he shouts to everyone onstage. "Now," he begins, "make out!" They do, awkwardly, as Englebert watches. The women, in general, seem more enthusiastic about the whole thing. "It's a dance contest!" says an encouraging Englebert. "Get wild!" Almost immediately, one woman drops to her knees, miming fellatio on her fiancé.
There is an almost complete lack of self-awareness inside this Times Square basement: The stand near the house photographer has a sign that reads, "If you are going to loose [sic] your memory, let us take a picture. It'll last longer." That might seem jaw-droppingly obtuse anywhere else; at Señor Frog's, it goes unnoticed. In fact, the house photographer — carrying a large heart stamped with the words Señor Frog's Happy Sex — is doing a brisk business.
None of this seems to bother the customers, though. As the night wears on, I notice two guys in cargo shorts standing nearby, taking in the full scene of Englebert's coordinated onstage make-out session. "Sweet, bro," says one to the other. "Fucking rad," his friend replies.