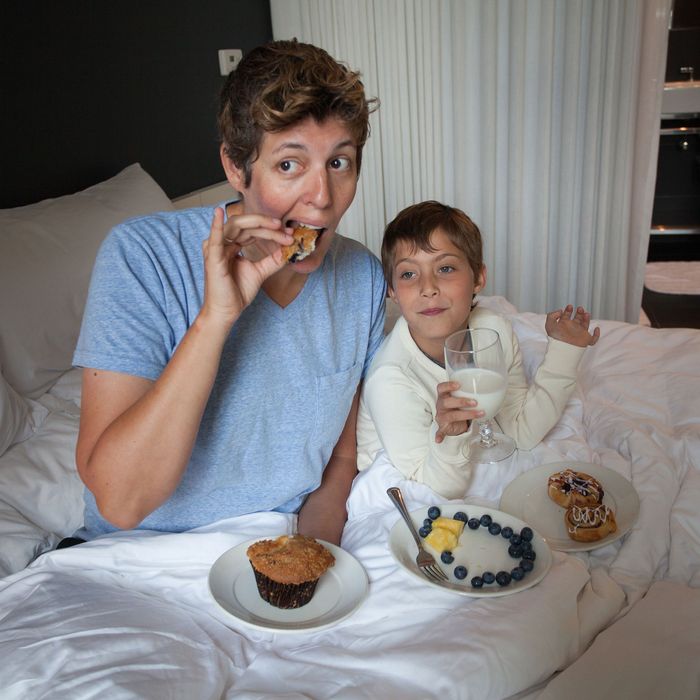 "I think there's nothing more decadent than breakfast in bed that I didn't have to make."
Photo: Madeline Zappala
As a political commentator and columnist for CNN (and the Daily Beast, and Refinery29, and other outlets), Sally Kohn certainly works hard. This week awarded her some much-deserved vacation time, which she enjoyed by eating chocolate-chip pancakes at the Jersey shore, clam chowder at an oyster house in Boston, and homemade grilled sausage in New Hampshire. (Yes, even on vacation, Kohn moves around a lot.) She also, impressively, enjoyed her favorite dessert twice — an extra-thick vanilla milkshake with chocolate syrup — and ate the best cruellers of her life. Read all about it in this week's Grub Street Diet.
Thursday, August 27
There are people who like to exercise while on vacation. And there are people who like to eat healthy while on vacation. I am none of these people. For me, vacation equals indulgence.
After a week at the Jersey shore, a few miles north of Cape May where we vacationed when I was a kid, I did my best to clean out the refrigerator by making dinner. I roasted a pork tenderloin that wasn't half bad, considering I'd forgotten to marinate it the night before, and I roasted some summer squash that faired much better with a 20-minute olive oil, balsamic vinegar, salt, and pepper bath. Plus, I made a salad with arugula, raspberries, and radishes.
All of which made me feel infinitely better about going to Springer's ice-cream shop in Stone Harbor that night, after my 6-year-old was asleep. My partner and I ducked out around 9 p.m., as my parents were drifting off, too, and waited in a long line that was as worth it as I remember. Now, these days, ice-cream shops can be a high-pressure environment for me. Too many choices. And if you choose poorly, the regret weighs as heavily as the calories. So, boring though I feel every time, I tend to go with my trusty favorite — a vanilla milkshake with chocolate syrup, extra thick. Most ice-cream establishments fail at the extra-thick part of the equation. Springer's did not disappoint. There wasn't a single watery sip. It was friggin' heaven.
Friday, August 28
My partner left in the wee hours to catch a flight to New Orleans to attend a meeting of environmental activists during the tenth anniversary of Hurricane Katrina. We missed her, and drowned our sorrows by eating breakfast at a restaurant of which she would never approve. They served Hatfield pork products, for crying out loud — and boasted about it on the menu!
But Brian's Waffle House was down the street from the pirate mini-golf establishment to which my parents had promised to take my daughter. And, I should note, Brian's stood out from several other Jersey-shore breakfast joints in that it actually offered real maple syrup — if you were willing to pay extra, that is. I ordered silver-dollar pancakes with Hershey's chocolate chips because (a) I'm from Pennsylvania, where the only real chocolate we acknowledge is Hershey's and (b) vacation. Also, I would like to note, I won at mini golf — beating a 6-year-old and two members of AARP.
My mom made me a salad for lunch. It was awesome, both because I needed some roughage after Brian's Waffle House, and because I didn't have to make it for myself. Continuing the fridge-emptying mission, it included the still-leftover arugula plus peaches, the summer squash I'd roasted, and some diced gouda. It's here I should note that my daughter was eating liverwurst on spelt crackers and drinking watered-down kombucha because that's what my mom has fed my daughter since she's had teeth, and my daughter loves it. I had to scootch down at the table so that the scent of my daughter's lunch didn't interfere with my own.
Dinner was pizza. Takeout, from some place called Uncle Oogie's. It was my job to decide where to order from, the fridge now mostly ingested, and I chose almost purely based on name. How could I not? It was just-fine pizza. Usually, about once a week, we eat pizza at our favorite neighborhood restaurant in Brooklyn, franny's — or, lately, go to their new sister restaurant, the equally divine Rose's Bar & Grill. I'm sad to report here that, other than an apostrophe, Oogie's and franny's don't share much in common and the former only made me homesick for the latter.
Saturday, August 29
I had some yogurt and granola with a peach cut in before my daughter and I hit the road. Somewhere along the Garden State Parkway, I stopped at a rest stop to get tea at Starbucks, but the line was too long so I bought a Nantucket Nectars Half & Half for my caffeine fix.
As we drove north on 95 listening to Harry Potter on tape — which, if you haven't tried it, is fantastic — I realized I hadn't given much thought to lunch. I tossed some granola bars, an apple, and a container of almonds to my daughter in the backseat while I ransacked the rest of the snack bag. A friend of mine once told me that her father, an old traveling salesman, had a rule that food doesn't have calories if you eat it while moving. I remembered this fondly, or desperately, as I polished off a bag of white-cheddar popcorn.
We got to Boston faster than I expected. I credit the Nimbus 2000. Once we parked and checked into our hotel, my daughter and I headed to Boston Public Market, which several friends had recommended. It's an indoor gathering of local-food offerings, from cuts of beef to fresh pasta to veggies — mostly the kind of stuff you buy and take home to cook, but with some prepared foods mixed in between. My daughter got a small cone of black-raspberry ice cream from Crescent Ridge. I helped with the drips. And then, after wandering around Faneuil Hall, we lazily went to dinner at the noodle shop Wagamama. I hadn't been to a Wagamama since I was in college studying abroad in London. I don't know if it's gone downhill or not but nothing ever tastes as good as memories.
I may or may not have eaten both of the chocolates left at our bedside by housekeeping.
Sunday, August 30
When staying in a hotel, my favorite thing is to have room service for breakfast. I think there's nothing more decadent than breakfast in bed that I didn't have to make. Unfortunately, unbeknownst to me at the time, the hotel I booked doesn't offer room service. But the Ames Boston Hotel has a continental breakfast, and let's you bring things back to your room. Problem solved. I had yogurt and granola and berries and ate it in bed in our lovely room.
Continuing the touristy circuit, somewhere between an old graveyard and the swan boats, I had a fresh-squeezed lemonade. We stopped at the Union Oyster House for lunch, not my first choice (lookin' at you, Island Creek Oyster Bar!), but the closest. I had four oysters and a cup of clam chowder. My daughter was peeved we weren't having sushi, which, since my partner isn't the biggest sushi fan, we tend to gorge ourselves on when she's out of town. I convinced my kid that because oysters are served raw, they're a kind of sushi. I think I heard a waiter snicker behind my back.
For dinner, our friend John Adler, who is the chef at franny's, recommended Ribelle in Brookline. For starters, we had heirloom tomatoes with cheese, fresh horseradish, and shishito, plus a red-oak lettuce salad with preserved ramps and a singular holding-its-shape duck yolk in the middle, which I meant to ask how they managed to create but I forgot. Then we had spelt bigoli (I'm told it's an "extruded pasta" but looked just like spaghetti to me) with lamb and pork meatballs, a green-tomato sauce, and cotija cheese. It was like a Dr. Seuss spaghetti and meatballs and was one of the best things I ate all week. And we had duck with nightshades, lime balm (?!), and more yolk. Also fantastic.
I shared the hotel chocolates this evening.
Monday, August 31
We had breakfast in bed again: I had Greek yogurt with berries and a little honey and Kashi Crunch sprinkled on top. Plus, a handful of a muffin. And tea, of course. As soon as possible.
We were going to have sushi for lunch, but after our visit to the New England Aquarium, that seemed sacrilegious. So we went to Myers + Chang, which a number of foodie friends suggested. I got Mama Chang's pork dumplings and pork-belly buns, since it wasn't the Sabbath or anything, but what's really noteworthy is the amazing bowl of perfectly cooked udon and sautéed baby bok choy that my daughter had. For just $3. I mean…. $3! If we lived nearby, I would ask if they could babysit.
Then we drove to Portsmouth, New Hampshire, to visit my in-laws and their twins who are, conveniently, just a few months older than my daughter. My mother-in-law is an amazing cook. She always picks delicious, healthy, fresh dishes and makes planning and preparing the meals look effortless. Tonight she made a ratatouille that Deb Perelman of Smitten Kitchen fame had concocted based on the movie with the rat. We had it over couscous with some grilled sausages from Wee Bit Farm (one of my favorite sausage purveyors in the country). So many bottles of rosé were consumed that I can't remember the make and model of any.
Before dinner, so I don't know why I'm mentioning it here, but I am, out shopping for ingredients we went to Lil's in Kittery, Maine. I was told people flock to Lil's for their cruellers, that they're supposed to be the greatest doughnuts on earth. I tried one, because I felt obligated to report my findings here. People ain't lying. It was undoubtedly the best piece of fried and glazed dough I've ever inhaled so quickly that I couldn't believe it was over.
Tuesday, September 1
Usually, I'm at my in-laws with my partner but she was still in New Orleans, so I used her favorite mug in the house to have my morning tea. This felt awesome. And naughty. God, I am vanilla.
I made scrambled eggs and English muffins for all the kids and ate some, too.
Then, I drove an hour to Manchester, New Hampshire, home of Southern New Hampshire University, where I was giving the keynote speech at opening convocation ceremonies. After the speech to 750 very frightened-looking freshmen, the school hosted a luncheon for me with student government leaders, plus some staff and faculty. I had a plate of salad and lasagna in front of me and ate a few bites, but mostly I was talking. On the drive home, I realized I was hungry. I found four stale Life Savers in the glove box and ate them.
Back in Portsmouth, I ate three graham crackers from my kid's snack plate. Then we all went out to dinner at a new restaurant called Street, which serves variations on street food from around the world. Right up my alley! Feeling the need to ween myself from vacation eating, I had the Singapore Salad with chopped up daikon radish, cucumber, cabbage, carrots, peanuts, cilantro, and some other good things. With Korean barbecued beef and avocado added. Which was delicious. But nowhere near as good as the curried French fries we started with, of which I ate so many that my thumb was still stained yellow the next morning.
Dessert involved a trip to Annabelle's, one of the greatest ice-cream makers in New England. I had — wait for it — a vanilla milkshake with chocolate syrup, extra thick. Predictable. Vanilla. But also, delicious!
Wednesday, September 2
To thank my in-laws for watching my daughter during my speech, I decided to take all three kids on an all-day adventure. After a quick breakfast of berries and Siggi yogurt with some Kashi nuggets on top (bad name, great cereal!) we were off to the Hilltop Fun Center. The name really does say it all. We rode go-karts and played mini golf, arcade games, and a raucous three-round match of laser tag. Somewhere in the middle, I fed the kids granola bars and, when we got back in the car, some cut-up fruit that my mother-in-law had thought to send us with. Then, we all ate Ring Pops on the ride home while I made them listen to Wilson Phillips. I think, by the end, they appreciated their harmonic artistry.
Again, I realized I hadn't eaten much for lunch (assuming the Ring Pop doesn't count) so I raided the kids' snacks again and had a slice of goat gouda, a handful of pretzels, and some marcona almonds.
For dinner, my father-in-law grilled hamburgers and my mother-in-law made a gorgeous salad from all the bounty of their weekly CSA delivery. Cucumbers and squash and tomatoes and bright-green lettuce. I ate my hamburger bunless and slathered with ketchup and mayo. There was more rosé and, eventually, some bottles of red that my brother-in-law had brought us from Madrid, where he's living. I was feeling very healthy and happy and ready to transition back to the normal intake of real life. And then we bribed the kids to clean up the playroom by giving them each a Starburst. I ate one. Because vacation.