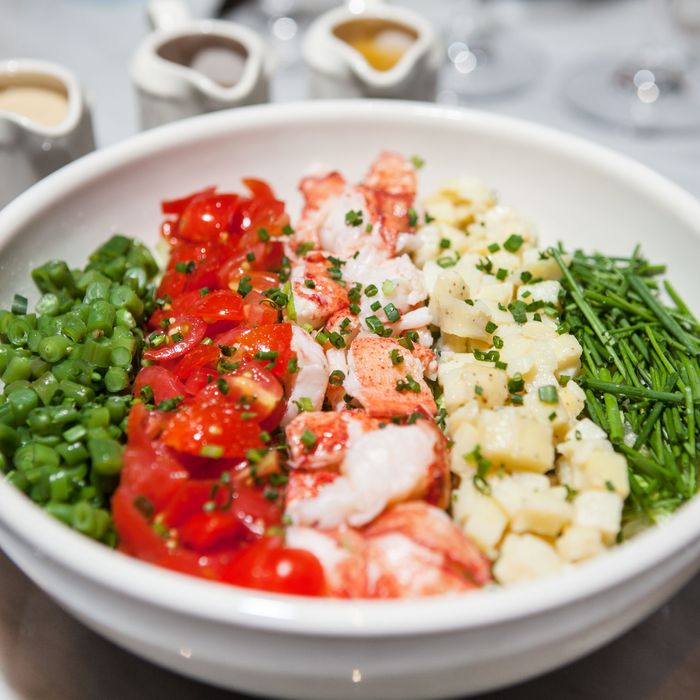 The lobster salad with string beans, potatoes, tomatos, chives.
Photo: Konstantin Sergeyev
We admit it. We've been obsessing over Sadelle's to what some might say is an unhealthy degree. But that was all about Melissa Weller's bagels, babkas, and assorted sweets. Now we're ready to move on (at least for a moment) to savory food — in this case, Mario Carbone and Rich Torrisi's takes on Ur-coffee-shop classics. As of today, the restaurant is open for seated breakfast and lunch, with dinner launching soon. You've got your pancake-style LEO (lox, eggs, and onion), your cheese blintzes with blueberry compote, your (salami-wrapped) pigs in a blanket. There are sandwiches on house-baked bread (and bagels, naturally), and a few heartier mains. Especially noteworthy are the chopped-lettuce salads, seven composed bowls that promise to make the joint as much a destination for Soho ladies (and gentlemen) who lunch as for dessert fiends. Speaking of which, Weller plans to offer New York–style cheesecake, seasonal pie, and an ultra-classic hot-fudge sundae, made with vanilla ice cream and hot fudge based on a Ruth Reichl recipe. Take a look at some of the food and the space.