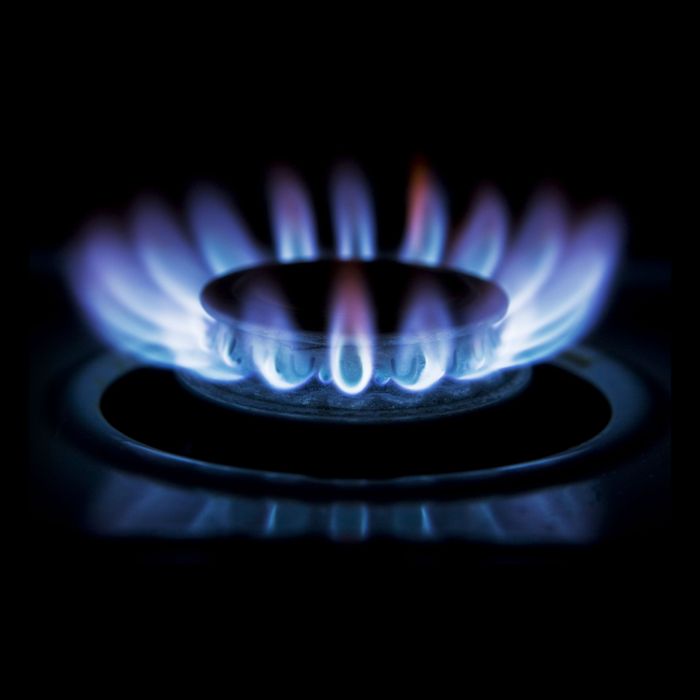 Plenty of owners design their kitchens to be gas-free from the get-go.
Photo: Frederick Nacino/Getty Images
Nobody ever said restaurant owners in New York have it easy, but some have it harder than others. As the Times discovers this week, Jonathan Wu's popular restaurant Fung Tu has been doing everything it can to operate without gas for two months. The service might seem like a necessity for any restaurant, where fire and heat are often as necessary as knives and ingredients, but Con Edison, the utility giant that supplies gas to Manhattan (and a name that keeps many small-business owners up at night) turned off the line when an upstairs neighbor smelled a potential leak, and has yet to turn it back on. So Fung Tu is stuck in a kind of kitchen purgatory, forced to serve a condensed menu and deal with regular power outages that result from an increased load on the circuit breaker. Wu says he has no idea when the gas will come back on. Perhaps most surprisingly, Fung Tu's situation illustrates exactly why more and more New York restaurant owners decide to forgo gas altogether.
When Mike Price, the chef and co-owner of restaurants such as Market Table, opened his restaurant the Clam last year, he did so without gas. Price, after all, had a staff (and rent) to pay. "Every day I wasn't cooking," he says, "it cost money." It wasn't part of his original plan, of course, but when he was about to open, ConEd unexpectedly shut the restaurant's line, saying the gas system in place couldn't sustain the amount of use it would get from Price's kitchen. (Though Price also says that during renovations he removed "twice as much" equipment from the previous tenant as he put back in for his restaurant.) He cooked for four months without gas — thanks in part to an electric plancha — before his line was turned back on. "ConEd doesn't really answer to anybody," Price says. "That being said, for them to say that lives are in danger, who can argue with that?" Nevertheless, Price thinks there's room for improvement: "There does have to be some kind of middle ground where you can expedite service and get stuff done without putting people out of business."
Sadly, recent headlines make it easy to remember just how volatile our reliance on natural gas can be: Last year's gas explosion in Harlem killed eight people and displaced 100 families. More recently, there was the tragic explosion in the East Village that claimed two lives and destroyed three buildings. As a result, people say, ConEd has stepped up its inspections and restaurants like Carnegie Deli, a Dallas BBQ outpost, and the iconic B&H Dairy were all shuttered due to gas-related issues. (B&H; was eventually able to reopen last month after closing in March.)
Safety is, of course, the top concern for everyone, but for restaurant owners in New York, where the cost of doing business continues to rise and margins are often razor thin, an unexpected closure for any amount of time really can mean the difference between staying open and having to close forever.
Owners say problems arise when ConEd can't get gas service turned on in an efficient manner, so proprietors who need to start paying the bills often come up with creative solutions to get cooking, even without gas. Lower East Side restaurant Moscow 57 survived seven months without gas. Co-owner Seth Goldman recommends an electric convection oven, induction cook tops, a rice cooker, and a microwave to help brave a shutdown. (Even still, the restaurant wasn't able to launch with a full menu, and the owners are preparing a legal case against ConEd for the resulting loss of business.)
"No one ever really plans adequately for a gas shutdown," says Harold Moore, who had to endure brief outages at his now-shuttered West Village restaurant Commerce, when he'd turn to portable butane burners and an electric toaster oven. "Thinking about it now, this is a real problem in New York," Moore says. "Our infrastructure is definitely old. It's inconvenient for everybody, and the alternative — fire, explosion — is really traumatic. But considering the number of people that ConEd has to service, there have been relatively few accidents, so I suppose they're doing a pretty good job. It's just that the delays can be especially frustrating."
Many owners, looking to simply avoid the gas-related headaches altogether, design their kitchens to be gas-free from the get-go. At Boerum Hill's Rucola, managing partner Julian Brizzi, says the decision to go gasless "was both budgetary and situational, as a full gas kitchen would be very difficult for us to install in a landmarked building." Brizzi had previously worked at Frankie's 457, which also operates with an all-electric kitchen, and the experience was instrumental in putting Rucola's kitchen setup together. So his kitchen turns out rustic Italian dishes with induction burners and an electric double-decker oven. (Interestingly, Brizzi still wasn't able to avoid ConEd completely: Brooklyn's gas is supplied by National Grid, but Con Edison supplies the electricity, and Brizzi says there were "a number of issues with Con Edison giving us enough power to operate with the electrical capacity that Rucola demands.") Brizzi, however, says there are other advantages to going all electric. "The equipment has a lower profile so you can fit more stuff in a smaller kitchen," he says. The benefits of an all-electric setup convinced Brizzi and his partners to forgo gas at their latest opening, Grand Army, too. So there, chef Jon Bignelli uses a small tabletop oven and a couple of induction burners for the seafood-heavy menu.
Sahara Uy, executive chef of the West Village's Wallflower, inherited an all-electric kitchen from her predecessor. "It was a good choice, because there is no ventilation system," she says. "They built this kitchen to specifically reduce the heat." Uy uses CookTek burners, two small convection ovens and a salamander. She's also a big endorser of a Zojirushi rice cooker. "You can also steam in it. You can make quick stews. I've even made Chinese steamed buns in one. A good one lasts forever."
Michelin-starred chef Paul Liebrandt, meanwhile, is looking at using an all-electric kitchen for an upcoming project. "There is a lot of newer technology available to professional kitchens than there was, say, 20 years ago," he says. Liebrandt cites induction units for their accurate range of temperature control. He also likes electric because "it's cleaner, it cuts down on heat in the kitchen and allows a more precise way to work."
While there certainly are advantages to cooking without gas, the not-so-distant memory of power outages during hurricane Sandy underscores the problem with relying solely on electricity, too. In fact, Adam Eskin, proprietor of the Dig Inn restaurants — and who also happens to live in a building where ConEd has kept the gas off in some apartments for the better part of a year — might have the right idea: Eskin says he experienced the fickleness of ConEd recently, when he opened a Dig Inn branch in Brookfield Place, where he says there were "delays, delays, delays." But he was ready: "What we do for all openings is that we wire for electric, and open the restaurant with grills, griddles and ovens that are all electric. Once we finally go through the whole process and the gas comes on, we switch the equipment over from electric to gas, but we still have the electric for back up." And therein lies the ultimate secret for running a successful restaurant in New York City: Always be prepared for disaster to strike when you least expect it.