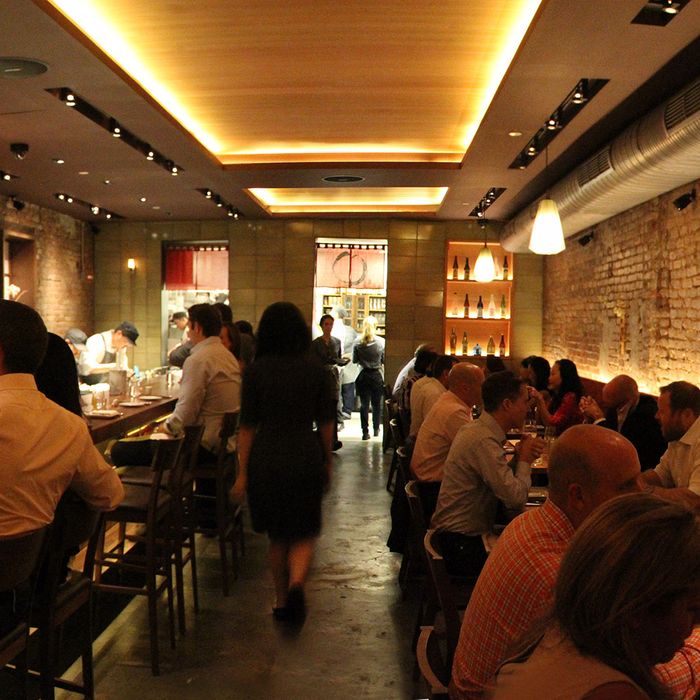 O Ya.
Photo: Tirzah Brott/New York Magazine
One of Platt's ten dining commandments (I forget which number precisely) states that the longer a trend lasts, the greater the chance it has of descending into the realm of parody. This is not a bad thing, of course. Success breeds imitation, and imitation breeds more imitation, which leads, in the long run, to a kind of immortality. Ye olde New York steakhouse has been a ritualized (and highly profitable) parody of itself for many decades, after all, along with ye olde Irish bar, ye olde pizza joint, and ye olde red-sauce restaurant. Among more recent trends, the "speakeasy" seems to have tipped conspicuously into parody in the past few years, along with the farm-to-table restaurant, the faux-French brasserie, the haute "chef-driven" hamburger, and, some would argue, the entire borough of Brooklyn.
With the steady proliferation of rarefied, big-money omakase joints around town during this latest boom era of the one percent, now it might be sushi's turn. Or so it occurred to me as I bellied up to the polished, supersize counter at O Ya, which the Boston sushi maestros Tim and Nancy Cushman opened on the eastern fringes of the Flatiron District earlier this summer. The restaurant's façade, on 28th Street, is obscured by a slightly overlarge Japanese garden stone, along with several unruly fronds of bamboo. The room inside is filled with the usual creatures of the upmarket-sushi circus (jet-setting couples from Tokyo and Beijing, sugar daddies and their dates, banker bros wearing their giant watches). Compared with some of the more discreet omakase venues in the city, the bar is as long as a cigarette boat, and instead of one humble sushi master parsing out delicate lobes of uni in priestly silence, I counted six, all of them wielding toro-singeing blowtorches like cocktail shakers and wearing identical gray Chairman Mao caps.
The Cushmans (he oversees the kitchen, she runs the front of the house) have won almost every accolade there is since opening their Boston restaurant in 2007, and by the looks of things, it doesn't appear that they've changed their formula very much since then. There are only two options on the menu ($185 for 18 courses and $245 for the 24-piece Big Apple extravaganza), both of which seem to be priced to New York's last, prerecessionary bull market instead of this one. Unlike at more recent, cutting-edge omakase operations such as Sushi Nakazawa (where $120 buys 21 pieces) or Shuko (where the most elaborate kaiseki menu costs $175), the proceedings have a rather impersonal, hotel-restaurant feel (O Ya sits off the lobby of a small, nondescript establishment called the Park South Hotel), which is enhanced by a looping golden-oldie mix tape (Zeppelin, the Stones, Tom Waits) that sounds like it's been lifted from Mario Batali's kitchen at Babbo circa 1998.
Not that there's anything too bitterly unpleasant about slipping a plump, perfectly chilled Kumamoto oyster down your throat to the sounds of Mick Jagger croaking his way through "Midnight Rambler." On the contrary, once you get acclimated to the slightly dated surroundings at O Ya (and to the looming realization that you will soon be parting, after tip, taxes, and a few de rigueur belts of artisanal sake, with a substantial portion of this week's take-home pay), dinner proceeds without a hitch. After the oyster I enjoyed a slip of yellowtail, topped with uni harvested not from the usual sea-urchin farms out in Santa Barbara, according to my friendly sushi-ya, but by hand from the seaweed-rich shores of southern Hokkaido. Other seductive delicacies followed, including ocean trout garnished with rosy squares of puréed tomato confit; soft pats of freshwater eel flavored with, among other things, Thai basil; and an addictive little vegetable-sushi creation constructed with Italian summer truffles and a single, carefully fried fingerling-potato chip.
It's become fashionable in haute sushi circles to cultivate a more chaste, locally grown style, but Tim Cushman (whom I never saw working behind the bar) clearly belongs to the school of experimental fusion masters (Nobu, Masa, Morimoto, Masatoshi "Gari" Sugio) who dominated the landscape during that great no-holds-barred Jurassic period of sushi consumption at the turn of the millennium, when fatty tuna belly overtook filet mignon as the world's preeminent power food. Like at Gari, the sushi here is gently burnt with blowtorches, shaped into toppling little towers, and layered with all sorts of elaborate flavor enhancers (pay attention to the black-olive purée on the excellent silver kohada, and to a strangely artful substance called "Wagyu schmaltz"). Like at Masa, no expense is spared flying in the most sought-after ingredients from around the globe, and dinner reaches its predictable peak with those ancient high-roller signifiers, Wagyu beef and seared foie gras.
For the record, the Wagyu in question was so good I had to be restrained from ordering it twice (it's cut in sashimi-size lozenges and served over a scrim of potato confit), and the foie gras finale was dripped with a reduction of balsamic vinegar, sake, and chocolate that tasted much more interesting than the strange buckwheat-and-berry creation I was served for dessert. Also for the record, the final accounting for my 18-piece, no-frills omakase came to $309, a sum that included a standard 20 percent tip for the generally excellent service, taxes, and $59 worth of well-chosen sake. Would I drop the same kind of cash if it came out of my own bank account? Possibly not. But one day in the not-so-distant future, the sushi-omakase boom will come to its inevitable end, and if you have a prosperous uncle who's visiting the city and don't feel like groveling for a spot at the more cultish sushi parlors around town, you could do worse.

O Ya
120 E. 28th St., nr. Lexington Ave.; 212-204-0200; o-ya.restaurant/o-ya-nyc
Open: For dinner, Tuesday through Saturday.
Prices: $185 for 18 pieces; $245 for 24 pieces.
Ideal Meal: 18-piece omakase, with emphasis on the fried Kumamoto oyster; the kohada with black-olive purée; and anything to do with Wagyu, truffles, or bluefin toro belly.
Note: Yes, there's a $1,200 bottle of sake available on the small, well-chosen list, but if you're in a thrifty mood, call for a $33 carafe of the pleasing and appropriately named Sugei "Drunken Whale" from southern Japan.
Scratchpad: Three stars for the generally delicious, well-executed sushi creations and minus a star for the slightly anonymous hotel vibe and the exorbitant prices.
*This article appears in the September 21, 2015 issue of New York Magazine.