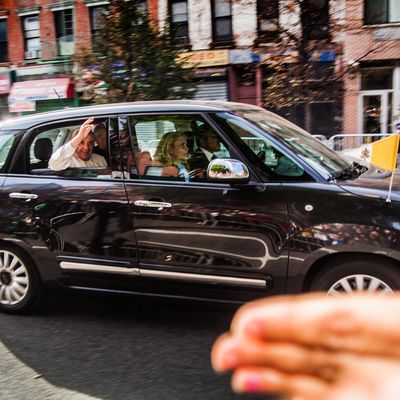 "Hope you all ate before you came."
Photo: Konstantin Sergeyev
Pope Francis's visit Stateside might have been great for people seeking edible kitsch, but things didn't work out so well for the restaurant industry. Restaurant owners were excited about millions of hungry pilgrims clamoring for tables, but many say that, on their end at least, the weekend actually amounted to a financial disaster.
David Chang was among the first to register his disappointment as the pontiff (and all of his attendant traffic congestion) was wrapping up in NYC:
But the situation in Philly actually sounds the most depressing, possibly because of how much the city had built up the supposed economic boon. Organizers predicted Francis's stay would generate nearly half a billion (with a b) dollars for the city, but it doesn't look like that happened — not unless street vendors evened out the losses by selling, like, 100 million key chains and rosaries: Chefs around town started complaining Saturday about the hits they were taking, lots of them faulting the city's overeager security apparatus. Stephen Starr, who owns about 20 Philly restaurants, plus places like the Clocktower and Morimoto in NYC, told Philly.com things were "worse than Hurricane Sandy," adding: "The city scared all of our customers away. … What should have been a feeling of family and community was turned into a police and military operation."
Marc Vetri's quite popular Vetri was celebrating its unfortunately timed anniversary with a special half-off prix fixe, and had loads of reservations available on OpenTable. Vetri threw an exasperated-sounding post up on Facebook, arguing the myriad gates and road closures and whatnot had "hurt small and large business alike so they had to close." Other restaurateurs, apparently just resigning themselves to the disaster, told the AP they didn't even bother opening on Sunday.
There is one silver lining, though: Now there's all this leftover food, and everybody feels freshly inspired to act like a saint, so dinner's looking pretty terrific at a ton of homeless shelters this week.
[AP, Philly.com]