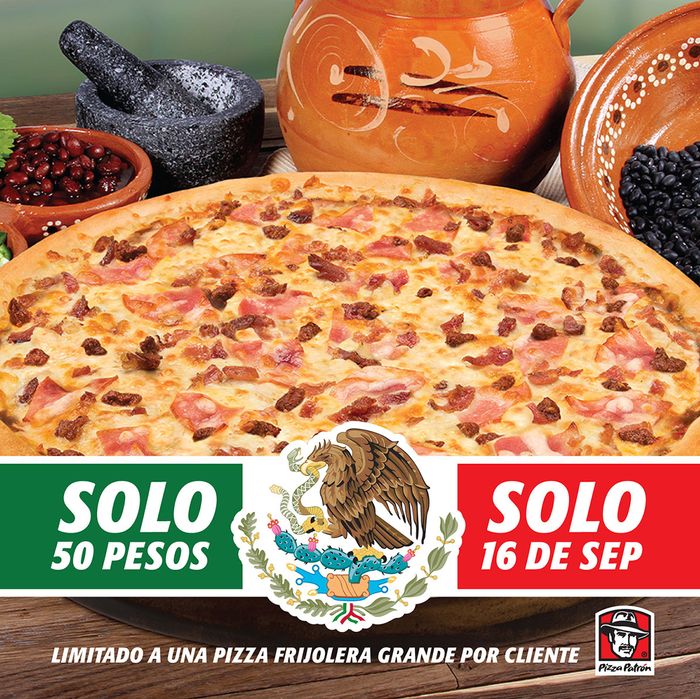 Pizza Patrón, a chain whose marketing gimmicks often prove a touch too pro-immigrant for conservative tastes, won't be making the 2016 GOP presidential field any happier with its latest promotion. For one day only — September 16, the same day as the next GOP debate — the company is discounting its new Frijolera pizza and encouraging customers to pay for it with pesos. For just 50 pesos (roughly $3), anybody can get their own personal Frijolera pie.
The pizza, normally $8.99, is Mexican-influenced, of course. Spanish for "bean lover," it's comprised of chorizo, ham, bacon, and cheese, all on top of a black-bean sauce. Pizza Patrón has actually been accepting pesos since 2007, part of why the brand's made so many conservative enemies, but hasn't really pushed the so-called "Pizza por Pesos" campaign in marketing for years. This time, there's also a policy position buried in the gimmickry: The chain's executive VP says, "With the economy being such a hot issue in the presidential race, our position is that we would much rather have Mexican pesos coming into the U.S. than U.S. dollars going to Mexico."
Whatever your political views, it's at least a chance to finally be rid of those pesos left over from last year's trip to Tulum.