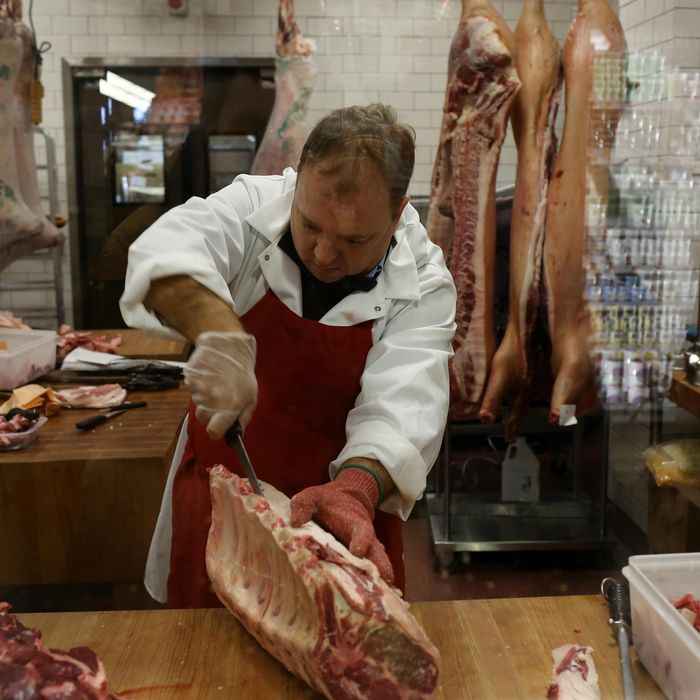 A Whole Foods butcher carving "humanely raised" pork.
Photo: Andrew Lichtenstein/Corbis
Whole Foods has already gotten an earful from organic farmers who complain the grocer's "Responsibly Grown" rating system unfairly promotes conventional produce. Now the company's animal-welfare standards are being questioned: PETA shot undercover video of pigs on a supplier's farm that shows the animals' dark, very tight quarters, with some animals having large, "grotesque rectal prolapses," and others that were supposedly given antibiotics, though that would run counter to one of Whole Foods' major tenets.
The supplier is Sweet Stem Farms in Pennsylvania, whose co-owner Philip Horst-Landis said in their Whole Foods bio video (which has since been taken down) that confinement farms should be "a thing of the past, really."
The narrator makes several claims that the video can't show, like that sick pigs lay on their sides for weeks without veterinary care, but footage does at least appear to show conditions violating the "Step 2" rating Whole Foods gives Sweet Stem. As a "Step 2" farm, Sweet Stem is expected to have above-average welfare standards, things like "enrichments that encourage behavior that's natural" to the animals.
Horst-Landis claims the footage of overcrowded pigpens was manipulated by PETA and that allegations of mistreatment — for instance, that animals sit around with untreated wounds — are "just deceit and distortion." It's worth noting Whole Foods officials say they visited Sweet Stem on Wednesday and "found no problems."
Horst-Landis basically tells Bloomberg they're trying to do the best they can, given the circumstances — going from 80 pigs a year in the pre–Whole Foods days to 3,000 required compromises, he claims, like no more pasture-raising. While PETA, not surprisingly, has a very un-nuanced interpretation of the footage ("What you are about to see will dispel the myth that meat bought from Whole Foods is humane"), the situation is certainly less clear (and intense) here than that displayed in footage showing animals being stabbed with screwdrivers. As Bloomberg points out, the issue is how to keep meat ethical when so much is needed.