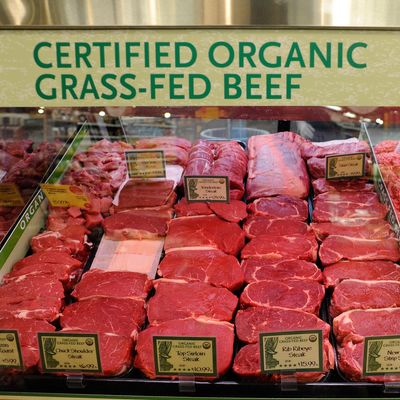 "Tender" might only apply to the meat itself.
Photo: Cyrus McCrimmon/The Denver Post via Getty Images
Last Thursday, PETA posted undercover footage it said showed acts of animal cruelty by a Whole Foods pork supplier. Because the grocery chain's stance on overcrowding, injured animals, and antibiotic use is pretty unambiguous — three things present at Sweet Stem Farm, according to the video — the organization now thinks it can mount a strong legal challenge to Whole Foods' claim of only serving "humane" meat. It filed a class-action lawsuit yesterday in California arguing that the chain's 5-Step Animal Welfare Rating System violates state consumer-protection laws by charging higher prices for pork, beef, and poultry that in actuality differ "little, if at all," from what you find at a Costco or Save A Lot.
The suit even alleges that pig and poultry infant-mortality rates for Whole Foods suppliers exceed the industry average, and that the chain does an abysmal job of auditing, leaving suppliers to enjoy "multiple years" of noncompliance.
Whole Foods hasn't shared its thoughts about the suit yet, but the chain told Bloomberg it conducted a spot check of Sweet Stem and seemed to agree with the owner that the allegations are "just deceit and distortion."
[PETA]