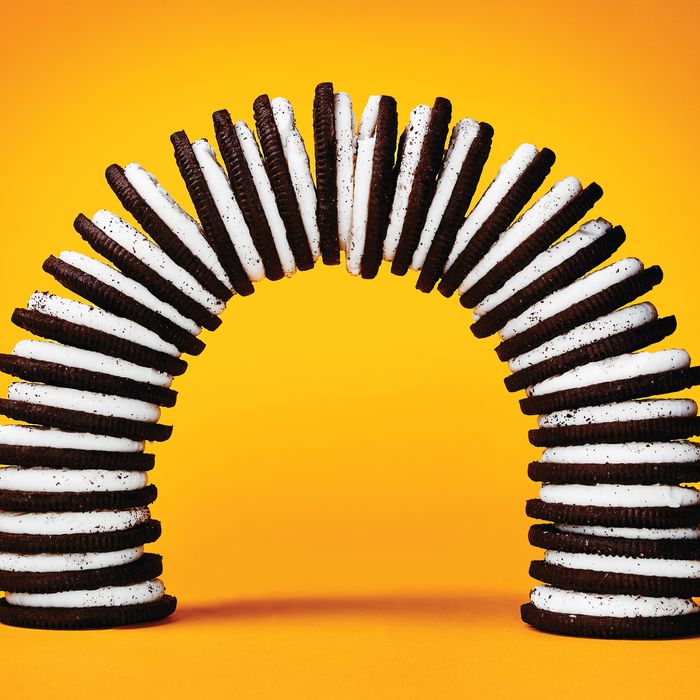 Worldwide, one out of 20 cookies sold is an Oreo.
Photo: Bobby Doherty/New York Magazine
See if you can twist this fact apart: In the past decade, sales of the humble Oreo are up 60 percent, passing $2.5 billion a year. Its success defies two major food-world trends: toward the healthy and unprocessed, and toward the pumped-up and Xtreme. Somehow, this ancient brand has taken off in its second century.
Oreorigins
It was introduced in 1912, and was produced in its early years at the National Biscuit Company complex on Ninth Avenue that now houses Chelsea Market. Redesigned in the 1920s, it received the familiar ridge pattern in 1952. Lately, it's lost its lard (making it kosher) and trans fats.
Cookies and Cheese?
Nabisco, after mergers left it part of Kraft Foods, was spun off in 2012 within a new snack-food company called Mondelez. (It also owns Cadbury, Trident, and Tang.) Last month, Bill Ackman of Pershing Square Capital Management — having watched this year's Kraft-Heinz merger — bought 7.5 percent of Mondelez. Some observers say he's looking to merge it back into Kraft; others say he sees a company where cost-cutting will produce big returns.
Brand Extensions, in Green and Red
Spinoff flavors, with fillings ranging from mint to birthday cake to candy corn, have fueled sales growth. So have Oreo Thins, a crispy new variant. In China, you can buy green-tea-flavored Oreos; in Indonesia, coconut. (Recently, a Cookies-and-Creme variant appeared here: ground-up Oreos, in the filling of other Oreos.) Janda Lukin, the head of Oreo North America, says that limited runs have been a hit. "Red velvet was really successful for us this year. It tapped into Valentine's Day, and it was the first time we changed the base cake color."
But Why Do So Many People Really Like Them?
Oreo hits a "bliss point" — where flavors peak and leave you wanting more — that few products achieve. Not even food scientists can really understand how; as with Heinz ketchup, its long-ago creators seem simply to have hit a magic chord. The psychophysicist Howard Moskowitz (a former Oreo consultant), best known for revolutionizing the spaghetti-sauce business, offers the following clues.
• "The combination of the soft cream and the hard cookie appeals to everybody. The vanilla is not exactly high-quality, but it doesn't matter — you love that middle. And it's a fairly nondescript product, like white bread: You can eat a lot and not get tired of it."
• "You can play with it: split it apart, lick the cream, dunk the cookie. Part of its appeal is the ability to do things."
• "The keys for making a healthful-looking product are still to be found. What does help is that the Oreo is not glazed. Glaze is bad — you want non-reflective surfaces. Non-oily, non-greasy."
Baking Mexico Great Again
Mondelez is in the process of laying off half its 1,200 union employees at a Chicago bakery, moving some jobs to a plant in Mexico. In response, Donald Trump said, "I'm never eating Oreos again," and others joined the boycott. On his premiere, Stephen Colbert scarfed down Oreos as he told Trump jokes. Lukin notes that several U.S. Oreo plants will continue running and adds, "Trump is a businessman, and he should likely understand what we're doing."
What Happened to Hydrox?
For decades, Hydrox cookies fought a Coke-versus-Pepsi battle with Oreo. (Hydrox is older; long ago, Oreo was the knockoff.) After a long twilight, Hydrox was last seen in 2008 — until this month, when a California firm called Leaf Brands brought it back. The pitch: They're not made with corn syrup. The challenge: Millennials have never heard of them. As Moskowitz says: "OR-e-o. I want OR-e-o. It's fun to say. Hydrox sounds like a cleaning fluid."
What trademarked foods are older? Triscuits (1902) • Barnum's Animals Crackers (1902) • Campbell's tomato soup (1897) • Jell-O (1897) • Cracker Jack (1896) • Wrigley's gum (1893) • Fig Newtons (1891) • Poland Spring water (1845) • Jim Beam bourbon (1795) • Bass ale (1777) • Twinings tea (1706) • Löwenbräu beer (1383).
*This article appears in the September 21, 2015 issue of New York Magazine.