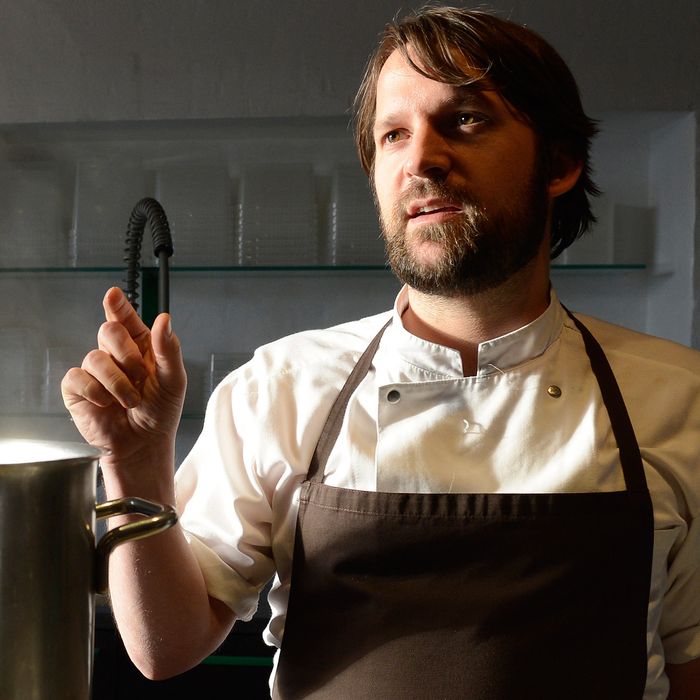 René Redzepi has bigger plans for his influential restaurant.
Photo: Fabian Bimmer/Reuters/Corbis
Noma, widely regarded as one of the most influential restaurants — if not the most influential restaurant — in the world, will close after service on New Year's Eve in 2016. Chef René Redzepi will then reopen the restaurant, hopefully in 2017, as an urban farm (with a restaurant at its center) located in Copenhagen's Christiania neighborhood. Redezpi tells the Times: "It makes sense to have your own farm, as a restaurant of this caliber," citing Blue Hill's Dan Barber as an inspiration.
Redzepi's grand plans include a greenhouse, a full-time farming team, and, amazingly, a huge field that floats on a raft. He's also going to completely rethink Noma's menu, saying, "We've allowed the format of a tasting menu to dictate what we cook." To help, Noma alum Trevor Moran, who now cooks at Nashville's the Catbird Seat, will return to Copenhagen. The Times explains:
In the fall, then, Noma's menu will focus only on wild game (from goose to moose) and foraged autumnal ingredients like mushrooms and forest berries. In the winter, when "the waters are ice-cold and some of the fish have bellies full of roe," as he put it, Noma will mutate into a seafood restaurant. Spring and summer? "The world turns green," he said. "And so will the menu." In an expectation-thwarting move, during those months Noma will become a fully vegetarian restaurant, with much of the bounty ostensibly coming from the farm he wants to conjure up.
And as if that wasn't challenging enough, Redzepi is partnering with chef Kristian Baumann to open a second, more casual restaurant in Copenhagen as well (a development many people probably think is long overdue). Perhaps all this shouldn't come as such a surprise: As his pop-ups in Tokyo and Sydney prove, the trailblazing chef has little interest in coasting, even as his profile continues to grow.
[NYT]