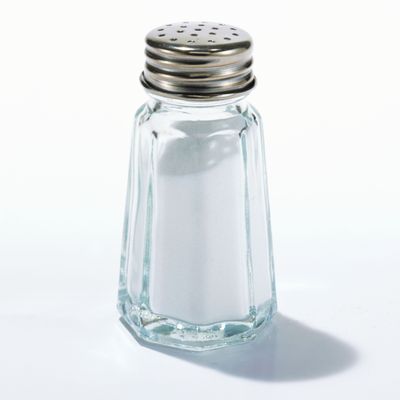 NYC would prefer you didn't "shake it like a saltshaker."
Photo: Davies and Starr/Getty Images
Fast-food menus in New York are about to get a whole lot more crowded. The Board of Health voted today to require chains to add saltshaker symbols next to menu items with at least a day's worth of sodium, which the FDA defines as 2,300 milligrams, or about a teaspoon's worth. (Rumor is the symbol the board originally wanted — a stick figure raising puffy fingers while suffering congestive heart failure — was too confusing at the half-inch size.) As one Health Department official told the Times, "It's quite difficult for consumers to understand which products might have too much sodium in them."
The restaurant lobby of course opposes the tweak, which they say is yet another step toward food-warning fatigue, or at least menus with "more warning labels than food products." At an earlier DOH hearing, a New York State Restaurant Association lawyer sniped: "The concern, at some point, is that warning labels and the confluence of warnings on menus will lead to a collective shrug by consumers … as every item on a menu will be flagged as inappropriate in one way or another." Backers of the warning, meanwhile, say it could be worse — they didn't try going full soda ban here.
However, it's probably worth noting the measure's other big opponents are at City Hall, where some elected officials feel circumvented by a vote de Blasio put before the Health Department instead of them: "We have seen this happen before with the failed soda ban," Public Advocate Letitia James reminds everyone, so maybe take this latest development with a grain — and no more — of salt.
This post has been updated with new information throughout.