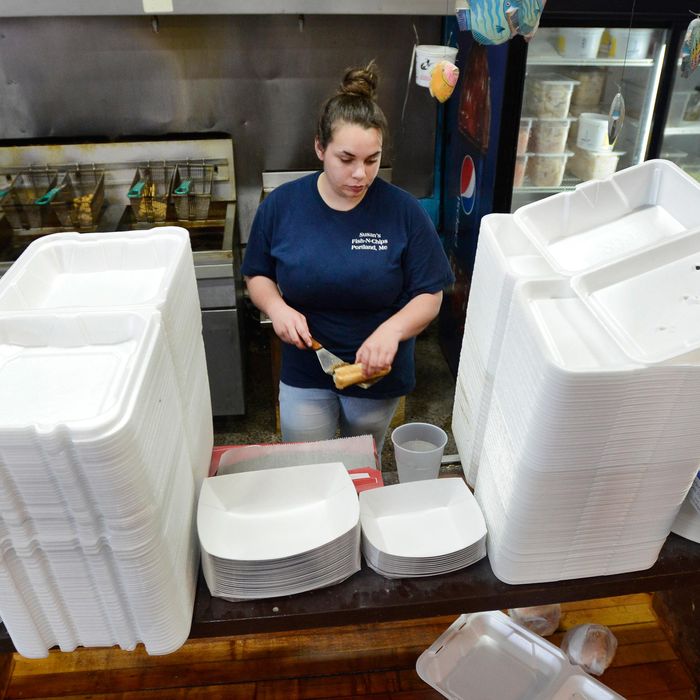 Celebratory takeout for everyone.
Photo: John Patriquin/Portland Press Herald via Getty Images
Good news for takeout fans and New Yorkers who like to drink their beer out of big, cheap Styrofoam cups: You will still be able to do exactly that. Even though the city had been moving forward with its ban on polystyrene foam containers (the actual name of the material everyone things of as "Styrofoam"), Manhattan Supreme Court justice Margaret Chan has now overturned the measure, saying that the Department of Sanitation commissioner's move to eliminate the containers doesn't stand up to scrutiny. Chan writes in a decision that there's plenty of evidence suggesting the foam can, in fact, be recycled and that doing so could also potentially save the city $400,000 annually.
In April, the Restaurant Action Alliance and Dart Container Corporation (which manufactures the foam vessels) filed a lawsuit contesting the ban, claiming similar findings.
A rep for City Hall, meanwhile, says that they will fight this most recent development, telling NY1, "We are reviewing our options to keep the ban in effect." Even though the ban officially went into effect on July 1, penalties for noncompliance were delayed until January 1, meaning businesses were still able to use the containers. And for the time being, it seems they'll be able to continue doing so without fear of interference from the city.