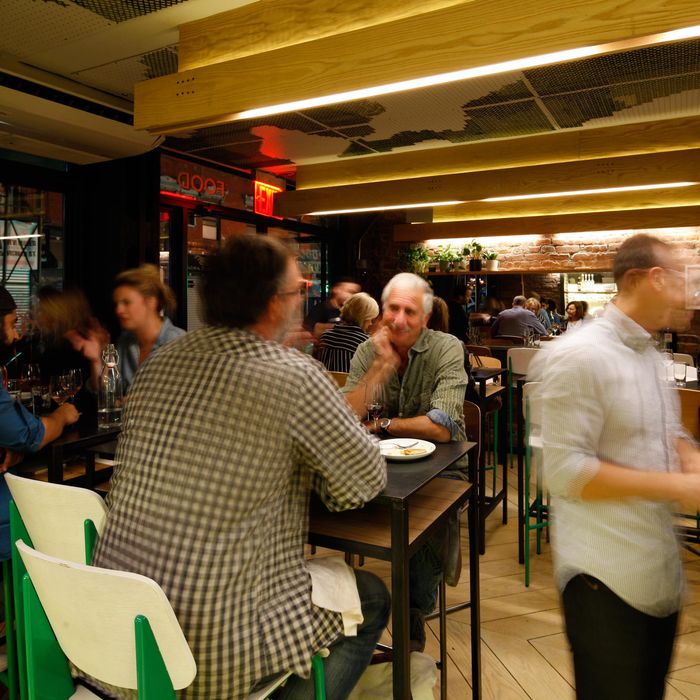 Wildair, which opened on Orchard Street earlier this summer.
Photo: Melissa Hom
All sorts of stodgy institutions have been upended during the course of the great post-millennial dining revolution (coffee bars, breakfast joints, even Chinese restaurants), and now, it seems, it's the wine bar's turn. Not so long ago the standard wine bar was a hushed, pokey little space decorated, perhaps, with faded stock photos of vineyards, framed collages made from old corks, and maybe an oak barrel head or two hanging from the walls. Dinner might include a selection of warmed-over canapés to nibble on while nursing a carafe of second-growth Bordeaux and listening to the haughty sommelier quietly (but firmly) espouse the virtues of a just-released, difficult-to-obtain trophy bottle, which he's sampled on his annual jaunt through the vineyards of Côte de Beaune or Napa.
In recent years, good food has been added to the wine-bar equation (dell'anima, Anfora), and quirky, knowledgeable sommeliers like Paul Grieco have helped broaden and demystify the stuffy wine world. And now the ancient wine-bar template has begun to change as proprietors rethink their audience, and younger, less tradition-bound diners and wine snobs arrive on the scene — customers who tend to value a rough-around-the-edges atmosphere over any airs of pretension. In fact, let's not call the latest crop of vino-centric establishments, which have opened up around town in the last several months, "wine bars" at all. They're "wine-forward" restaurants, featuring rows of café tables (in addition to the inevitable wine-drinking "counter"), carefully curated décors (and, of course, soundtracks assembled with equal care) and menus that tend to be filled with modern, seasonal updates on bistro classics, and maybe a small cocktail list for good measure. The sommeliers in these convivial new establishments aren't always called sommeliers — "wine consultant" will do — and instead of columns of ancient vintages, their accessible lists tend to be built around fresher, younger, more drinkable (and often more affordable) "natural" wines, the catchall term for wines produced with minimal fuss on the part of both the farmers and the winemakers. And, as I learned on a recent, pleasurable ramble among several of the new wine spots around, this combination can be extremely appealing.
Many of these radical little quirks are on display at the Four Horsemen, which the music entrepreneur and LCD Soundsystem founder James Murphy opened earlier this summer in a boisterous little space on Grand Street in Williamsburg. There's a comfortable, three-sided cedar bar in the front of the bright little room, and the dining area behind is decorated in clean white and wood tones, like the café area of an upscale Nordic health club. Unlike wine bars of yore, however, this one offers a coffee program and an esoteric beer list, and we hadn't been seated for more than 30 seconds before a genial gentleman who may or may not have been the sommelier (the snooty term seems to carry little weight in today's egalitarian wine circles) launched into a learned disquisition on the joys of orange wines. These tannic, often cloudy, slightly sour wines are made in the ancient way, with the grape skins included, to create wines with varying degrees of weirdness. After sampling a bottle or two, however, we ended up choosing a properly funky Susucaru rosé from the slopes of Mount Etna produced by Frank Cornelissen — the current star producer of the natural-wine world — to go with our carefully rusticated dinner, which included candied Brazil nuts folded with bits of lardo, and an exceptional pork and duck terrine garnished — in high Williamsburg style — with pickled green tomatoes.
The menu, as put together by veteran Franny's chef Nick Curtola, has an Iberian slant to it (try the crunchy patatas bravas and the brandade made with corn and mashed hake), although the dish my dining companions couldn't stop nattering about was the Nordic-style brown bread, which is torn in warm generous hunks and served with a little cloud of cultured, fresh whipped butter on the side.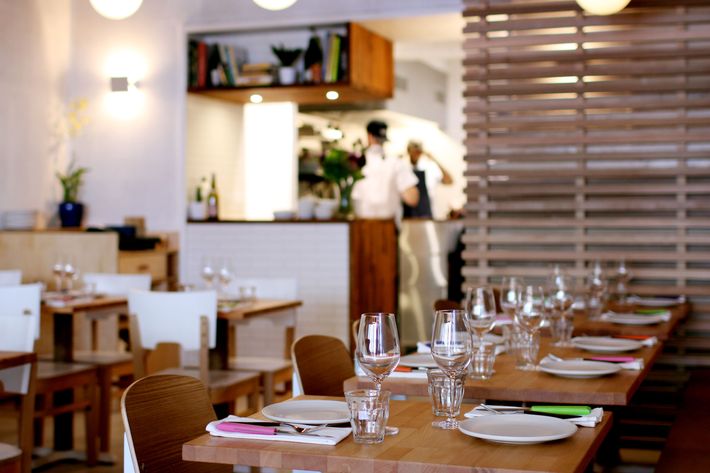 The newish East Village restaurant Rebelle doesn't officially classify itself as a wine bar, but with a tightly edited menu numbering only 11 savory dishes, and a wine list that runs to 80 pages, the emphasis is hard to miss. With its long, white marble bar and minimalist décor (exposed-brick walls, polished concrete floors), the space even feels like a ye olde wine bar, albeit one that's the size of a small warehouse, complete with a state-of-the-art open kitchen and an additional separate dining room in the back. If you have the resources and the will, you could spend many happy evenings at the bar up front, delving into every wine-geek trend of the last half-century (garagiste, natural, high-roller trophy bottles, classic old vines), although, in the end, what distinguishes Rebelle from the rabble of other vino-centric establishments around town is the cooking.
The chef, Daniel Eddy, worked at the great Parisian bistro Spring, and he has a knack for taking stodgy recipes from the ancient French canon and transforming them in all sorts of clean, subtly inventive ways. On one visit I enjoyed a wheel of lamb tartare folded with olives and bits of green chickpea with my glass of Syrah from Idaho, followed by a round of tender, pink pork loin garnished with a crunchy button of fried head cheese on the side. On another it was an inspired rendition of roast chicken and potatoes (the chicken is deboned and poached in tarragon butter), and a tender cut of duck breast touched with sour oranges and bits of plum, instead of the usual glop of sweet orange sauce. The desserts are exceptional, but if you're on a serious wine binge, stick with the cheeses, several of which taste like they've just been hand-delivered to the kitchen door from one of the better fromageries in Paris.
With sleek, slate-topped counters and bottles of colorfully labeled natural wines lining the wall, Wildair actually looks like the kind of quaint little place where oenophiles gather to complain about the prices of the latest release of super Tuscans, say, or gossip about the weather in Bordeaux. But don't let appearances fool you. The proprietors, Jeremiah Stone and Fabian von Hauske, are the same young chefs who run the ambitious little Lower East side tasting room Contra, a few doors south on Orchard Street. Which means that in addition to the stout grab bag of interesting, highly drinkable, non-sulfate-saturated wines (the all-natural list features 50 bottles of mostly European vintage and counting), cocktails (try the mezcal Negroni), and artisanal liqueurs (yes, there's one made from tomatoes), this buzzy, pleasing little establishment serves some of the best bar food in the city.
I enjoyed my cool, cloudy glass of "Muskadig Breizh" (the ye olde term for Muscadet in Brittany), and if you're wise you'll complement it with a slab of toasted sourdough piled with a chopping of littleneck clams and lardo, or the house version of fried calamari, which the chefs fry in a thick, lemon-colored batter and scatter with bits of basil. For the heftier items (beef tartare with chestnuts or the excellent, puffy-skinned pork Milanese) try a glass or two of the Gamay-style Mendall, made in accordance with ancient vintner techniques by a former IT wizard in the hills of southern Spain. The desserts are a richly gooey tart tasting of chocolate and hazelnuts, and a panna cotta–like custard buried in drifts of watermelon granité. Add more than a few slugs of satisfyingly obscure Italian liqueur, an expertly curated cheese plate (from the Saxelby's stall at the nearby Essex Street Market), and that famous fresh-baked Contra bread, and we're not talking about your father's favorite little wine bar anymore. We're talking about a brave new world that threatens to do what the mixology movement did, not long ago, for the ye olde cocktail bar, and right now contains, pound for pound, some of the best new restaurants in the city.