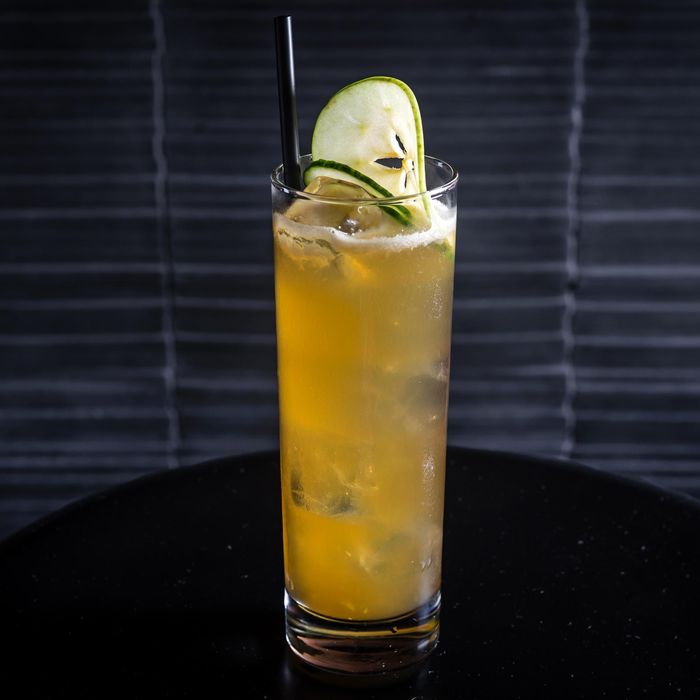 Bar Goto's Cucumber-Apple Collins
Photo: Paul Wagtouicz
Today is, in case you missed the memo, the official first day of fall. Which means that, in addition to the return of braises and a free pass for drinking as much hot chocolate as possible, the city's bars and restaurants are debuting brand-new cocktails, too. The usual move in doing so: Cut down on the super-refreshing summery drinks and bring in some new things that are soothing. Not all fall drinks have to be boozy (apple cider!), but it is the time of year for applejack and cognac. In that spirit, here are 21 drinks you should check out this season.
Cucumber-Apple Collins
Where: Bar Goto
Price: $15
The full fall menu is still forthcoming, but last weekend Kenta Goto's eponymous bar and snack room debuted an "end of summer" variation on a gin sour made with apple, cucumber, and savory artichoke bitters.
By the Fireside
Where: The Up & Up
Price: $14
The popular Greenwich Village cocktail bar is mixing warm winter spices nutmeg and cinnamon into this cocktail made with jammy Croft ten-year tawny port, lemon juice, and Café du Monde chicory coffee.
Making Love at Midnight
Where: Nitecap
Price: $14
For those not ready to let go of summer yet, or anyone who needs something to encourage tropical daydreaming, consider this drink, from the upcoming fall menu, described by co-owner Natasha David as like a "fall piña colada." The base is flavorful Rhum Barbancourt, and the flavors veer toward herbal and comforting thanks to the inclusion of Krogstad aquavit and Suze.
Dill
Where: Mace
Price: $15
All of the cocktails here are developed around spices, and this one is built on anise-y dill, which is infused into Calle 23 blanco tequila paired with earthy matcha syrup, tapioca pearls, and soothing horchata. It's like a boozy bubble tea for leaf-peeping season.
Back to Capistrano
Where: Maison Premiere
Price: $15
On the soon-to-debut fall menu, head bartender Will Elliott is pushing Concord grapes in this drink made with Peruvian pisco, Bols Genever, cinnamon syrup, savory sorghum syrup, and molasses-like demerara syrup.
Fall Line
Where: Toro
Price: $65 per bottle, serves seven
Jamie Bissonnette and Ken Oringer's fantastic tapas restaurant has introduced a trio of large-format bottled cocktails, including this one made with cucumber-and-lemon-basil-infused vodka, easygoing manzanilla sherry, yuzu, lime, and spicy ginger beer for a kick.
Quartz Mountain
Where: Grand Army
Price: $13
Launching October 1, barman Damon Boetle's next menu will feature nine new drinks, all named after state parks in his home state of Oklahoma. For this one, barrel-aged Old Tom gin is mixed with Foro Amaro, bonded apple brandy, and dry vermouth, and given a heavy dose of fall via star anise and BT Parsons's spiced cranberry bitters.
Baijiu Bijou
Where: Fung Tu
Price: $13
The Chinatown critical favorite is mixing the clear Chinese spirit baijiu with potent green Chartreuse and sweet vermouth, then garnishing the drink with a lemon peel and cherry.
Tingling Negroni
Where: Mission Chinese
Price: $13
It's a well-known fact that Negronis are made for cold nights, and there's reason to be excited about this unusual and original spin on the classic. There's gin, of course, but the Campari is replaced by Aperol and Cynar, the vermouth by pine-cone liqueur, and the "tingling oil" made with numbing Sichuan peppercorns.
Chock Full O'Nuts
Where: Pouring Ribbons
Price: $15
The East Village cocktail bar's latest menu is inspired by the iconic Route 66, and this drink is an ode to the highway's roadside diners. Served in a coffee carafe with a pair of mugs, it's a combination of Old Overholt and Wild Turkey 101 ryes, Contratto Bianco vermouth, and apple and walnut.
The Testimonial
Where: Reynard
Price: $13
More rum is never a bad thing. At Andrew Tarlow's Wythe Hotel restaurant they're doubling up with JM BLanc and El Dorado rums, then mixing the spirits with Rothman & Winter Apricot Liqueur and lemon juice in a coupe washed with Aberlour A'Bunadh single-malt Scotch.
Ricky's Charm
Where: End of the Century
Price: $12
For this drink at the unlikely cocktail destination in Forest Hills, they're pairing rich cognac with fruity applejack, relatively gentle Amaro Montenegro, apricot liqueur, and fragrant allspice bitters.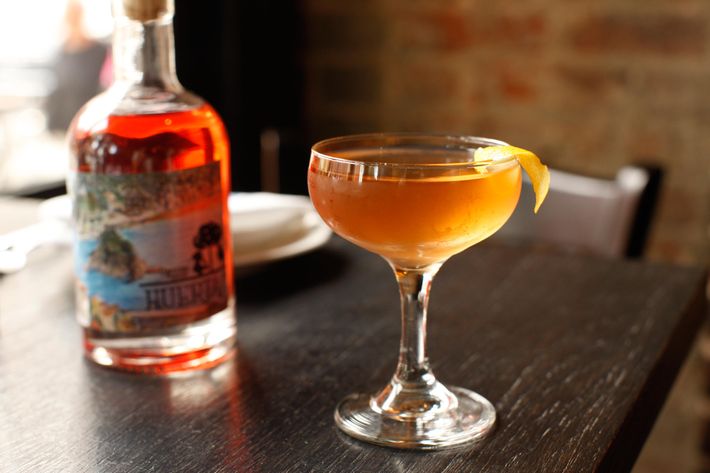 Santa Maria
Where: Huertas
Price: $14
Earlier this summer, the pintxos restaurant and bar upgraded to a full liquor license and they've introduced a select few drinkable cocktails, like a seasonal gin-and-tonic. Recently, they debuted this martini variation, made with Barr Hill gin, rose vermouth (housemade, of course), Buil y Gine orange vermouth, and Eve's Cidery Bitter Aperitif Cider, essentially vermouth made from cider.
Day After Amaro
Where: Perla
Price: $14
Gabriel Stulman's neighborhood staple is going all in with amari just in time, pairing mild Montenegro with bittersweet Cynar, honey syrup, bourbon, and lemon-ginger bitters.
Like a Bosc
Where: Fedora
Price: $14
Sometimes you just want a little bit of everything, and this simple cocktail delivers with a combination of citrusy Dorthy Parker gin, bitter Campari, and sweet, fruity pear cider for a classic seasonal touch.
Train's a Comin'
Where: Porchlight
Price: $14
It's the season for Concord grapes, and they're turning them into syrup at Danny Meyer's Chelsea bar for this drink made with Dolin Blanc vermouth, lemon juice, Creme Yvette, and cognac. The glass is rinsed in absinthe, too, for a hint of licorice.
Casual Magic
Where: 151 Rivington
Price: $13
Their new "trailer tiki" menu leans toward the fruity, but this play on the Old Fashioned stands out for those looking for fall flavors. Old Forester bourbon is paired with Pierre Ferrand cognac, pineapple syrup for fruity sweetness, and bitters.
Exit Strategy
Where: Dead Rabbit
Price: $15
The Financial District bar is going all in with boozy and rich flavors, mixing Powers Gold Irish whiskey, sweet and raisiny Pedro Ximénez sherry, La Quintinye vermouth rouge, jammy fig, lemon, and celery.
Autumn's Edge
Where: Donna
Price: $13
When the roomy South Williamsburg bar debuts its new menu next week, look for this herbal number made with Ford's gin, Dolin Génépy, apple juice, lemon juice, ginger, and dandelion burdock bitters.
Persimmon-Cognac Cobbler
Where: Tooker Alley
Price: $13
Just because summer is over doesn't mean you have to stop drinking cobblers: Cognac is the base of this drink made with spicy cinnamon syrup, vanilla extract, persimmon purée, and maple syrup.
J. Pina
Where: Kat & Theo
Price: $13
At the new Flatiron Mediterranean-American restaurant, Lambs Club alum Michael Timmons is mixing High West Campfire (a blend of rye whiskey, Scotch, and bourbon) with Amargo-Vallet, sherry, Angostura bitters, and a piña "tea" syrup made by infusing simple syrup with pineapple.