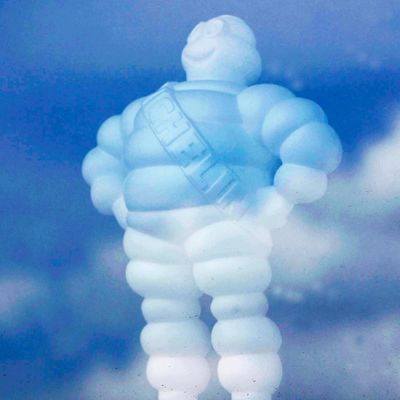 Congrats to the winners.
Photo: Regis Duvignau/Reuters/Corbis
Following the now-standard announcement from Michelin last week of its ostensibly affordable "Bib Gourmand" restaurants in New York, the storied tire company today unveiled its annual, and much-debated, list of starred restaurants in the city as well. Somewhat interestingly, the company decided to wait and unveil the full list late today, at 5 p.m. (Many chefs, however, jumped on Twitter early to relay the news of their stars after they heard from Michelin's reps yesterday and this morning.)
Anyway, the list, as it always does, leans heavily on fine-dining spots and hews closely to last year's selections. There are no huge shocks, but there are some notable changes. The biggest news is that the Modern has been bumped up to two stars under executive chef Abram Bissell, who took control of the kitchen earlier this year after Gabriel Kreuther left. Kreuther, meanwhile, now has one star to show for the cooking at his own, brand-new eponymous restaurant. And Atera, which went through a chef shuffle of its own, retains its two-star standing now that Ronny Emborg has taken over for Matthew Lightner.
Tempura Matsui — midtown's luxe tempura tasting bar — has also been added to the list of starred restaurants. And Uncle Boons, the Thai restaurant that's basically impossible not to love, now has a star to show for itself, too, (though Zabb Elee has been bumped out of the star list). Williamsburg's tiny Semilla, a veggie-focused tasting counter that has found plenty of fans, also gets a star, as does the Finch in Clinton Hill, and the new Bowery wine spot Rebelle. Finally, alas, Daniel Boulud will have to wait at least one more year to get the third star back at Daniel, which still has two.
Now here's the full list:
Three Stars ("Exceptional cuisine, worth a special journey")
Chef's Table at Brooklyn Fare
Eleven Madison Park
Jean-Georges
Le Bernardin
Masa
Per Se
Two Stars ("Excellent cuisine, worth a detour")
Aquavit
Atera
Blanca
Daniel
Ichimura
Jungsik
Marea
The Modern
Momofuku Ko
Soto
One Star ("A very good restaurant in its category")
Ai Fiori
Aldea
Andanada
Aureole
Babbo
Bâtard
Betony
Blue Hill
Bouley
The Breslin
Brushstroke
Café Boulud
Café China
Cagen
Carbone
Casa Enrique
Casa Mono
Caviar Russe
Del Posto
Delaware and Hudson
Dovetail
The Finch
Gabriel Kreuther
Gotham Bar and Grill
Gramercy Tavern
Hirohisa
Jewel Bako
Juni
Junoon
Kajitsu
Kyo Ya
La Vara
Luksus
Meadowsweet
The Musket Room
M. Wells Steakhouse
Nomad
Peter Luger
Picholine (which is now closed)
Piora
Pok Pok Ny
Public
Rebelle
The River Café
Rosanjin
Semilla
Somtum Der
The Spotted Pig
Sushi Azabu
Sushi of Gari
Sushi Yasuda
Take Root (which is currently closed for renovations but should reopen later this fall)
Telepan
Tempura Matsui
Tori Shin
Tulsi
Uncle Boons
Wallsé
ZZ's Clam Bar

Update: Here are the 2017 Michelin stars for New York.