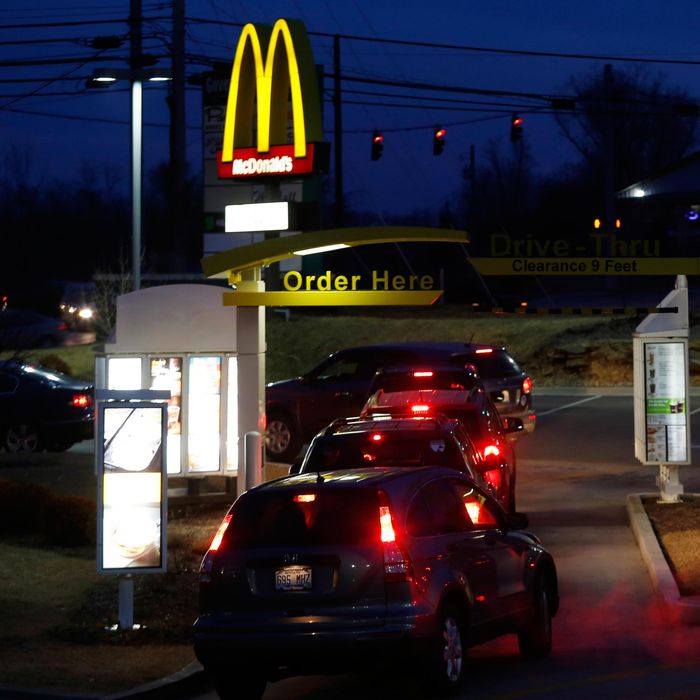 "I wanted to get the hell out."
Photo: Luke Sharrett/Bloomberg via Getty Images
The growing discontent among McDonald's franchisees is no secret, but rarely are first-person accounts heard because franchisees, obviously, wouldn't dream to speak publicly about their issues with the company. Luckily, that compulsion doesn't exist for ex-franchisees like Al Jarvis, a decades-long franchisee of two McDonald's in Michigan who has given Bloomberg a very personal account of why he sold his restaurants when he was on the verge of hitting 50 years with the Golden Arches. An ardent adherent to Ray Kroc's QSCV doctrine (which stands for quality, service, cleanliness, and value) and a true believer who wears a watch "embossed with the Golden Arches logo," Jarvis says he hit a point where he just "wanted to get the hell out." His disenchantment and frustration came after years of corporate's mixed signals and burdensome bloating of the menu through additions like the notoriously time-consuming McWraps and "foo-foo coffee" (a.k.a. McCafe lattes).
McDonald's critics point to poorly thought out new menu items and initiatives like a custom burger bar or "artisan" grilled chicken, but Jarvis says the 2005 menu expansion of salads, McGriddles, and more was when service really started slowing down (anathema to a Kroc acolyte). Those damn McWraps, which apparently have to be rolled precisely to fit into tight boxes, were too problematic as well: Corporate wants everything served in 90 seconds, but Jarvis says three minutes is a more realistic target for the item, which half of all U.S. stores have dropped due to difficulty preparing it. Other changes, Jarvis says, were just bad business, like when McDonald's asked him to stay open 24 hours a day and the 2002 introduction of the Dollar Menu. That eventually led to losses as a result of rising commodity costs, and when Jarvis raised prices on those items he says corporate "harassed" him.
Unlike the franchisees who voted it in, Jarvis is also opposed to next month's much-anticipated rollout of all-day breakfast. Though fans have demanded the expansion for years, the former franchisee's argument — "that's not our niche. We make burgers and fries" — gets to the heart of what's wrong at McDonald's: Corporate keeps rolling out new menu items at the expense of quality, rather than refocusing their efforts on the things people still like and making them better. McDonald's is still serving some 69 million people across the globe daily — and far from failing — but the problems Jarvis outlines make it easier to understand why this year is the first since 1970 that the company closed more stores than it opened.