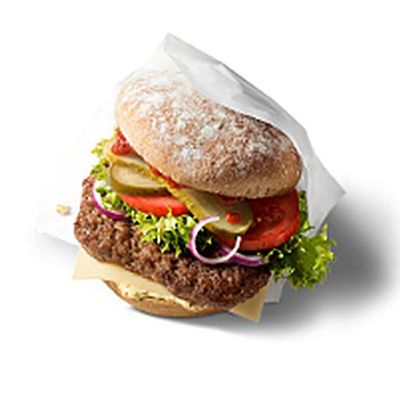 The McB, in all its all-natural glory.
Photo: McDonald's Germany
It's not the first time a chain has dabbled in all-natural beef, nor is any of it coming to America, but, nevertheless, next week McDonald's Germany is debuting the company's first entirely antibiotic-free, humanely raised burger. Called, for some reason, the McB, it will feature a patty sourced entirely from organic beef — or make that from Bio-Rindfleisch, since things in German instantly beg to be taken more seriously.
It's apparently being released in two versions, and customers can vote for their favorite. (The differences are things like Edam cheese versus a Swiss-style Maasdam, Lollo Bionda lettuce versus arugula, and a sunflower-seed bun versus a darker roll.) McDonald's turnaround strategy has included plans for becoming more organic, and Germany is definitely the place to start: It's the second-largest organic market in the world after America, despite having a quarter of the population.
The downside, obviously, is that Germans don't want to be jerked around when it comes to food as nature intended. Understandably, then, the chain also released a YouTube video giving the specifics on this meat and where it comes from. Grub doesn't know much German, so our takeaway was mostly that there are cows grazing in grass fields somewhere, and important-looking people speak authoritatively.