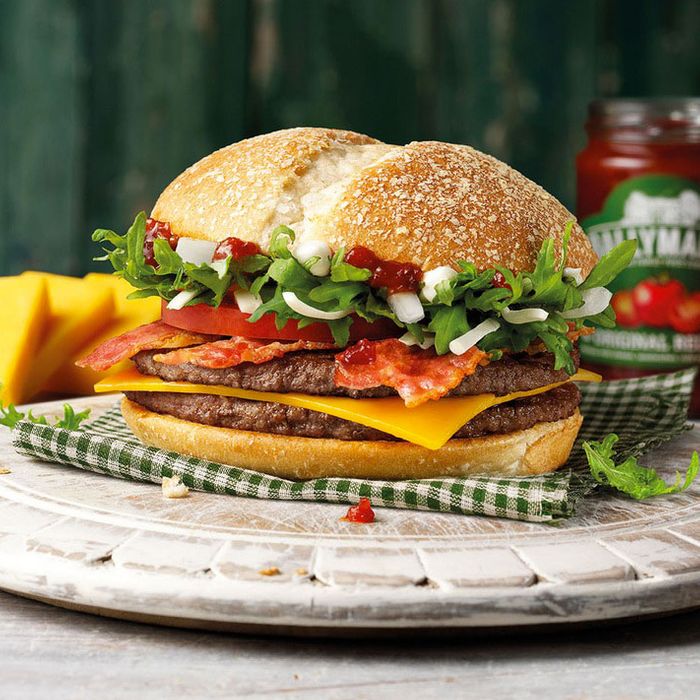 "Artisan."
Photo: Andrew Downes Photography/McDonald's
Yesterday in Ireland McDonald's unveiled something called the McMór, a sandwich the chain insisted is an "Irish artisan burger" because, look, there's a potato-flaked bun, some cabbage, cheddar, and Ballymaloe brand relish. But Ireland's Food Safety Authority gave the chain a quick vocabulary lesson on the other adjective describing the burger — artisan — which, per the agency's guidelines, means:
•The food is made in limited quantities by skilled craftspeople


•The processing method is not fully mechanised and follows a traditional method


•The food is made in a micro-enterprise at a single location


•The characteristic ingredient(s) used in the food are grown or produced locally where seasonally available and practical
Not a McMór, in other words. According to one of the food agency's directors, these regulations were purposefully enacted earlier this summer to keep high jinks like this at bay: "We're trying to make sure that when something is described as an artisan food, it actually is an artisan food, and not a large manufacturer using that term just to get people to buy it." McDonald's quickly released a statement, saying, "The usage of the term artisan is, as we are now aware, inaccurate … As such, this specific term will no longer be used in any news release around the limited edition McMór."
Of course, McDonald's is still free to abuse artisan over here in the States. Coincidentally or not, the chain just announced stores will start making McMuffins with real butter instead of liquid margarine.