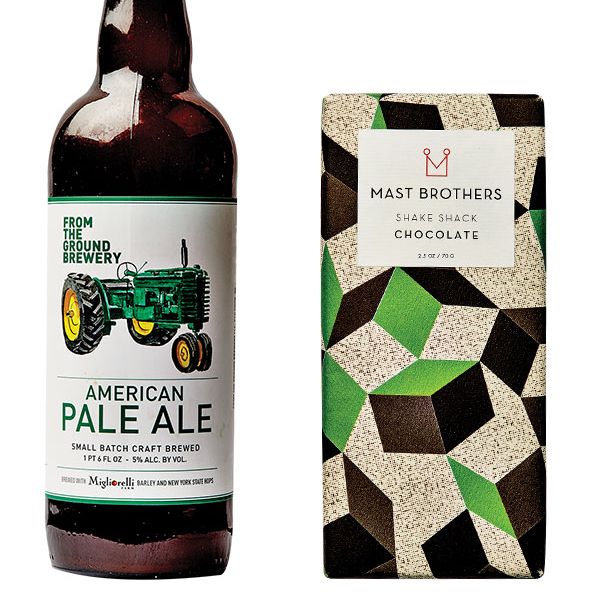 From the Ground Brewery's American pale ale (left); Mast Brothers for Shake Shack.
Photo: Bobby Doherty/New York Magazine
Shake Shack is no stranger to the culinary collaboration, having enlisted everyone from David Chang to Big Gay Ice Cream for one-off burgers, shakes, and concretes. Three years ago, Mast Brothers created Shake Shack's first chocolate bar, a 73 percent-cacao blend. The second bar in the series debuts September 12, and its secret ingredient, buttermilk powder, dovetails neatly with the July launch of ChickenShack, Shake Shack's sandwich made with chicken slow-cooked in buttermilk, then deep-fried and slathered with herb-buttermilk mayo. It also coincides with the chocolatier's recent foray into animal-milk bars, including sheep, goat, and cow. At 60 percent-cacao content, the buttermilk bar is darker and tangier than its dairy categorization might suggest ($7; multiple locations).
Speaking of nifty culinary collaborations, Dutchess County microbrewer — correction: nanobrewer — Jakob Cirell is making two delicious ales at his From the Ground Brewery: an American pale ale and a Belgian-style red ale. What's worth noting about the brewery is its location on the grounds of Migliorelli Farm, of Greenmarket broccoli-rabe fame. Migliorelli grows most of the barley that Cirell uses for the beers, and a malt house up the road malts the barley and provides some homegrown hops. In short, the work that goes into producing these beers is mostly accomplished within a three-mile radius ($10 for a 22-ounce bottle, Friday and Saturday at Union Square Greenmarket's Migliorelli stand).
*This article appears in the September 7, 2015 issue of New York Magazine.