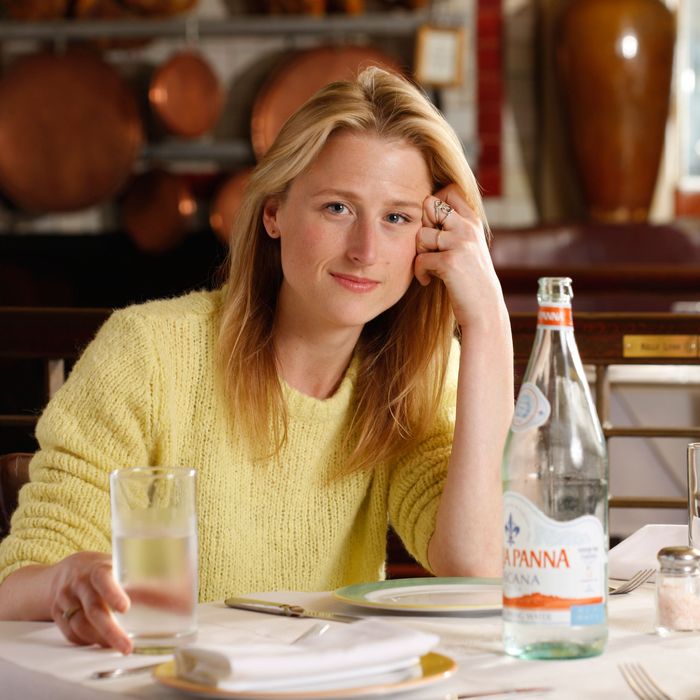 Gummer, taking a break from rehearsal at Bond 45.
Photo: Melissa Hom
Mamie Gummer has a recognizable face: You might have seen her in television shows like The Good Wife or Emily Owens M.D., or movies like this year's Ricki and the Flash, where she acted alongside her mom, Meryl Streep. And now theater fans can see her in the Roundabout's Ugly Lies the Bone, which is currently in previews. Gummer's current schedule is hectic, but a girl's got to eat — and this week, in between rehearsals, shows, and prosthetics fittings (she plays a newly discharged soldier returning to her hometown), she hit up her Theater District go-to spots and grabbed steak tartare at her favorite neighborhood haunt, Montmartre. Read all about it in this week's Grub Street Diet.
Friday, September 18
Breakfast is always at home. I microwave a mean oatmeal and can usually manage some variation of granola, fruit, and yogurt. The hours before going to the theater are the precious few I have to do basic life maintenance: writing emails, paying bills. You know, the really thrilling, necessary life stuff.
I am not much of a cook. I love New York and love nights out when I can have them — meaning, not on this bonkers rehearsal and play schedule. But I'm grateful that I've been so busy, so my day does not solely revolve around "Okay, where can I go to dinner?" That can easily happen otherwise. That's not to say that I can't cook — I can just count on one hand the number of times I've done it. I can do a really solid roast chicken, and I love a board, any kind of board: meats and cheeses and nuts. I have on occasion thrown together a meal and somehow fed 10 to 15 people. It's not something I do just like … for myself. I don't know where I learned. I guess it was just by watching my mom. She's a great cook.
Before heading to rehearsal I hit up Organic Avenue and stock up with a Powerhouse smoothie: kale, bananas, almond butter, cashew-hemp-almond milk, protein powder, and a wrap — the one that pretends to be tuna fish but isn't.
That night I had a couple of friends in the audience, and afterward we went to Bond 45, which is close to the theater and an old favorite. There is actually a plaque that boasts my name above one of the booths — a fact I am inordinately proud of. I guess it feels like the sports trophy I never received in high school. I actually got it because I spent far too much of 2008 in that establishment while doing Dangerous Liaisons on Broadway. Anyway, it's a great, big place, and they serve fantastic fried artichokes and calamari. Great, comforting Italian fare. And steak. Great steak.
Saturday, September 19
Saturdays and Sundays are two-show days, which are draining. Usually, if I can, I'll go home and lie down a little bit between shows, look over the script, think about things, meditate.
I had breakfast again at home: coffee and granola and yogurt. I like a real kitchen-sink granola — there is a brand from Red Hook I like a lot, but I'm blanking on THE name. For yogurt, I like Siggi's blood orange and ginger. So good.
Lunch was a salad from Sweetgreen, the one with quinoa and chicken and a mess of other delicious fresh vegetables. I like Sweetgreen; the place has good vibes.
In the evening after the show, again with friends who came to see it, we went to Bar Centrale in midtown, another favorite, reliable postshow joint. It's a theater haunt, which I love. You see everybody there sort of moaning and groaning about what they did terribly onstage that night, and then they're like, "Oh, we have to wake up and do it all over again." We ordered loads of stuff. The guacamole is really good, and the fish tacos, and chickpea fries are fantastic.
Sunday, September 20
For breakfast on Sundays Sullivan St. Bakery is my usual stop. That's if I do make it out before, like, noon. Luckily, I did on this day and had a croissant and an egg sandwich, which was perfect. They also do a very nice granola with a fancy drizzle of something. I think it's probably honey.
I've lived in Chelsea about a year, and I have my standbys that I've come to rely on and really love. The whole area is kind of bumping up. I walk home from the theater every day, and I keep on passing all these new places, and I'm like, "Oooh, what is that?" I'll check them out someday.
Lunch was a hurried mix of leftover salad, mixed nuts, and a protein bar. And dinner was a fancy gluten-free frozen pizza from Foragers that I heated up when I got home late.
Monday, September 21
I drink coffee regularly; I think it's the only thing I "cook" at home. Honestly, though, I just do Grady's Cold Brew with vanilla non-sweetened almond milk. It's fast and does the trick. I'm clearly not a huge coffee snob. I don't need a delicate, exquisite flat white. If I do have it in the day, it's basic drip in the morning. And I'm happy.
Since it was my day off, I went to the High Line Hotel, where they have an Intelligentsia and a peaceful and gorgeous courtyard. I sat with coffee, croissant, and a book.
Lunch was back at Forager's in Chelsea. The ambience in the restaurant is basic, but the food — especially the baked goods — is delicious. In the evening, I went to an event supporting the Roundabout Theatre at the Hunt & Fish Club back in midtown. I thought it was going to be some sort of lodge situation. I was like, What? Hunt & Fish Club? Where? Why?
But if you go in there, it looks like the lobby of a swanky, I dunno, Emirates hotel. I had some delicious pigs in a blanket. I guess that's what they went hunting for. Then I went to meet a friend who was enjoying a pork chop at a bar called Reservoir in the West Village. I showed up and he was in the corner of this dive bar eating this large plate of meat. I didn't get anything — I just ate his fries.
Tuesday, September 22
Same breakfast, at home. And then Pret a Manger for lunch, where I had the chicken-and-avocado sandwich, in the service of fueling myself. I went with my co-star in the play Chris Stack, who is a huge fan of Pret, and he was extolling their humane business model, telling me they have a policy wherein they give all food that was not sold each day to homeless shelters. I have no way of confirming this, but hope it's true.
Dinner was at Montmartre with a friend who is staying with me right now. It's nice because I have someone to come home to and decompress with. I had the steak tartare and a mixed-greens salad, which they do really nicely. I guess it is my "local." I spend more time there than in my actual kitchen. It's wonderful: They have a little courtyard in the back, and it's made for some really memorable summer nights. They know my name and my cocktail: a Negroni. What more could a girl want?
Wednesday, September 23
Before rehearsal I went to Alidoro in midtown and got the "Davide" breakfast sandwich of egg, smoked chicken, hot peppers, and Bel Paese. For me, 11 a.m. still felt like breakfast time. But literally every single offering on their menu is fucking phenomenal, and I'm honest to God not saying that because my cousin happens to run the place. I say it because I'm very discerning, and it's very, very good. But really, I'm shocked! Finally a Streep is making a name for himself. I really encourage everyone to go. Their sandwiches are heaven on bread.
For dinner after the show, I went to the Bar Downstairs at the Andaz Hotel on 41st and Fifth, which is also in close proximity to the theater. It was my first time there, and we just ordered everything on the menu: shishito peppers, a shrimp-with-olive-oil thing, paella, and some empanadas. And the meatballs. To drink, I had a vodka martini, up with a twist.