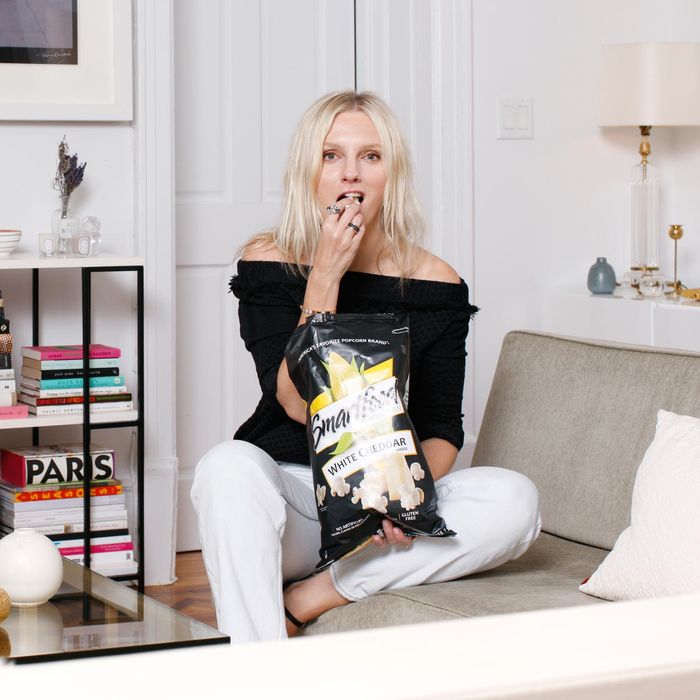 "Popcorn will destroy me, but I love it."
Photo: Melissa Hom
As the executive editor of Harper's Bazaar, Laura Brown travels all over the world, interviewing subjects like Rihanna, Julianne Moore, and Taraji P. Henson. But this week, after returning from a work trip (and anticipating the start of Fashion Week), Brown went into full relaxation mode: She ate breakfast from bed, ordered delivery from her neighborhood Thai restaurant, discovered new snacks, and went out to eat at her tried-and-true favorite restaurant, Barbuto.
Thursday, September 3
I had what I deemed the "sad breakfast." When I'm late to work at Hearst and nothing's left at the buffet, I'll get an English muffin with turkey bacon, Swiss cheese, and egg whites. With a side of regret.
My not-sad breakfast is when I get up, go to SoulCycle, and then trot down to my local diner, because I'm amped up on endorphins, and get eggs and turkey bacon there. Then I trot back to my apartment, sit down, and allow myself to eat it while watching Morning Joe. I arrive to work with a feeling of accomplishment. But I had just gotten back from L.A., so I failed.
Lunch was salmon, brown rice, salad, and balsamic vinaigrette — mixed together like a child. I get this most days when I'm in the office because I fear change. It's from the cafeteria. My dear assistant picks it up and I bribe her and buy hers, too.
Dinner was at Sant Ambroeus. I shared prosciutto and mozzarella, and vitello tonnato with some friends. Plus, two glasses of rosé. But it was more of a drink-and-snack situation rather than dinner, and it wasn't quite enough for me. I went home and reheated some chicken larb from the night before. I finally found a place — Bangkok Cuisine — that does half-decent Thai. Since I'm Australian, I'm snobbish about Thai. I may have had another glass of rosé. Unconfirmed.
Friday, September 4
Note: I spent Labor Day weekend mostly in seclusion. Breakfast was half of an egg-and-cheese sandwich delivered from my local deli. Eaten in bed. I just gave in. I was so tired from shooting and traveling. I think I ate it and went back to bed until noon.
Lunch was a curried-chicken sandwich from the same deli. I cunningly ordered two sandwiches from the same place with this very plan in mind. I was tempted to eat in bed, but I moved to the couch to restore some dignity.
For dinner I ate bucatini all' amatriciana at my favorite restaurant, Barbuto. It was as big as my head and commemorated on Instagram. And multiple glasses of rosé. I've been going there for ten years. If I'm feeling like garbage, Barbuto is the only thing that gets me up. Jonathan is my favorite person ever. I've eaten truckloads of pasta from there over the years, and I'm going through a phase where I get a double order of pasta. For two years, I went through a double-carbonara phase. Now I've moved on to bucatini.
Saturday, September 5
This will henceforth be known as the day of half-sandwiches.
For breakfast I ate half of an egg-and-cheese from yesterday's breakfast. Lunch was half of a roast-beef-and-cheddar sandwich from Fresh & Co. Really lame! I was running around getting my hair done. And you eat half-things while running around the street.
Dinner was Thai beef green curry with brown rice, from Bangkok Cuisine. I'm so glad I found it. I just moved six weeks ago, so I've had to go into that slightly new dimension of delivery. I'm now out of the zone of my favorite Vietnamese place, so I have evolved.
I snacked on Dean & DeLuca's white-cheddar popcorn, which they should re-brand "manna from heaven," and drank half a bottle of Shiraz while watching the Frank Sinatra documentary on HBO. The popcorn will destroy me, but I love it. I got really into the documentary. I was like, "Frank, I'm here. I'm here for you."
Sunday, September 6
This is the day I discovered buffalo cream-cheese spread. I was at D'Agostino's around the corner from SoulCycle, where I thankfully went, and I was in the cheese area, and it just spoke to me. I said, "That's buffalo and cream cheese together?" And I literally told the woman at the checkout, "This might be the day where my life ends." I'll come back, and they'll say, "I remember when she was not 300 pounds."
So for breakfast I had two slices of "health loaf" from Dean & DeLuca with the spread and sliced Roma tomatoes. And salt. While I still have low blood pressure, I will do salt. The cream cheese lived up to the hype. A bit of a throat punch!
All I remember is that lunch was halfhearted. I was writing a cover story, so whatever came from the fridge: turkey, string cheese — you know, whatever great writers eat!
Dinner was at Dirty French. I had that evil/awesome flatbread with some sort of crème fraîche, tuna tartare, and fries that aren't actually fries — more like slices of potatoes, much to the disappointment of my companion. She kept saying, "They aren't fries!" and I said, "Darling, you have to move on." I also had two Belmondo cocktails, with tequila, ginger, and other delights. I like that place a lot.
Monday, September 7
For breakfast I had two more slices of that loaf from Dean & DeLuca and sliced Roma tomatoes.
Lunch was a grilled-fish taco delivered from Móle. Best. I used to live in the Village, and finding Móle uptown was the best discovery of my life. Chipotle mayo of my dreams. But sadly, I had this without avocado, as I'm allergic. People react to this news like I've had a death in the family.
I ate dinner in the living room of the Greenwich Hotel with a visiting actress who is triathlon-training and eating little. So, naturally, I had meatball sliders and a salad with watermelon, tomato, and feta. I was like, "Don't judge me!" Once home, I ate half a bag of white-cheddar popcorn.
Tuesday, September 8
For breakfast I ate a wrap from Nectar on 79th Street with egg, cheese, and turkey bacon. It's what I cling to after SoulCycle. No protein, no future.
Lunch was the usual salmon, brown rice, and salad.
But for dinner I was in a suite watching Serena Williams play at the U.S. Open with a bunch of friends. I had two glasses of rosé. There wasn't really food in the suite, but Kim Kardashian was in there, and someone brought her two pizzas. She chose the cheese one, and then I ate the white pie intended for her. I felt fine about it!