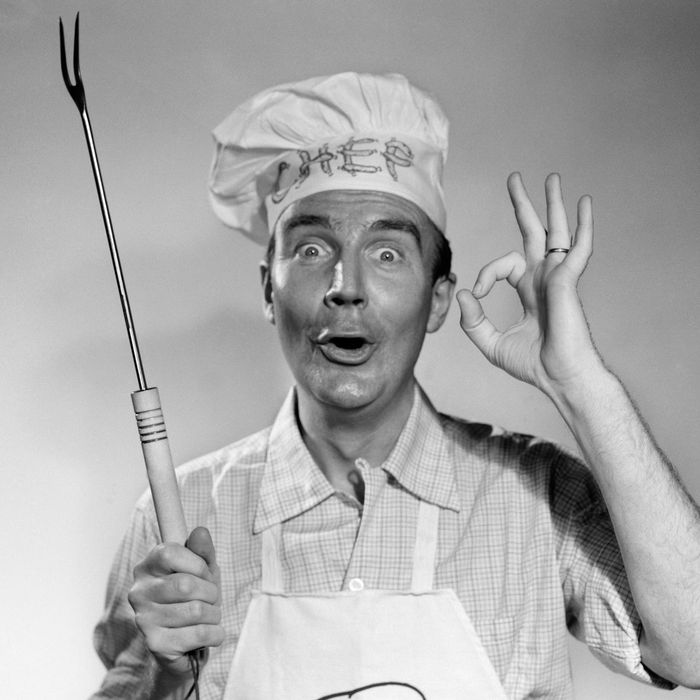 Start-ups are turning away from customized meals in favor of a model that aims to replace takeout.
Photo: ClassicStock/Corbis
One evening earlier this summer, Joseph Yoon pulled a cooler big enough to store a corpse down the long hallway of a sleek Upper West Side building and stopped at a door emanating house music, which was opened by an expensively tousled young man holding a laptop. He showed him to the kitchen and resumed working on his spreadsheet as Yoon inspected his area. "You only have five plates?" he asked, trying not to sound crestfallen. Yoon is one of the highest-rated chefs on Kitchit, a San Francisco–based start-up that enables users to select a chef — from self-taught gourmands like Yoon to credentialed culinary-school graduates — from a "Chef Marketplace" and summon their catering services with a tap of their smartphone. In the three years since its New York launch, the site has created a roving community of hundreds of chefs, who have fanned out nightly across the city, setting up shop everywhere from Park Avenue penthouses to cramped Greenpoint apartments, cooking customized menus for people who might not otherwise book caterers for private dinner parties. And therefore don't necessarily have napkins. "A lot of it is like guys, PR folks, tech people," says Tessa Liebman, an International Culinary Center graduate with a profile in the Chef Marketplace. "You see a lot of really amazing apartments."
And sometimes chefs see some not-so-nice behavior. "When there's families involved, things tend to come out," says Mark Tafoya, a career private chef who keeps a profile on Kitchit. "Like, I meant to say, 'Please pass the salt,' but instead I said, 'You ruined my life, you bitch!'" Once, a bachelorette party asked if he'd be able to fill in for a missing stripper. "I said, 'After four hours of cooking in a hot kitchen, you don't want to see what's under this."
Mostly, though, the people were kind. "Some nerds tried to give me a pot brownie once!" says Liebman. And chefs were happy to have a market to exercise their creativity and sell their services. The business was lucrative: Yoon, who creates customizable menus for dinner parties ranging from $50 to $500 a head, says he made six figures last year. "When they first started, I was like, 'Oh my God, this is awesome,'" says Dave Martin, who became famous on Top Chef for his line "I'm not your bitch, bitch," and estimates he made $75,000 from Kitchit in his first year. "Kitchit was a great platform."
He says "was" because last month, Kitchit suddenly announced it was changing direction. As it turns out, making 12.5 percent off of bespoke, high-end cooking has not been lucrative enough for the company, which received $7.5 million in funding from venture-capital firm Javelin Venture Partners last year. This week, they shut down Chef Marketplace to focus their efforts on what has been the most profitable part of the business, Kitchit Tonight. The service, which so far is only offered in San Francisco, provides a same-day catering service starting at $39 a head. Users just select a set menu. Ingredients are prepped and portioned at the company's kitchen. Then chefs, who are paid an hourly rate, pick them up and prepare them at people's homes. As co-founder Ian Ferguson describes it, it's "like Blue Apron, but with a full-service chef experience." In San Francisco, where they'd tested out the concept, the service had also been vastly more popular, and the margins were simply higher. (And, because Kitchit now controls all of the costs, the operation is more predictable than a matching service between chef and client.) There will, he said, "unfortunately be a temporary suspension of New York service while we prepare to launch Kitchit Tonight here."
Earlier this year, Kitchensurfing, which started with a similar model to Kitchit, also did away with its dinner-party format and focused only on offering simpler chef services for $25 a head — a chef arrives with preprepped ingredients and cooks the meal in under 30 minutes. At the time, "a lot of chefs quit," says Yoon of the industry's attitude toward Kitchensurfing's change, thinking "it was really bullshit and underhanded." (Kitchensurfing, for its part, says the move has resulted in rebooking rates that are "significantly higher" than the dinner-party service, and they've hired the chefs as employees instead of independent contractors.)
When Kitchit announced its own changes, many of the service's chefs were devastated. "I feel like I was treated like a commodity, no warning, no time to plan ahead, no warmth, no nothing," read one comment on the private Kitchit Facebook page. "It was cold and I am disheartened by you. You built an amazing sand castle, filled it with good people then kicked it down."
They were especially upset that the shutdown came just before the start of the holiday season, when the hors d'oeuvres business really booms. One message plainly asked, "Would you please consider extending the end date of the Marketplace to Jan. 1, 2016 to give both chefs and clients a chance to work together for the holidays and end the year on a good note?" Kitchit declined. "With the success of Kitchit Tonight we reached a crossroads that required us to focus all of our energy in one place," Ferguson says.
Tafoya was angry, but not entirely surprised. "These are geeks who went to business school," he says, comparing the company to Uber and other Silicon Valley companies that have fostered the "gig economy." As a chef who has been working "since you had to put an ad in the yellow pages," he will be fine, he reasons. It's the chefs whose businesses grew with Kitchit that are in a dicier position. "I'm not freaking out — yet," says Liebman, who has regular clients and a pop-up dinner series, Methods & Madness, to fall back on. Some will migrate to online-booking services that focus on luxury "experiences" (private quarterback camp with a football player, yacht rentals, cooking classes with well-trained chefs), like If Only, Cloud 9 Living, and Go Dream. Yoon, who is friendly with Kitchit management, hopes he will be able to consult on menu planning for the new operation, when and if it launches in New York.
"I knew it would end, I knew the gift horse would close its mouth," says Martin, who used to work in the tech industry. "It's a start-up. They've got their money and they have to spend it."
Unsurprisingly, Martin says he will not be Kitchit's bitch. The only New York chefs who will agree to work with the new model are, he speculates, lesser-trained chefs, short-order cooks, and culinary students. "And, like, how great of an experience is that?" he says. "We all know we can get a takeout meal."
In fact, it will now be easier than ever, given that Google, Uber, and now Amazon are muscling their way into the restaurant-delivery space, delivering fresh-cooked food to customers in shorter and shorter times, which may eliminate the need for cooks to show up at someone's home altogether. "All these non-food people starting food businesses because they think it's cool," Martin groans. "Millennials think they know everything because they can Google it. Someone needs to say, 'Guys, there's no money in food.'"