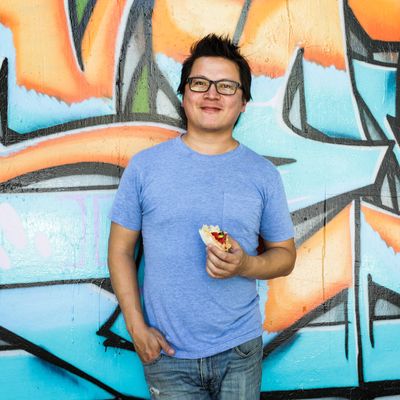 López-Alt at Pal's Takeaway, "[his] favorite sandwich shop in the world."
Photo: Natalie So
As the mad scientist behind the Food Lab, Kenji López-Alt uses chemistry and physics to help readers become smarter home cooks. Now he's parlayed the success of that column into his first cookbook, aptly titled The Food Lab: Better Home Cooking Through Science. Though he was busy preparing for an upcoming book tour, which hits New York on September 29, he still found time to test out a kind of newfangled grill, check out an obscure Mexican sauce from Mountain View, California, and snack on some of his dog's (homemade) food, out of his home base of San Mateo in the Bay Area.
Thursday, September 10
I wake up and head to the bathroom to brush my teeth, but find a cardboard takeout container from Sichuan Chong Qing Cuisine filled with cold Chongqing-style chopped chicken sitting on the vanity. I must've accidentally left it there last night after I popped some back as a 2 a.m. snack before brushing my teeth. For the last few months I've been trying to hit all the Sichuan restaurants in the Bay Area, so I've had plenty of spicy leftovers. I brush my teeth and immediately remember the lesson I thought I learned last night: Toothpaste is not a good chaser for Sichuan peppercorns.
I got a new SodaStream machine a couple days ago and have been using it nonstop. I have a terrible soda addiction and hope this will help wean me off it. Diet Pepsi is great at blowing out your palate and keeping you awake longer than you should be. Neither of which is great for my job. Plain fizzy water, though, keeps your palate clean and your senses sharp. I don't eat any more breakfast — two bites of chicken is about as much as I ever get — because today is a heavy writing day, and I do my best food writing when I'm hungry.
Still, I've got a few tests to run. I grab an American Wagyu-style rib eye from the freezer and place it inside a prototype Cinder, a new cooking device. It's the world's most precise George Foreman grill, promising to produce sous-vide-quality results with no bags. We shall see. I set the unit to 125 degrees and walk away, grabbing two cherry tomatoes off the counter as I go. They're from my garden, and I give one to my dog Jamón, who loves cherry tomatoes more than anything. It takes him about five minutes to eat one. He likes to gingerly bite through the skin before sucking out the innards, like a vampire.
I spend an hour writing about pan con tomate, and man, do I want some now. I might sneak into my neighbor's backyard to steal some of her big, juicy, purple Cherokee tomatoes. If only she had a bread tree, a cava tree, and a little red Spanish bandana tree, I'd be all set.
Back in the kitchen, I check on the steak in the Cinder. It's been done for a little while, but I want to see how long I can hold it before searing. While there I grab a little slice of fresh mozzarella out of the fridge. Leftovers from some deep-dish pizza testing (for better or worse) I've been doing. I know I'm about to eat a few slices of steak, so I also make myself a Bibb lettuce salad. The meat is work, the salad is lunch.
After searing, the rib eye ends up overcooked — nearly 165 degrees in the center. It's probably user error, and I don't like to make statements without thorough backups, which means a lot more testing is necessary. I throw another frozen steak in there. This one comes out much better. I take a single bite, let that Wagyu fat melt on my tongue, then put the rest away. I try not to eat meat unless I'm working, so this one will get offered to neighbors or friends. As a last resort my wife may break her no-meat rule, or perhaps the dogs will get really, really lucky. Now for a more traditional countertop grill application: a grilled cheese made with Martin's potato bread. The machine gloriously excels right off the bat. I try cooking cabbage, it comes out charred and delicious.
Just before 7 p.m. I decide to drive down to Mountain View to meet my wife after work. I'd also received word via Twitter about a Mexican sauce called enjococado that appears to be known only in a small area around Mountain View. At Fiesta Del Mar, I snack on some semi-stale corn chips, overly vinegary salsas, and guacamole that tastes like garlic powder mixed with iceberg lettuce. I'm not too hopeful. The enchilada enjococado arrives, and the sauce tastes kind of like a mix between Chef Boyardee canned ravioli sauce and chicken tikka masala. It's got promise, but man, could the execution use some work. I file it away for later and polish off my chile relleno, which has more of that Chef Boyardee flavor. Luckily, I'm a canned SpaghettiOs guy.
My dogs luck out and get a few slices of the overcooked Wagyu — they don't have refined palates. For myself, I make some iced tea. Double-strength English Breakfast brewed for three minutes at 210 degrees in my ultra-awesome Breville automatic tea-maker poured over a tall glass filled with ice. (If coffee snobs get to overspend on their toys, I get to do the same on tea-makers with auto-brew cycles, temperature gauges, and powerful magnetic agitators.) I also pour myself a glass of wine and carbonate a liter of ice-cold water.
Friday, September 11
I get up for an early morning surf and am starving when I get home. Unfortunately there's not much here other than leftover steak, and I'm not in the mood for red meat. I snag a bite of the dog's food, which I make and freeze once a month. It's a pressure cooker stew of chicken, kale, and sweet potato with scrambled eggs that's actually quite delicious. My brother-in-law once ate a full bowl of it while he was staying with us. His comment: "That stew in the fridge was good, but it just needed a little salt, I think."
It's a quarter after two, and I've gone more than half the day without eating anything but dog food. I hit the highway to run an errand when I pass Pho Do, a Vietnamese restaurant. There's some really good Vietnamese food around here, and the pho bo here is no exception. Delicate broth, not too sweet, super-tender beef tendon. Keep that damn Sriracha away from me, thank you. I've been slowly categorizing and logging all the noodle-soup restaurants in the South Bay with the hopes of someday writing a definitive guide. This one will almost certainly make the cut.
Writing days are the worst because I end up spending more time reading email than actually writing. By the time 6:30 rolls around, I've barely started working, and I've got dinner tonight at my realtor Mike's house. Is that weird? The first things we eat are a few big bites from the cheese plate. It's all from Costco, I believe, but they have a surprisingly good cheese selection there. It's become my go-to source for Point Reyes Blue, one of my favorites. Wash it down with a couple of Old Fashioneds and Racer 5 IPAs.
Whenever I'm invited to dinner, I end up working. Not that I mind. I like cooking, and I'm one of those truly lucky people who actually gets to make a living doing something they love. Mike puts me in charge of the carrots, gorgeous yellow, orange, and purple ones from the farmers' market. I glaze them in a skillet with a little butter, sugar, shallots, and stock while he grills some salmon. Meanwhile, his wife tosses together a green salad with avocado and tomato, along with a pot of wild rice. This seems like a very California meal to me, and it's great. Are California eaters snobby? Maybe, but if so it's only because our produce is better than yours.
Saturday, September 12
It's the weekend, which means home-renovation time. As a guy with an unused architecture degree, this is all really satisfying work to me. Whether it's in the kitchen or out, building cool shit is always fun. I also manage to squeeze in a little cooking, like fried eggs and homemade biscuits for breakfast.
It's the afternoon and I really want to get this Cinder testing done before the book tour starts, so I test its smashing and searing capabilities. I place a ball of beef inside it and close the lid down hard — crusty seared burger about one and a half minutes later. I eat two bites and put away the rest. Dogs just keep getting lucky.
The whole day has gone by, and it's time for dinner, but I've been too busy with housework to think much about eating. So I get a beer at La Fonda Cocina Mexicana right around the corner from us. I order a plate of stellar nachos. Single layer of chips, thin layer of beans, melted cheese, and a little salsa. The chips have those nicely charred edges that I love. The owner is so damn friendly that she thanks the regular customer sitting next to me for chatting with me while I wait for my food. It's the first time I've been, but I'll be back.
Sunday, September 13
Around 12:45 a.m., my wife and I decide to watch a movie, which really means falling asleep as soon as the popcorn is done. I'm a popcorn fiend. Enough that I got in touch with a man at Purdue University who specializes in studying hybrid popcorn varieties. He sent over a few samples of his favorite types of butterfly (the movie-theater popcorn with the irregular flakes) and mushroom (the more spherical variety you get coated in caramel or chocolate). The butterfly is outstanding, with a big spread and extra-crisp texture. I'm working on a piece about the best methods to pop and butter popcorn. Testing will be fun.
A little before 9 a.m., I get to the San Francisco Chronicle's offices, where I'm a guest judge in the olive-oil category of the Good Food Awards. The breakfast spread is quite nice. I have a couple of Jacobsen Farms figs (one mission, one Calimyrna). They're gigantic and perhaps a little overgrown, past the stage where they are super dense and jammy, but still quite tasty. Pro tip: The best way to eat them is hold your fig upside down and split it open from the bottom for optimal seeds-and-innards exposure to the tongue. I also grab a chocolate kouign-amann from Starter Bakery. Dense, crisp, buttery, and way too sweet for breakfast. Oh well. I had nachos and popcorn for dinner, so who am I to complain?
Holy fuck, this is a lot of oil. I start off sipping — bad idea. Spitting is the way to go. Twenty oils in and I need something to soak it up. Friends and acquaintances often tell me that they'd LOVE tasting food for a living, but it's not all gravy. This is a fun day, but not for my stomach. I'm looking forward to lunch.
Speaking of which: Bi-Rite and Rockridge Market Hall have provided an awesome spread. A pasta salad that manages to not taste too much like basil and garlic. Impressive. Nice chunks of black pepper, roasted squash, and a kale pesto that is flavorful but mild. Roasted broccoli and cauliflower salad with walnut oil (as if I needed more oil), raisins, lots of herbs, and oven-dried cherry tomatoes. Late corn salad with arugula and a little too much ginger in the salad dressing. Grilled tofu sandwiches with a kale and cabbage slaw and fry sauce. There's really no excuse not to be vegetarian in San Francisco if you want to be. I shouldn't be having a beer before tasting oils, especially a hop-heavy IPA, but what the hell, it's Sunday and we have an hour-and-a-half break.
For the second round we're going with flavored oils — not my favorite category. I don't really have a use for olive oil that tastes like blood orange, but yuzu oil makes me think that a yuzu-porcini oil for drizzling over some ramen might actually be quite tasty. I'll make some this week to test it out, though I won't be serving it publicly at a party, and definitely not a party in NYC. (Heh.) Tasting oils is not easy on the palate, the stomach, the gut, or the constitution. I'll need another beer. Man, I wish I was at the cheese- or beer-tasting tables.
Once it's over, I head to the after-party at Intelligentsia in the Mission, and there's a huge spread of leftovers from the taste tests. Lots of local cheeses, beers, cocktails, and charcuterie. Some good, some only okay. After a couple beers and a cocktail, I'm feeling a little buzzed, which means I need more food. Luckily, my wife picks me up for dinner plans with friends out in the East Bay. We drive out to Alameda to meet them at American Oak, a whiskey-centric gastropub. Burrata and toast is the standout appetizer, though roasted padrón peppers (they're everywhere these days) and French fries are also good. My friend ordered some wings, but for some reason only enjoys the drumettes and not the flats (he's absolutely wrong in this regard), so I grab one of the flats. Crisp enough, though what's with the ranch-style dressing?
Entrées are housemade spaghetti with an under-seasoned tomato sauce and good langoustines, salmon that's cooked really well but comes in a puddle of way-too-strong-for-salmon tomato sauce (like the kind you'd want on a chicken Parm), and a fried-chicken sandwich that's moist to the point of being mushy with a burnt-tasting crust. Not the restaurant's strongest showing, but I've had really good food here in the past so I'm not writing it off. An apple-and-peach crisp with vanilla ice cream for dessert goes a long way toward redeeming dinner.
Monday, September 14
I'm working on nailing the ratios and technique for a simple, two-ingredient biscuit — nothing new, I just hope mine will be better explained and illustrated, a common strategy for me — and while I'm at it, I'm making breakfast sandwiches and five-ingredient strawberry shortcakes. Today is breakfast-sandwich day, and along with making a few on the stovetop (I'm trying to perfect the optimal technique for making fried-egg disks that fit perfectly on a biscuit or English muffin), I test out a couple on the Cinder. Set the machine to 300 degrees, shape the egg with a ring mold, and add water for steam. They come out perfectly tender with very little browning, just like it should be.
I've got an interview with KSRO's "Good Food Hour" in Santa Rosa, so I decide to use the trip as an opportunity to check out a couple of places I've wanted to hit up there. Only I arrive at the studio with just 20 minutes to kill and a really big appetite. Not enough time to hit anywhere good, but enough to do a bit of fast-food reconnaissance. I like to stay on top of fast-food trends because they're often a good reflection of what types of flavors will do well in an article. So I hit the Carl's Jr. across the street and order the "El Diablo" burger they're flogging. It's a one-third-pound patty topped with a spicy mayonnaise, cheese sauce, and a handful of jalapeño poppers — and it's gross. Not in that fast-food way, but legitimately gross. It tastes like frozen convenience-store jalapeño poppers that have sat in the hot box for two days. How do they make a nacho-cheese sauce so damn pasty? But the fries are okay, and my Diet Dr. Pepper is glorious. I take two bites of the burger and toss it. No point wasting calories on that stuff.
On my way home my first stop is Della Fattoria in Petaluma. I order an egg salad, salmon, and sun-dried tomatoes tapenade sandwich on semolina bread, which is knockout delicious, and a pain au levin to take home. They make a damn good loaf of bread here.
When I get to San Rafael I stop at Sol Food, a hipster Puerto Rican restaurant that serves roast chicken and sandwiches. I've never been, so I ask the counter lady for their most popular dish and get a bistec sandwich with thinly sliced beef, avocado, caramelized onions, and spicy mayo on a torta that's pressed really thin and crisp. It's fine, but not life-changing. The vinegary habanero sauce it comes with is definitely the best part. I really want to make it to Spices 3, a Sichuan restaurant in Oakland, but rush-hour traffic is picking up so I'm forced to skip it in order to get back home in time to meet my wife after work. It's been a big day of eating, so the best I can muster for dinner is to finish off that egg-salad sandwich.