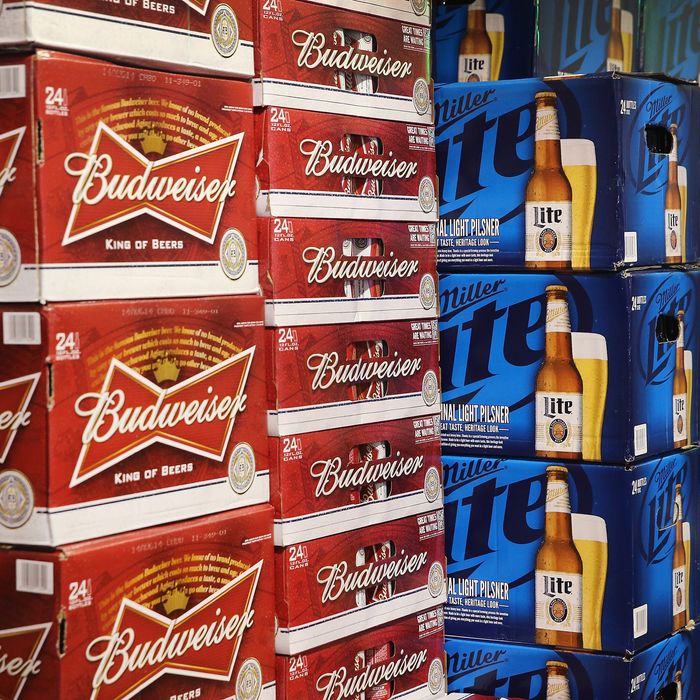 It already all tastes basically the same anyway.
Photo: Scott Olson/Getty Images
Brewing titan Anheuser-Busch InBev is cozying up to fellow brewing titan SABMiller in its continued campaign to absorb and consolidate all of the world's cheap-beer breweries into one single megacompany. If the deal between the two companies goes through, it would combine the world's two largest brewing giants — and certainly face plenty of scrutiny and scorn from regulators. (Remember that it was only seven years ago that Anheuser-Busch and InBev themselves merged.)
Though SABMiller's official stance amounts to "chill guys, nothing is certain yet," the news nevertheless shot the company's midday stocks in London up 23 percent today, probably because increased marketing muscle is the only thing that could convince more people to drink Miller Lite.
The deal, obviously, doesn't sound like it would be a good thing for smaller breweries or the people who enjoy those breweries' beer, since macro brewers already have a great deal of distribution leverage that can leave independent brewers off draught lines (unless, of course, those same breweries simply sell to Anheuser-Busch InBev). No doubt Anheuser-Busch InBev believes that if only they can combine forces with other macro breweries, they will not only be able to create a company with the world's most complicated name ("Anheuser-Busch InBev SABMiller" doesn't exactly roll off the tongue), but they will finally be able to squash the scourge pumpkin-peach ale once and for all.
[NYT]