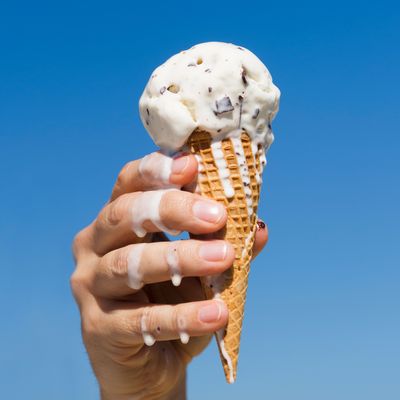 The future of picnics.
Photo: Tetra Images/Corbis
Scientists in the U.K. happily report that it won't be long before a protein they're growing in bacteria will be able to prevent ice cream from melting. The research team — a group at the universities of Dundee and Edinburgh — is using a molecule called BslA that somehow binds air bubbles and fat droplets to water, forming basically one impenetrable, puddinglike mass. A promising use, so they say, is for ice cream that stays frozen in the sun and won't form ice crystals, theoretically allowing for a better texture.
They say this ice cream could hit shelves in three years, which still may not be long enough to ease all of the reservations about such a physics-defying dairy product. In fact, researchers might be smart to remember last summer's freak-out when people discovered Walmart's ice-cream sandwiches could last in the mid-July sun for 12 hours. Or, worse yet, just wait until the first person eats a bowlful and then checks into the ER, realizing that, even upon ingestion, this frozen dessert refuses to melt.