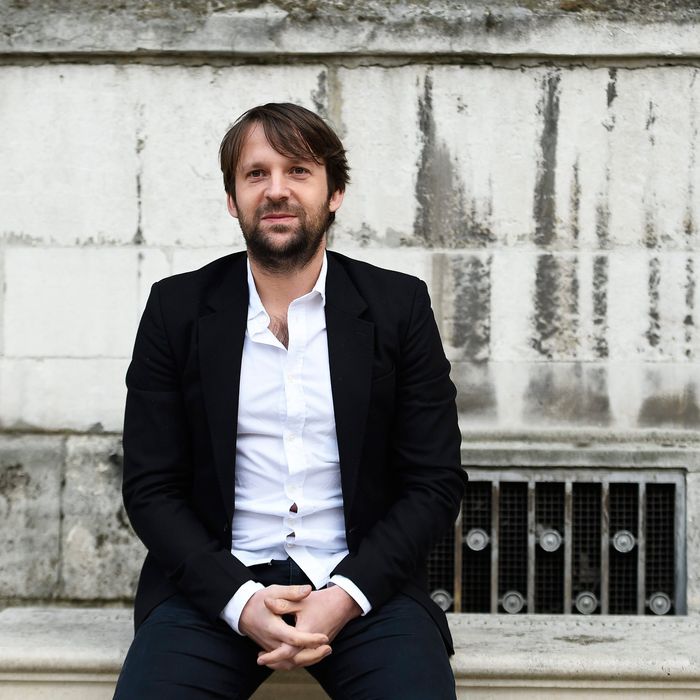 "At one point you'll just be empty, you'll start repeating yourself, and then it's time to leave."
Photo: Facundo Arrizabalaga/EPA/Corbis
This week, the world learned that Copenhagen's famed Noma will close after service on New Year's Eve in 2016. Chef René Redzepi will then relocate and reopen it, hopefully in 2017, as the centerpiece of an entire urban farm. In the meantime, Redzepi is also rethinking the structure of the menu and, it sounds like, entertaining the idea of putting even stricter guidelines in place for what he'll serve at the all-local-everything establishment: wild game in the fall, seafood in the winter, and all vegetables in the spring and summer. In case it wasn't clear, this move is a total game changer for a restaurant that is, at the moment, the most influential force in the world of fine dining.
When people casually call Noma the "best" restaurant in the world, they're almost certainly referencing its standing on the "World's 50 Best Restaurants" list, which Redzepi's destination has topped many times (though it currently sits in the No. 3 spot, behind Spain's El Celler de Can Roca and Italy's Osteria Francescana). This list, of course, is relatively subjective, but it's also a testament to Noma's enduring power and widespread influence over its 12 years of existence.
The news of Noma's total overhaul seems sudden, but it also shouldn't come as such a surprise, as Redzepi has previously said he had a "gut feeling" that he'd keep the restaurant open for exactly a decade. (It's also easy to draw comparisons to Ferran Adrià, who closed El Bulli even as it continued to top international restaurant rankings, with plans to open the larger El Bulli Foundation.) But how, exactly, did Noma and Redzepi turn their small Danish restaurant into an international icon? Here's a close look at the restaurant's history:
2003: René Redzepi, a 25-year-old alum of El Bulli and the French Laundry, opens the restaurant with Claus Meyer. Designed by Space Copenhagen, it's housed in an old warehouse on the waterfront. The name is a mash-up that roughly translates to Nordic food: Redzepi was born in Copenhagen, but his father is from Macedonia, and Redzepi spent a lot of time there, eating what he could grow and forage.
2004: Meyer and Redzepi organize the Nordic Cuisine Symposium, through which a dozen Scandinavian chefs draft and sign the "Manifesto for the New Nordic Kitchen."
An early review in Jyllands-Posten, a Copenhagen publication, says: "In all dishes, large and small, we experienced a fantasy and a craft to match the one that made even the simplest right for something special."
2005: Noma earns its first Michelin star. The Nordic Council of Ministers adopt the manifesto "as a way of boosting the production and consumption of traditional food products."
2006: The international media begin to take notice. Noma receives its first two mentions in the Times: in a story about disciples of Thomas Keller and in a travel guide to Copenhagen. It also gets reviewed by The Guardian: "It is refreshing to dine in a restaurant that has a sense of purpose, that takes pride in this purpose, and finds innovation where others have previously seen only limitation." The Boston Globe and the Telegraph chime in, too.
2007: The restaurant is ranked No. 15 on S. Pellegrino's "World's 50 Best Restaurants" list and, for the first time, earns two Michelin stars. Food & Wine profiles it, too.
2008: Noma advances to No. 10 on "World's 50 Best." Redzepi and Meyer set up the Nordic Food Lab, a nonprofit experimental kitchen on a houseboat. The Times praises the restaurant in "The Coming of Age of Copenhagen's Nordic Cuisine."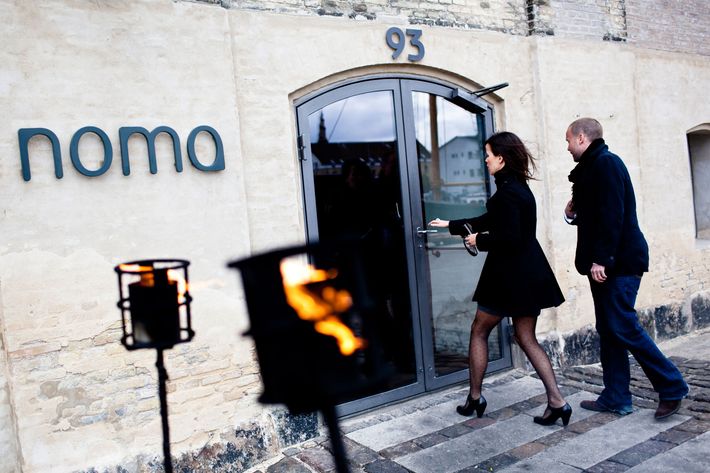 2010: The "World's 50 Best" ranks Noma at No. 1 — and the title holds through 2012. Redzepi also authors a book, Noma: Time and Place in Nordic Cuisine (though Redzepi originally published a Noma cookbook with a much smaller print run in 2006), and gets the Frank Bruni treatment. Redzepi reveals that success means that people no longer call his team "seal fuckers," but that Americans now come in and complain, and he receives 100,000 reservation requests a month.
That year, Gastronomica asks Redzepi, "How long will Noma stay open?" and he responds: "At one point you'll just be empty, you'll start repeating yourself, and then it's time to leave. And my gut feeling is ten years. I can't see myself here in 20 years. It's very demanding in terms of energy. That's another backside of success — you get a new level of attention focused on you and that makes you go forward even faster. So, ten years."
2011: Redzepi launches the MAD symposium, an annual two-day gathering of chefs, farmers, and academics that works "to expand knowledge of food to make every meal a better meal; not just at restaurants, but every meal cooked and served." Plenty of similar food festivals soon follow.
Meanwhile, the Times officially deems "New Nordic" cuisine a full-on culinary movement. Pulitzer Prize–winning food critic Jonathan Gold says that Noma is indeed better than Alinea, and The New Yorker drops a 7,000-word bomb dedicated to foraging with Redzepi.
2013: Rough patch: El Celler de Can Roca takes the top spot on the year's "World's 50 Best" list. Sixty-three diners contract norovirus after eating at the restaurant. Meyer, a co-founder, details a nasty split from Redzepi, who, with the help of U.S.-based investor Marc Blazer, convinces Meyer to sell most of his stake and becomes the primary owner.
On the bright side, Anthony Bourdain features Noma on Parts Unknown, Phaidon publishes René Redzepi: A Work in Progress, and Redzepi and Meyer receive 3.6 million Danish kroner ($543,769) in funding to investigate how to cook bugs. The restaurant also gets a makeover.
2014: Noma wins the "World's 50 Best" competition once again. In accepting the honor, Redzepi gives a great speech:
Rising chefs like Acme's Mads Refslund (a co-founder of Noma, actually), Luksus's Daniel Burns, and Fredrik Berselius (formerly of Aska) prove that New York has fully embraced the New Nordic sensibility. Meanwhile, the impressive Noma alumni list continues to grow. And it's worth noting that Noma has pioneered another fine-dining trend that still holds today: cooks delivering food directly to tables.
The New York connection grows even stronger, too, when Redzepi hires a new pastry chef, Malcolm Livingston II of wd~50.
2015: Noma pops up in Tokyo for two months, serving hokkaido shrimp dotted with live ants. Critics descend. In the meantime, a Club Monaco pop-up store takes over the Copenhagen home base. Noma slips to No. 3 on the "World's 50 Best" list.
Redzepi says that the MAD symposium will take a break for the year, and then announces VILD MAD, an initiative that will teach Danish schoolchildren about food and the local landscape, set up a "foraging and wild food school for all Danes," and launch a "digital platform that serves as a database for information and imagery on varieties of plants and wild foods."
He also announces that he's taking Noma to Sydney for ten weeks in January of 2016. But the biggest announcement, of course, is that he will close Noma as the world knows it at the end of 2016 and reopen it at a new location as an urban farm.