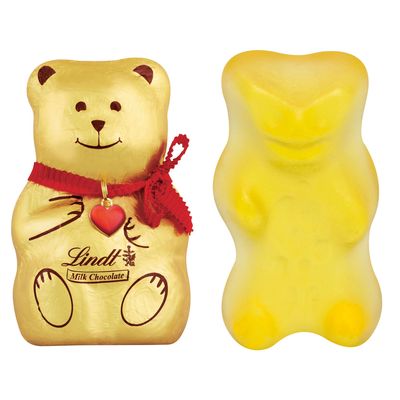 Wait, which is which again?
Photo: Lindt, Getty Images
It's fair to say chocolate looks almost nothing like tiny gummies, but protecting consumers from this supposed confusion is why Haribo hauled rival Lindt into court three years ago when the chocolatier released a foil-wrapped chocolate teddy that bore a resemblance to the trademark on Haribo's famed gummy bears. The two have been fighting and appealing their way up the German court system ever since, and yesterday Germany's justice system finally put an end to it.
Haribo had claimed Lindt's chocolate bears were a ripoff because they're in a gold wrapper and sport red bows around their necks (Haribo's Gold Bear is yellow-gold-ish and also wears a red ribbon); Lindt said it was just making a bear version of its classic "Gold Bunny" Easter chocolates. If this arguing over chocolate versus gummy ursine candy sounds like a waste of the legal system's time, a federal judge in Germany pretty much agreed, calling Lindt's bears "neither a violation of Haribo's 'Gold Bear' trademark nor an illegal imitation of the fruit gum products."
A Haribo rep says they "regret the verdict," and adds they might be able to appeal the decision to the European court of justice, depending on the specifics. Either way, it's been a fairly litigious past few days for confectioners in Europe. Last week, the court of justice refused to let Kit Kat trademark the shape of its bars.
[Guardian]