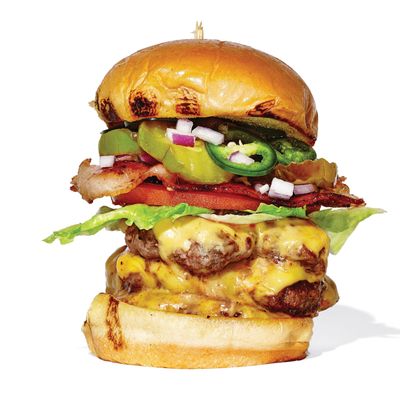 The excellent triple cheeseburger.
Photo: Bobby Doherty/New York Magazine
Early next month, burger-truck sensation Andrew Zurica will relocate his Hard Times Sundaes grease-mobile from its spot opposite Walgreens in the Kings Plaza Shopping Center parking lot to a triangular patch at the intersection of Flatbush Avenue, Washington Avenue, and Lincoln Road.
But excellent triple cheeseburgers and fiendishly good bacon-wrapped chili dogs aren't the only reasons the citizens of Prospect-Lefferts Gardens should be clapping their hands and jumping up and down right now: Soon after opening, Zurica will also introduce an egg-on-a-roll that he promises will "blow your mind." "I'm still working out the coffee situation," says the griddle master.
*A version of this article appears in the October 5, 2015 issue of New York Magazine.