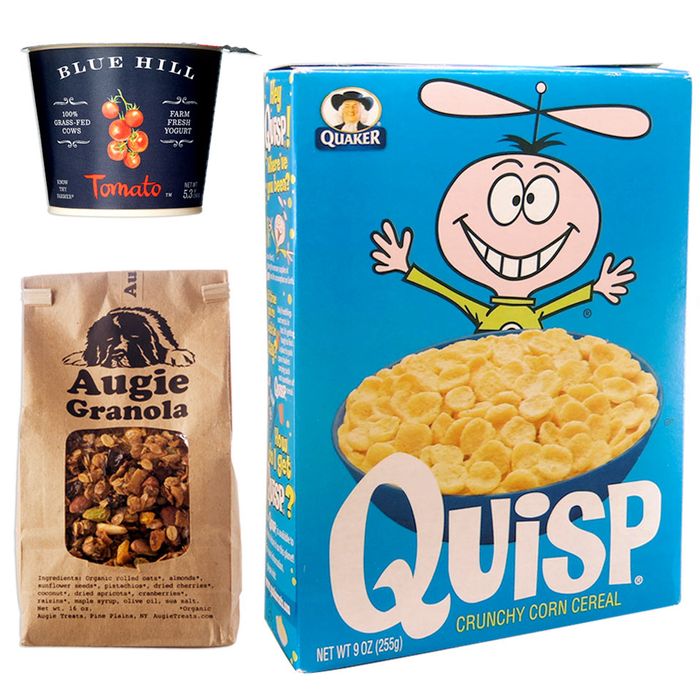 Just a few of the things you can use to up your breakfast game.
During the first meal of the day, people tend to stick with the familiar. Maybe yogurt and some coffee on a weekday, possibly something a bit more involved during the weekend. Grub loves pancakes and sausage as much as anyone else, yet these are very exciting days indeed for people looking to raise the quality of their breakfasts, even if ever so slightly. That's because there seems to be a never-ending supply of breakfast staples that have been improved by thoughtful, imaginative people — so you can still stick to your routine (granola, grits, whatever) while also trying something new. Here are 14 products that will help you throw a better brunch and take your breakfast game to new heights.
What: Langdon Rye-Barrel Aged Maple Syrup
Price: $19 for 12 ounces
It won't make your pancakes boozy, but it will add a distinctly adult flavor. Langdon Wood ages Pennsylvania maple syrup in rye-whiskey barrels from distillery Catoctin Creek, which imparts a touch of the liquor's rich and spicy flavor to balance out the syrup's typical sweetness.
What: C-Amaro Pistachio Spread
Price: $24.50 for about ten ounces
Everyone loves Nutella, even if it's the poster child of industrial sweets, so Grub happily suggests checking out this amazing spread from Lombardy chocolatier Marco Colzani. It's made with nothing but pistachios, olive oil, and cane sugar, with a little bit of sea salt to balance the sweetness. It is also ideal for stuffing in pancakes or even spreading on some leftover baguette.
What: Sqirl Jam
Price: $12 to $18 for eight ounces
In today's toast-obsessed world you're definitely not doing breakfast right if you aren't getting your jam from the (justifiably) fawned-over Silver Lake restaurant Sqirl. Even those with jelly fatigue will be excited by anything-but-ordinary options like plum and flowering thyme, or Persian mullberry.
What: Blue Hill Yogurt
Price: Prices vary by store
Brought to you by iconic chef Dan Barber of Blue Hill, these yogurts come in six distinct savory flavors, including the pumpkin-pie-like butternut squash and acidic, tangy tomato. Which, in other words, means you don't have to do anything but open the lid for a tasty dip or sauce.
What: Anson Mills Oats
Price: $6 for 12 ounces
Anson Mills is many cook's go-to for anything and everything that's milled (especially grits, which are basically must-haves for any Southern-leaning chefs). Breakfast is no different: The South Carolina food purveyor mills its oats by hand — all grains are milled and shipped to order on Tuesdays — and then toasts them, creating a richer flavor while cutting down on the time you'll need to cook them.
What: Geechie Boy Grits
Price: $4 to $7 for two pounds
Anson Mills isn't the only A-list grit-maker, though. Made from heirloom corn and ground by stone, these old-fashioned grits have attracted top Southern chefs, like Sean Brock, and will make you forget all about the flavorless instant kind.
What: OXO Cold Brew
Price: $50
Making your own cold brew can be an imperfect process. (It can also require some serious filtering, and who wants to do that in the morning?) Here you go: This dedicated cold-brew-maker takes most of the work out of the process; it drains the grounds for you and ensures even distribution of water for coffee that's both easier to make and, generally, better-tasting.
What: Augie Granola
Price: $13 to $15
There's plenty of high-end granola out there, but Nancy Booke's is distinguished by her obsessive attention to detail and desire to offer a lot in the way of texture. To wit, these oats are spruced up with extra-virgin olive oil, five different kinds of dried fruit, and three kinds of nuts, then cooked, for maximum crunchiness, until almost-burnt.
What: Kodiak Pancake Mix
Price: $28 for 24 ounces
Made-from-scratch pancakes are awesome, yes, but sometimes you're just too tired (or hung-over) to bother with a bunch of mixing bowls. For those mornings when you're bleary-eyed but also in need of fluffy flapjacks, you'll be happy that this mix made with whole-wheat flour and oats can be in your pantry.
What: Edwards Virginia Smokehouse Fresh Sausage
Price: $30 for three pounds, or approximately 24 links
These breakfast sausages, available as links or patties for those with sandwiches on their mind, are flavored with sage and "select spices." They're pretty much everything you always wanted your breakfast sausage to be.
What: Burgers' Smokehouse Jowl Bacon
Price: $42.50 for four to five pounds, or $59 for eight to nine pounds
Burgers' makes this bacon by dry-curing and smoking pork jowl, a particularly fatty cut that is also used for Italian guanciale. You can chop it up and toss into a pot like an Italian would, but then you'd be missing out. The just-right smoke, smooth texture, and the extra dose of fat all make for a mean breakfast sandwich.
What: Oaktown Spice Shop's Better Than Everything Bagel Spice
Price: $6.50 to $7.75 for a half-cup bag or jar
This very useful spice mix — made with black peppercorns, fennel, minced onion, roasted garlic, sea salt, and more — let's you bring the irresistible flavor of an everything bagel to whatever you feel like eating.
What: Quisp
Price: $26 for four eight-and-a-half-ounce boxes.
All of the cool cereal companies are trying to go all-natural, abandoning artificial colors in an aim to be wholesome. Fine, but look: You're an adult, and that means you've earned the right to eat whatever junky cereal you want. So go classic and get this sugar-sweetened, saucer-shaped throwback cereal from the '60s.
What: Ubons PitMaster's Hot & Spicy Bloody Mary Mix
Price: $20 for two 36-ounce bottles, or $55 for six 36-ounce bottles
Before they ever competed for a barbecue championship, the famed Yazoo City smokers were bottling and selling sauces based on a old-time family recipe. Some of those flavors are mixed into their Hot & Spicy Bloody Mary Mix, which will help you get your day off on the right (read: boozy) foot.