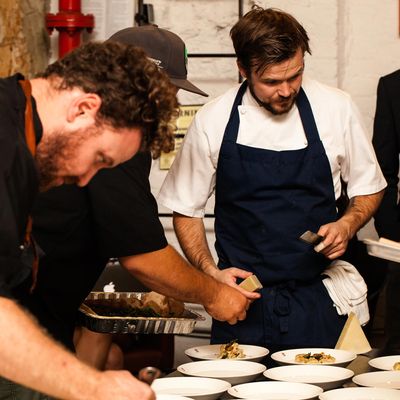 Guests at the NORTH Nordic Festival.
Photo: Courtesy of NORTH Nordic Food Festival
Autumn — which officially begins tomorrow — is, plain and simple, a lovely time to eat, and not only because of all those anticipated new openings. There's also a host of excellent food-themed festivals and events to look forward to, some of which have established themselves and others that are new. There's New York Magazine's own annual tasting extravaganza, the return of the NORTH Nordic Food Festival, and brand-new culinary events like Puerto Rico Meets New York City. Check out the details on all of the most intriguing, below.
What: Puerto Rico Meets New York City
When: September 30 to October 4
Cost: $75 to $200
A spiritual sequel to the similarly minded Baja Meets NYC, this new culinary event pairs chefs from New York like Eric Ripert and Camille Becerra with their compatriots in Puerto Rico for a series of collaborative five- and six-course tasting menus. (A couple of these — the Eric Ripert and José Santaella pairing dinner as well as the Wilo Benet solo dinner — have already sold out, but all of the others still have open spots.) However, the most exciting event is the finale, the Lechon Asado Block Party in Roberta's backyard, where the rum will be flowing and you'll get to chow down on Lechonera La Piraña's lechon, longaniza sausages from AlCor Foods' Pedro Alvarez, and ceviche from La Estacion's Kevin Roth.
What: NORTH Nordic Food Festival
When: September 23 to 28
Cost: The Denmark, Iceland, Finland, and #TrySwedish days are free; other events cost between $45 and $179
This celebration of all things edible (meaning more than moss and buckthorn) from the Nordic world kicks off tomorrow, but — luckily — there are still tickets available. There's a children's baking class and Denmark day with Noma co-founder Claus Meyer, a pop-up dinner with the Michelin-starred Stockholm Volt, a conversation about what's next for New Nordic cuisine, and a closing dinner featuring a supergroup trio of Acme's Mads Reflund, Luksus's Daniel Burns, and Fredrik Berselius.
What: New York Taste Presented by Citi
When: November 10
Cost: $100 for general admission, $195 for VIP
New York Magazine's annual eating and drinking gala returns with a star-studded, extensive cast of chefs and bartenders including Upland's Justin Smillie, cocktail queen Julie Reiner, L'Amico's Laurent Tourondel, and more. Tickets give you access to as much as you can eat and drink, so just think of it as the fanciest buffet you've ever been to — just one prepared by a supergroup of all-star chefs.
What: New York City Food & Wine Festival
When: October 15 to 18
Cost: Events range from $20 to $300
The Food Network's celebrity-chef bonanza is back, and basically all of the food personalities you'd expect — Giada de Laurentiis, Lidia Bastianich, and Mario Batali, plus chefs including April Bloomfield, Alain Ducasse, Danny Bowien, and rapper and cookbook author Coolio — will be there. Events range from Tiki Cocktails 101 with Jeff "Beachbum" Berry to a hot-dog competition hosted by Andrew Zimmern and the annual Burger Bash. Basically, if you want to hang out around a bunch of famous and semifamous chefs, bartenders, and food people, this is your thing.
What: CHEERS NY
When: October 3 and 4
Cost: $50
Sunset Park's Industry City has been taken over by food manufacturers of all sorts, from vodka distillers to sausage-makers and sweets producers, and now the Brooklyn Eats Marketplace will play host to a gathering of some of New York State's top boozy beverage producers and food-makers. To go along with the drinks-focused CHEERS NY, there is a separate, food-oriented BK Eats event for $10 a head.
What: Tapped
When: October 25
Cost: $39
Just before Halloween, the Barclays Center will host its first-ever beer festival. The event features some notable craft brewers, including Florida's Cigar City and Michigan's Founders, and is split into a pair of three-hour sessions, where you'll get to sample from 100 different beer, cider, and wine tastings. Between sips of suds, you can unleash your inner bro and play games of giant Jenga and beer pong.
What: NYC Food Film Festival
When: October 22 to 25
Cost: $23 to $129, or $449 for a festival-wide VIP pass
For the ninth year in a row, this film festival will return and prove that dinner and a movie can mean so much more than just popcorn, instead pairing food-focused films with appropriately themed dinners. Twenty-three films covering a variety of subjects, from the closing of an iconic Bay Area diner (Nothing With Something) to stuffing pasta (Ravioli Perfection) and smoking brisket (Central Texas Barbecue), will be shown at this year's event, which benefits nonprofits like the Billion Oyster Project and the Good Food Project.
What: Slice Out Hunger
When: October 7
Cost: Free admission
Grub, for one, has never needed an excuse to eat pizza, but slice fanatic Scott Wiener certainly will give you a reason to not think twice about it: Eat everyone's favorite food for a good cause with pizza fanatic Wiener, who brings 50 of the city's top pizzerias together under one roof for this charity event, with 100 percent of the proceeds going to the Food Bank of New York. Slices are just $1, nearly everybody who is anybody in the world of New York pizza comes out (past participants have included Di Fara, Rubirosa, and Kesté), and the nonprofit organization raised $30,000 in just three hours last year.