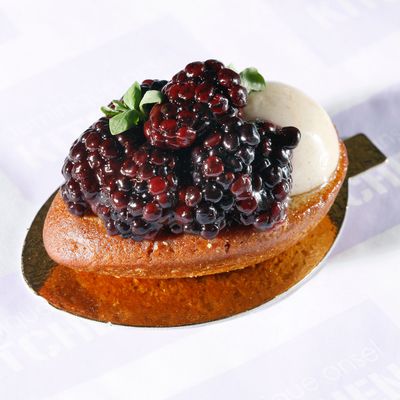 Dominique Ansel Kitchen's blackberry shortbread.
Photo: Melissa Hom
Summer may not officially be over until September 22 (and the temperature is still hovering in the 90s), but, for most of us, the hard truth remains that the passing of Labor Day weekend means the end of lazy days and a too-sudden return to real life. Whether you're going back to your desk or hitting the books again, though, there are plenty of new things (and a whole lot of restaurants) to get excited about eating. In fact, here are a dozen dishes to go check out right now:
So Many Pastries
Where: Sadelle's
Price: $15
The bagels are currently getting all of the attention over at Sadelle's, which reopened this morning following a two-day hiatus, but don't let the everything spice blind you. Melissa Weller has a way with sweets — just remember the following her Roberta's sticky buns inspired — and no doubt her babka, and maybe even the chocolate-chip loaf, will start a revolution, too.
Beef and Broccoli
Where: Fung Tu
Price: $7
After two months of cooking without gas, critical darling Fung Tu is once again fully operational. Not only does that mean the return of some favorite, high-heat-dependent dishes that were cut from the no-gas menu, like sweetbreads manchuri ($8), but also a slew of new ones, including a take on beef and broccoli made with Chinese beef jerky and dehydrated broccoli.
Risotto
Where: All'onda
Price: $20
Over at the mostly Venetian restaurant in Union Square, chef Chris Jaeckle
is switching things up with risotto, making his with zucchini, parsley, and, because it shouldn't all be healthy, some pancetta.
Spaetzle and Beef Gulasch
Where: Werkstatt
Price: $18
Longtime New York City chef Thomas Ferlesch is back to cooking schnitzel and other Austrian favorites with the opening of his new South Slope restaurant, where the menu is unsurprisingly tailored to cool-weather dining. Settle into fall by the wood-burning fireplace with a bowl of hearty beef gulasch with soft, homemade spaetzle.
Emmer Maccheroni
Where: La Pecora Bianca
Price: $17
All pasta is homemade at this coastal, rustic Italian restaurant in the Flatiron, including this long maccheroni made from the ancient grain emmer (more commonly known as farro). They're serving it with hen-of-the-woods mushrooms, fava beans, and sharp, salty Pecorino cheese.
Matrimonio a la Riojana
Where: Kat & Theo
Price: $10
The star-studded team behind this newish American-Mediterranean spot is aiming for a neighborhood-friendly vibe, and the kind of food they're serving speaks to those ambitions. On the menu right now is this housemade flatbread, which they're stuffing with a very appealing combination of anchovies, aioli, and blistered shishito peppers.
Blackberry Shortcake
Where: Dominique Ansel Kitchen
Price: $6.75
Among the new items that pastry chef Dominique Ansel has introduced for the fall at his West Village shop is this golden shortcake. It's topped with a heaping portion of the tart berry and birch maple mousse.
Pizette
Where: Jams
Price: $17
The second coming of Jonathan Waxman's Jams, now in an airy room in the 1 Hotel Central Park, features a few of the original's signature dishes, like roast chicken with tarragon butter or red-pepper pancakes with corn and caviar, alongside plenty of new ones. Among the latter is this pizette, topped with bright late-summer pesto, goat cheese, mozzarella, squash blossom, and cherry tomatoes.
Swordfish
Where: Wildair
Price: $18
This Lower East Side wine bar manages the tricky task of keeping the bar food both satisfying and inventive. For this dish, swordfish is paired with romesco, blistered cherry tomatoes, fava beans, and a few sprigs of floral lemon verbena.
Spicy Hiroshima
Where: Okiway
Price: $15.50
The cheekily designed Bushwick izakaya specializes in okonomiyaki, the Japanese pork and cabbage pancake that seems to be popping up more and more around town, but skirts any pretense of tradition. Ingredients like pulled pork and chipotle mayo find their way into other renditions, but they kept Japanese with this version featuring pork belly, crispy ramen noodles, and spicy otafuku sauce.
Romano Beans
Where: The Four Horsemen
Price: $15
Romano beans don't get the buzz that other short-season produce (corn, figs) garners this time of year, but they're an exceptional, meaty bean worth eating as much of as you can. At James Murphy's comfortably busy wine bar in Williamsburg, they've been serving them with dry-aged beef, basil, and pine nuts.
Peaches
Where: Via Carota
Price: $15
Jody Williams and Rita Sodi's charming West Village restaurant goes heavy on the aperitifs, so it should come as no surprise that Italian liqueurs have found their way into the desserts. For this dish, New Jersey peaches are roasted in Amaretto Caffo 1930 and served with mascarpone.