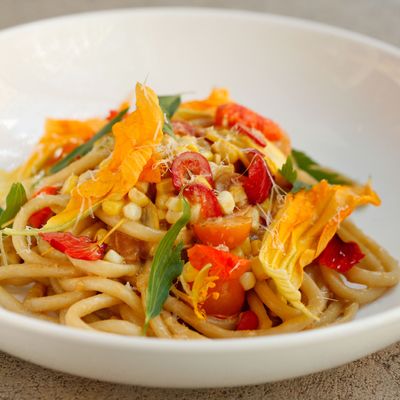 Bruno Pizza's bucatini pasta with fresh corn, squash blossoms, and spring onions.
Photo: Melissa Hom
Fresh corn is a must this time of year, when the long, hot days of summer finally pay off in the form of peak-season cobs that are uniquely sweet and delicious. Now is the time, friends — just as the days start to remind you that autumn is on the way. It's not here yet, though, and for many, of course, corn is synonymous with the backyard barbecue, served simply with butter, salt, and pepper. That is all well and good, but there is so much more that can be done with corn — whether it's oven-roasted for stuffing or charred for a late-summer salad — and only so much time to enjoy it. Here are 16 dishes that are making the most of this season's corn:
Bucatini Pasta
Where: Bruno Pizza
Price: $19
There are some creative pies, like country ham and peaches, at this East Village pizzeria, but that's not all they've got going on. Take this dish, which pairs the thick, spaghetti-like pasta with spring onions, kernels of fresh corn, and flowery squash blossoms.
Market Salad
Where: Alta Linea
Price: $14
This alfresco restaurant at the High Line Hotel is perfectly tailored for enjoying the last days of summer, and there aren't many dishes better suited for the occasion than this salad. It mixes two of the best parts of summer — charred corn and peaches — with sunflower, squash, and ricotta salata.
Striped Bass
Where: Dimes
Price: $16
Supplement your sweet corn with some baby corn, which the healthy-is-hip chefs of this Lower East Side hot spot are proving isn't just stir-fry fodder. A skin-on striped bass filet is dusted with rice flour and seared till crispy, then served in a pool of vibrant green curry, along with salmon roe, zucchini-like pattypan squash, and fresh baby corn.
Fried Hot Peppers With Corn and Mozzarella
Where: Franny's
Price: $13
The seasonally minded Prospect Heights pizzeria is turning out a kind of haute take on jalapeño poppers right now. The chilies are first fermented in brine for ten days and seeded and stuffed with mozzarella, Mystic Cheese's Melville, sweet onions, and brick-oven-roasted corn before getting fried. They're served with a sauce of chives, crème fraîche, shallots, and white wine vinegar.
Sweet Corn With Epazote Flan
Where: Empellon Cocina
Price:: $16
Ignore the haters: Jiggly flan is a wonderful thing, so long as it's made the right way. Alex Stupak offers up a savory variation, which he's making with corn, tomato, garlic, onion, jalapeño, and, Mexico's essential herb, pungent epazote.
Farroto
Where: Fritzl's Lunch Box
Price: $14
Made by cooking the ancient grain farro in the style of risotto, farroto is a staple dish on the Bushwick luncheonette's menu and, right now, is being made with sweet corn, vibrant wilted tomatoes, chewy mushrooms, and a salty, nutty web of parmigiana on top.
Corn Soup
Where: Bar Bolinas
Price: $9
For the sequel to the gastropub Allswell, chef Nate Smith and pastry chef Sophie Kamin are focusing on their sunnier Northern California roots. They keep it straightforward with this soothing corn soup made with tomatoes and basil.
Razor Clam With Smoked Corn, Radishes
Where: Maison Premiere
Price: $15
Best known as a cocktail and oyster destination, the charming Williamsburg absinthe den also has an Alain Ducasse protégé holding down the kitchen. Razor clam is frequently on the menu, among the many seafood options, and since mid-June the spot's been serving it with smoked corn and crispy radishes.
Beets
Where: Cosme
Price: $17
At Mexico City chef Enrique Olvera's scene-y Flatiron District restaurant, they serve thick wedges of beets and smoky charred corn salsa with fresh farmer's cheese.
Seared Trout With Corn, Tangerine Lace
Where: June Wine Bar
Price: $13
An excellent wine list and friendly service have made June a great place to grab a drink since it opened, but the addition of ex-Grindhaus chef Aaron Tauber turned it into a solid place to eat. His fairly priced menu currently includes a dish of seared trout served with the citrusy flower tangerine lace and corn.
Sweetbread Black Truffle Dumplings
Where: Gabriel Kreuther
Price: Part of a $98, four-course prix fixe
Corn is going fancy at Gabriel Kreuther's chic-looking new restaurant in the Grace Building, where the chef is making extra-luxe dumplings with sweetbreads and black truffles and serving them with red currants and a summer corn purée.
Sweetcorn Polenta
Where: Dovetail
Price: Part of a tasting ($135) or vegetable tasting ($108)
On the Upper West Side, vegetable-crazy chef John Fraser is transforming sweet corn into polenta and topping it with cherries and shaved summer truffles for a musty savoriness.
Cream Corn With Smoked Cream, Tendrils, and Fresh Sumac
Where: Ducks Eatery
Price: $12
Over the weekend, chef and fermentation nut Will Horowitz debuted a gussied-up cream corn made with smoked cream and tendrils at his lively, meat-centric East Village restaurant. Fresh sumac is whisked in while the soup simmers, and it's then sprinkled on top for a lemony pop.
Black Bass
Where: The Finch
Price: $28
Housed in a cozy brownstone, the Clinton Hill bistro serves firm, mild black bass with a super group of summer's very best produce: chanterelle mushrooms, okra, sun gold tomatoes, and, of course, sweet corn.
Kimchi Pork Dumplings
Where: Danji
Price: $13
At his modern Korean restaurant in Hell's Kitchen, Hooni Kim stuffs dumplings with a traditional filling of kimchee and pork, and then, for a curveball, serves them in a thick cream corn chowder.
Corn
Where: Vic's
Price: $9
Hillary Sterling's veggie-centric menu doesn't treat corn like something extra, but makes it the centerpiece of this market dish. The chef gives it a spike of acidity via lime, then mixes in the less common but very welcome additions of nutty poppy seeds and versatile ricotta salata.