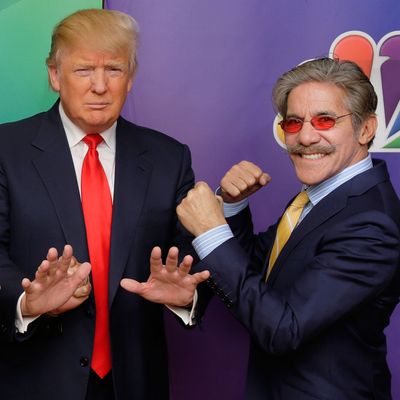 Table for two?
Photo: Paul Drinkwater/NBC/NBCU Photo Bank via Getty Images
Celebrity Apprentice runner-up Geraldo Rivera just hates the way people have "demonized" Donald Trump ever since the presidential candidate said that thing about Mexican immigrants being rapists and drug dealers. Rivera, you see, believes that the haters haven't met the real Donald Trump, so to clear things up once and for all, Rivera proposed on his radio show that the two of them go out for Mexican food.
Rivera got an unequivocal yes from Trump, who'd come on the show for an interview: "I don't mind, I'd do that in two seconds." Rivera replied great, then they should go have "some rice and beans" and let him meet the staffers. The idea, he explained, would be to "go say hi to the staff, talk with some of the folks, just ordinary, regular, normal folks. Tell them how you really feel. Let them see how you really are." Ah, yes, just what everyone wants when they're at work: a chance to see how Donald Trump really is.