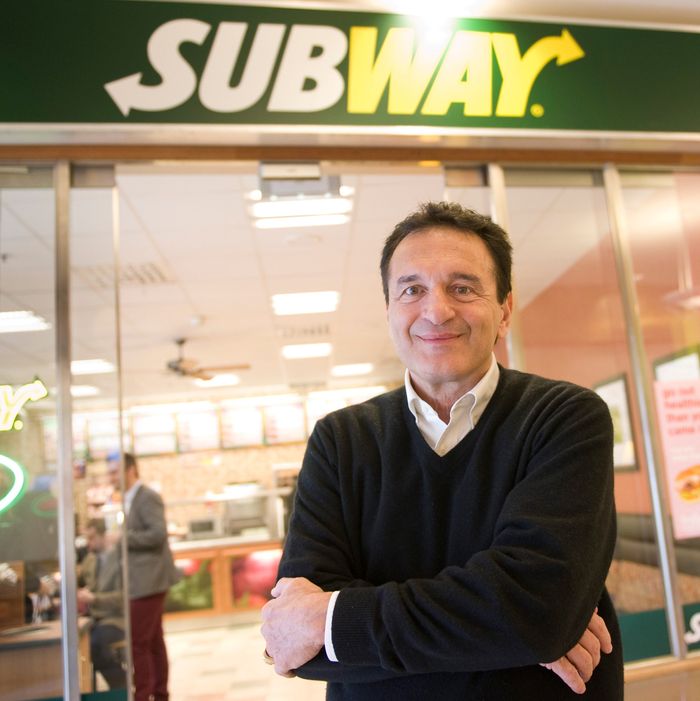 Fred DeLuca outside a Subway.
Photo: Jonathan Nackstrand/AFP/Getty Images
Subway co-founder Fred DeLuca — the Brooklyn-born kid who built a global sandwich empire on the foundation of a Bridgeport, Connecticut, fast-food outlet — died on Monday at the age of 67. He was being treated for leukemia, an illness that he first began fighting in 2013. Though DeLuca returned to the company in 2014, he stepped down in June and installed his sister, Suzanne Greco, as president in his place.
Whatever you think of Subway now, its rise to ubiquity is nevertheless impressive: In 1965, a then-17-year-old DeLuca opened his first store, called Pete's Super Submarines, with $1,000 that he borrowed from family friend, Dr. Peter Buck, in the hopes of using it to pay for medical school. That first store didn't work out, but sandwich-making did and Subway was turned into a franchise less than a decade later in 1974. In 2015, 48 years after opening Pete's, Forbes named DeLuca the 737th-richest person on the planet with a net worth of $3.5 billion.
Sandwich merits and a kind of faux-healthy-eating strategy aside, Subway's global-domination strategy seems to consist mostly of opening as many stores, small and large, as possible in as many different places as possible. The company surpassed McDonald's as the largest chain restaurant in the United States and Canada in 2002 and then globally in 2010, when it operated a total of 33,749 stores. Over the last five years, the company's locations ballooned to 44,000 worldwide, and DeLuca said they could open another 7,000 to 8,000 in the United States. All that non-discriminate growth, however, led to problems for the chain, which experienced lagging sales in 2014. Of course, many people don't love the actual sandwiches, and the chain's healthful image began to falter in recent years. Compounding problems, of course, is this year's scandal involving disgraced spokesperson Jared Fogle, whose behavior Subway may have been warned about as early as 2008.